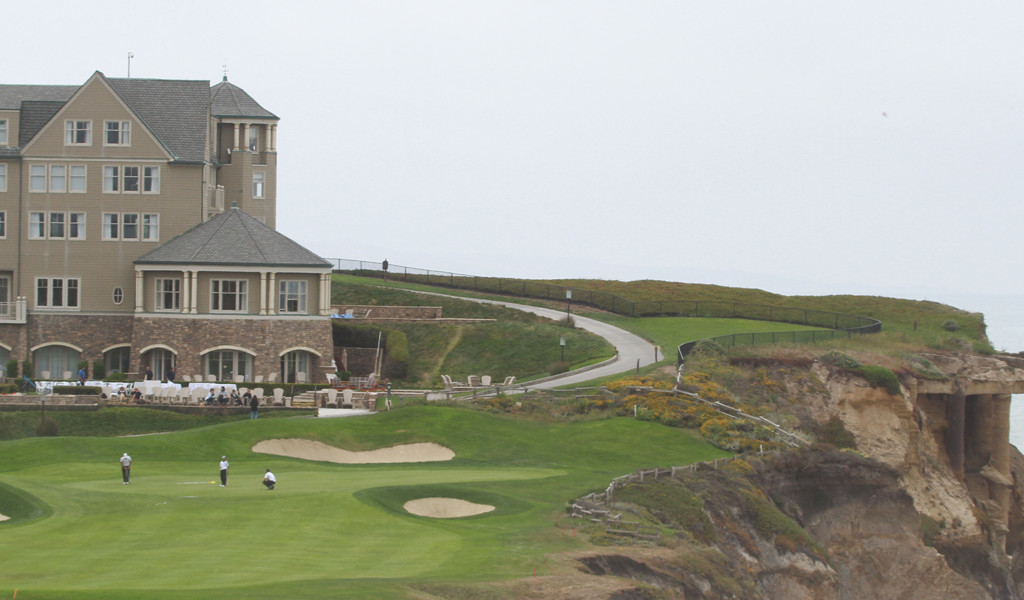 July 12, 2016
San Jose residents and schoolmates Thomas Hutchison and Sabrina picked up wins and etched their names into the history books.
Hutchison shot a final round even-par 72 to finish at 5-under 211, and Iqbal had a final round 1-over 73 and defeated Yoonhee Kim in a playoff to capture the Boys' overall and Girls' titles, respectively, on Tuesday at the 87th NCGA Junior Championship on the par-72 Old Course at Half Moon Bay Golf Links.
Hutchison, the only Boys' player to shoot par or better each of the three rounds, joined his older sister Samantha (2013) as a champion of the prestigious event. The two are the only siblings to both win the NCGA Junior in the event's 87-year history.
"It feels good to have my name on the trophy and have my sister's name on the other," said Hutchison, a senior at Pioneer High.
Getting his name alongside the likes of former champs Ken Venturi (1949), Johnny Miiler (1963) and Bobby Clampett (1976) was pretty good, too.
"That's very cool. Having my name with those guys makes me feel confident," he said.
A day after going 5-under over 36 holes on the Ocean Course, Hutchison again found his groove. He'd post 14 pars to go with a pair of birdies and two bogeys—the key being that he never put himself in trouble. It was only the second time that Hutchison had ever played the Old Course.
"I was making a lot of putts," said Hutchison, who has already verbally committed to UC Davis, where his sister now plays. "If I did miss a green, I'd knock it close and then make the putt. I just wanted to keep the ball in play and not make any major mistakes."
Hutchison's steady nerves led to a five-shot win over Granite Bay's Drake Mendenhall, who came in at 216 following a 75 and took the title in the Boys' 16-18 division. San Carlos resident Finigan Tilly, who had opened the championship with a brilliant 65 on the Ocean Course, was second in the Boys' 16-18 division at 217 after a 78. Third place went to Folsom's Austin Fox, who also had a 78, at 218.
While Hutchison's day was one for the history book, so too was Iqbal's. With her win, the Pioneer High junior notched her 19th NorCal Junior Girls' major victory, passing junior sensation Casie Cathrea (18). Iqbal also became the first girl to repeat as NCGA Junior champion since Jamille Jose (1988-1989).
"This one feels good. I knew it was going to be a tough day," said Iqbal, who only turns 15 next week.
For Iqbal, the tough part was trying to get past pal Yoonhee Kim of San Ramon. Kim, who held a one-shot lead over Iqbal entering the final round, took a one-shot lead to the scenic 18th tee after a clutch birdie on the par-3 17th.
On No.18, however, Kim got stuck in a bunker leading to a bogey, while Iqbal managed a par. Tied after regulation at 3-over 147, the duo twice played the par-5 10th hole. After halving with pars the first go-round, the second time Kim's drive went too far, forcing her to punch out. Kim's third shot then found the fairway bunker, leading to another lay-up. Iqbal, meanwhile, calmly knock her third shot to within 2 feet of the flagstick for the win.
"When we were on the 18th tee I knew I had to somehow get that one stroke back. I felt that if I could get to extra holes I'd have a chance," Iqbal said. "I knew I had to bring my 'A' game all day. Yoonhee is such a great player."
On the Junior Tour of Northern California, the two have jostled for the No.1 spot in the race for Girls' Player of the Year honors all season. Iqbal is the two-time defending JTNC Player of the Year.
"That bunker shot I had on 18, I just sort of chunked it out," said Kim, who's headed to UC Davis in the fall. "I love Sabrina. It's all meant to be. We both played great."
Both third and fourth place in the Girls' championship were claimed by the Sangha sisters of San Mateo—Amanjoty and Kiran. Amanjoty was third at 152 following a 76, while Kiran placed fourth at 153 following a 78.
In the Boys' 14-15 division, Fremont's Aaron Chen posted a 73 to come in at 216, knocking off runner-up Brian Ma of Milpitas by three strokes. Ma, who had a closing 79, had been in the running for the overall title after carding back-to-back rounds of 70 on the Ocean Course. Third place went to Michael Shaw of Pleasanton at 222 after a 71.
The Boys' 10-13 division was another close affair, as Drew Kim had a second 76 to finish at 152, defeating runner-up John Heckel of San Jose by one. Heckel, who lead after a 75 on the Ocean Course, slipped back to a 78. Third place went to Caleb Barstad of Carmel Valley at 157 after a 76.