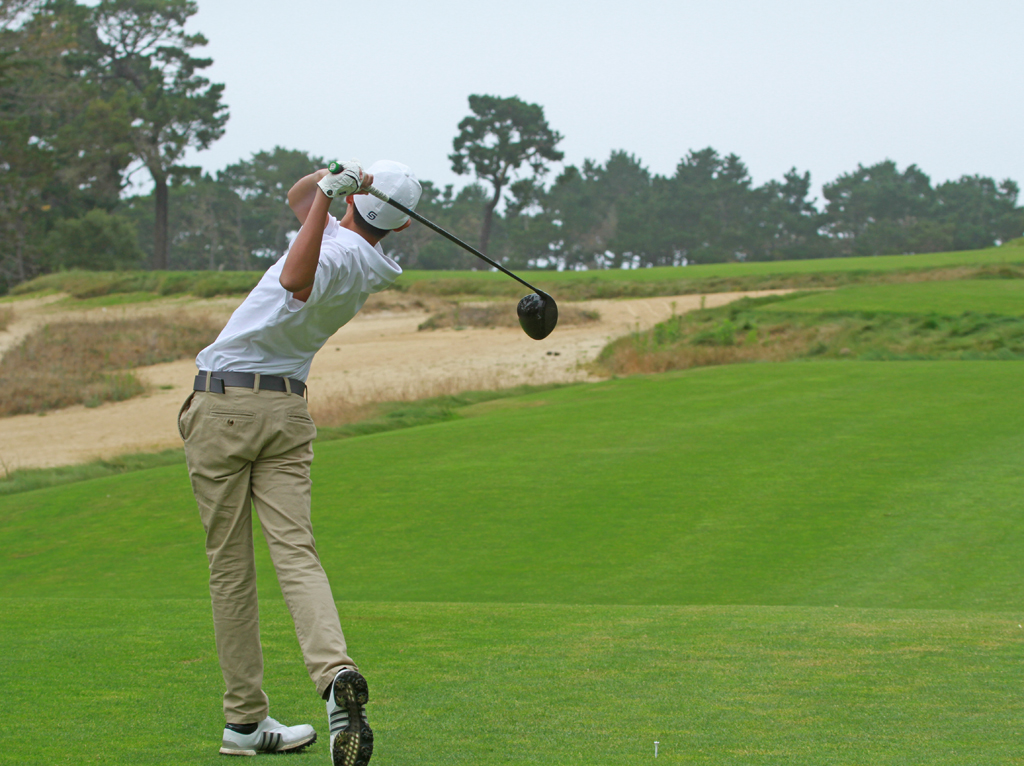 Tour Championship – Poppy Hills GC
Access NCGA GO for the hotel rates in the area!
For all tournament information and pairings please follow the following link.
July 30, 2019—Second Round
Griffin Long and Faith Low captured the biggest prizes at the season-ending JTNC Tour Championship at par-71 Poppy Hills Golf Course in Pebble Beach.
Long shot 2-under 140 and 6-over 148 as the two locked up wins in the Boys' and Girls' Championships, respectively.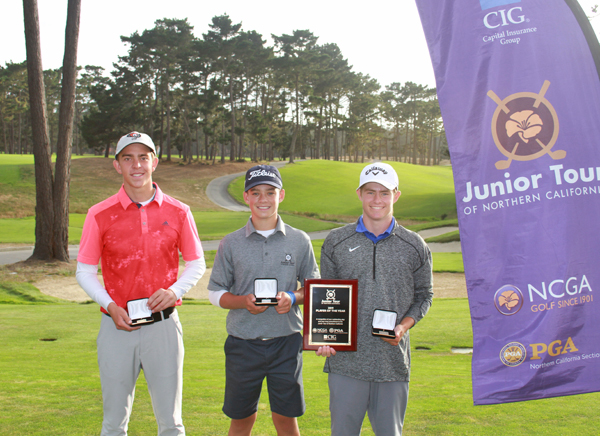 Coming off a stellar opening round 67, Long closed out his JTNC career by draining a 25-foot birdie putt on the par-5 18th for a final round 73 and two-shot win over runner-up Jackson Koivun.
Long will start attending University of Pacific in a few weeks.
"It's awesome to win this event," said Long, who had never previously won a JTNC event. "It's a great way to go out."
Koivun had a second round 70 to finish at even-par 142. He'd opened with a front-nine 32 but stumbled with a double-bogey on No.10.
Dylan McDermott was third at 144 following a 70. For McDermott, his finish sewed up 2018-2019 Boys' Player of the Year honors.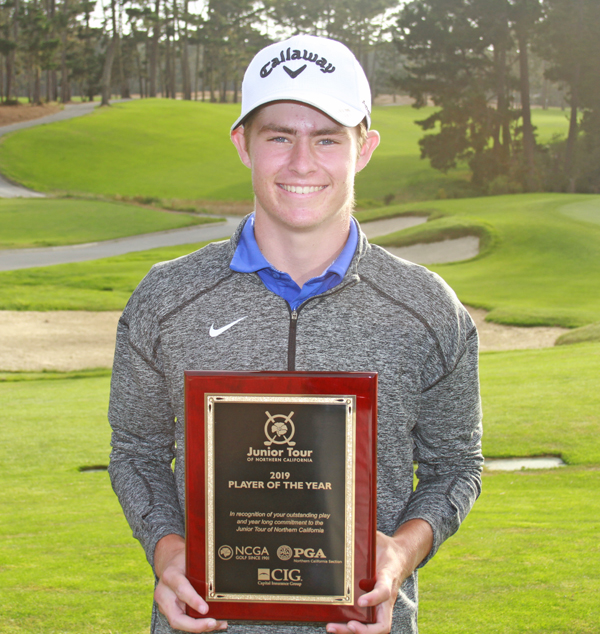 "It means a lot to be Player of the Year," said McDermott, who'll be a junior at Granite Bay High. "I had some events where I played really well and some where I didn't play well. I played good enough and consistent enough to keep my points up."
Past JTNC Boys' Players of the Year include PGA Tour winner Bryson DeChambeau and former USC standout and No.1 world-ranked amateur Justin Suh.
"I really want to follow in the footsteps of those guys," McDermott said. "Hopefully I'll be playing with them in the future."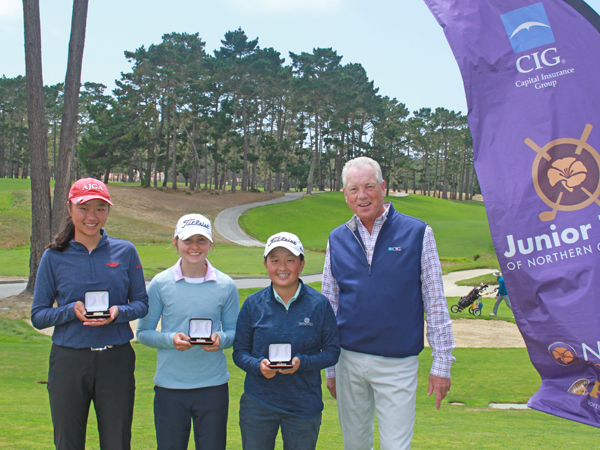 Low was solid for the second day in a row. She's hit 17 greens in regulation en route to posting 14 pars to go against just four bogeys.
"I was making sure that if I did miss a shot, I'd still be on the green," said Low, a sophomore at Futures Academy. "When I'm out there I try not think of technique. I just play."
It was Low's second win of the season. She'd also won the Holiday Series III Championship last December.
"I'm really proud of the accomplishments I've had this year," Low said. "I think this will lead to greater things in the future."
Caroline Wales was second at 150 after a 75. Danielle Suh was third at 152 after a 73. Suh had a chance to win Girls' Player of the Year honors but needed to finish at least in second place. Due to the finish, Madelyn Gamble won Girls' Player of the Year.
Fourth place in the championship went to Claire Chen at 153. Charlotte Ryoo and Alexandria Christeson were T-5 at 155.
Among those on hand to award medals was Capital Insurance Group CEO and President Arne Chatterton. CIG sponsors the JTNC.
"Supporting the Junior Tour is a way for us to give back to the kids," Chatterton said. "The discipline it teaches them. We know everyone isn't going to be a pro player, but the lessons the Junior Tour teaches the kids can make them successful for life."

In the Boys' First Flight division, Giuliano Kaminski shot a final round 76 to come in at 151, defeating co-runners-up Hyun Woo Pyo and Michael Bourke by two shots. Pyo had a final round 76 while Bourke shot a 78. Pyo was awarded second place in a card-off.
Fourth place went to Alexander Suen at 156. Arjun Aujla was fifth at 157.

In the Girls' First Flight division, Mary Griffin shot her second straight 80 to come in at 160 and defeat runner-up Anne Griffin by six shots. Griffin had a final round 81.
Akshaya Ramakrishnan and Kelly Liu finished T-3 at 167. Liu was awarded third place following a card-off. Sydney Craven took fifth place at 171.
Final Round Photo Gallery

July 29, 2019—-First Round
The chase for not only Tour Championship titles but also Boys' and Girls' Player of the Year honors are on the line as play got underway Monday at par-71 Poppy Hills Golf Course in Pebble Beach.
In the Boys' Championship, Griffin Long took a commanding four shot lead after opening with a sizzling score of 4-under 67. Long, who would capture his first title of the season with a victory, had a sensational front-nine 31 that featured consecutive birdies from holes Nos. 6 through 8. On the back-nine, he'd post another birdie on 18 to offset a bogey on the 14th.
In second place, four shots back at 71, is Darren Pang. Drew Kim and Jackson Koivun are also in the hunt, with both shooting 72.
Entering the Tour Championship, Dylan McDermott led in the Boys' Player of the Year standings with 1,924 points. The only player capable of catching him was Sam Sommerhauser (1,846 points). They both are currently T-11 after opening rounds of 74.
In the Girls' Championship, Faith Low took a two shot lead over the field after opening with a 73 that featured a pair of birdies.
Three players–Alexandria Christeson, Kaylyn Noh and Caroline Wales–are all tied for second at 75, just two shots back.
Coming into the event, Madelyn Gamble led in the Girls' Player of the Year standings with 2,113 points. Danielle Suh could win Player of the Year honors if she wins the Tour Championship (Gamble is not playing). Suh opened with a score of 79 and is T-9.
In the Girls' First Flight division, Mary Griffin took the first round lead with an 80. Candus Shi and Kathleen Xie are tied for second at 84.
In the Boys' First Flight division, there's a logjam at the top of the leaderboard. Three players–Michael Bourke, Giuliano Kaminski and Arjun Aujla–all grabbed a share of the lead with matching rounds of 75. Hyun Woo Pyo and Ansen Tran are just two shots back at 77.
Tuesday's final round will also be held at Poppy Hills GC.
Photo Gallery