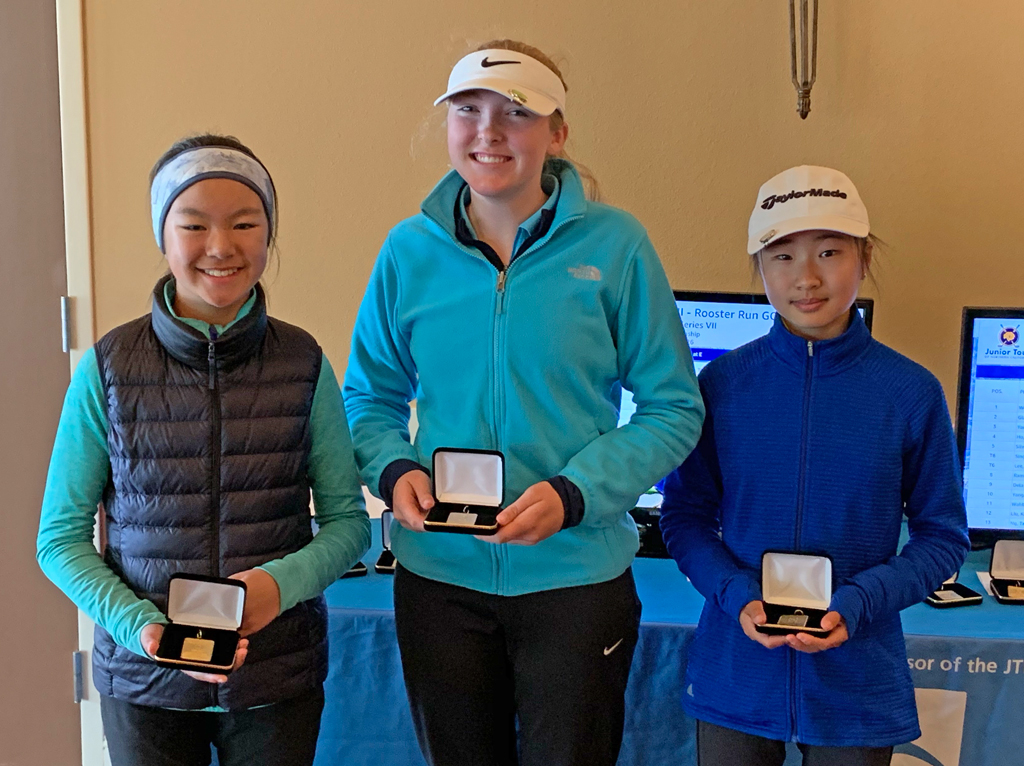 Spring Series VII – Rooster Run GC
Access NCGA GO for the hotel rates in the area!
Access the following link for all tournament information and pairings.
Spring Series VII – Rooster Run
*Note Pairings will be available May 17th.

CIG-Sponsored Junior Golf Tour of Northern California Crowns Winners at Spring Series VII Championship at Rooster Run Golf Club in Petaluma
PEBBLE BEACH, Calif. (May 28, 2019) – Sponsored by Capital Insurance Group, the 2018-2019 Junior Tour of Northern California (JTNC) crowned champions Sunday at the Spring Series VII Championship at Rooster Run Golf Club.
Moses Greene shot 5-over 149 and Cynthia Zhang shot 4-over 148 to win their respective divisions at the Spring Series VII Championship held Saturday and Sunday at par-72 Rooster Run GC.
Greene claimed his first win of the 2018-2019 season thanks to steady play both days. In Saturday's opener, he's card three birdies on his way to a 74. A day later, he added another birdie which helped him offset a closing double-bogey on the 18th. It would come in handy, as he held off runner-up Davis McDowell by a shot.
McDowell opened play with an even-par 72 thanks to three birdies. On Sunday, he slipped on the front-nine, posting a 41. He'd close with a birdie on 18, but it wasn't enough to catch Greene.
Steven Chen was third at 151 after a 76. Julian Monas was fourth at 152, while Leland Tsai placed fifth at 153.
In the Girls' Championship, Zhang picked up her second win of the Spring Series thanks in part to a great opening round.
On Saturday, Zhang, who also won the Spring Series IV title, shot a 72 featuring four birdies. A day later, she'd remain steady, posting a pair of birdies—including one on the closing 18th—to hold off runner-up Kayln Noh by two shots.
Noh, who opened with a 77, made a charge on Sunday with a 73 featuring five birdies. She birdied 12 and 13 but had to settle for pars the rest of the way.
Jasmine Chen was third at 153 following a 79. Ellie Bushnell and Madison Pineda tied for fourth at 155.
In the Boys' First Flight Championship, Jamison Tan had a final round 75 to come in at 148, defeating runner-up Matthew Almajano by four shots. Almajano closed with a 79.
Third place was a tie at 155 between Kyler Thurston and Howard Shu. Thurston was awarded third in a card-off. Griffin Quan was fifth at 156.
In the Girls' First Flight Championship, Michelle Woo shot a final round 74 to come in at 149, defeating runner-up Amelia Gladys by eight shots. Gladys had a final round 80.
Third place went to Norah Yang at 161. Michelle Ho was fourth at 163 and Sydney Silva was fifth at 164.
The event concluded the Spring Series. The next event on the JTNC calendar is the Summer Series I at Reserve at Spanos Park Golf Course in Stockton.