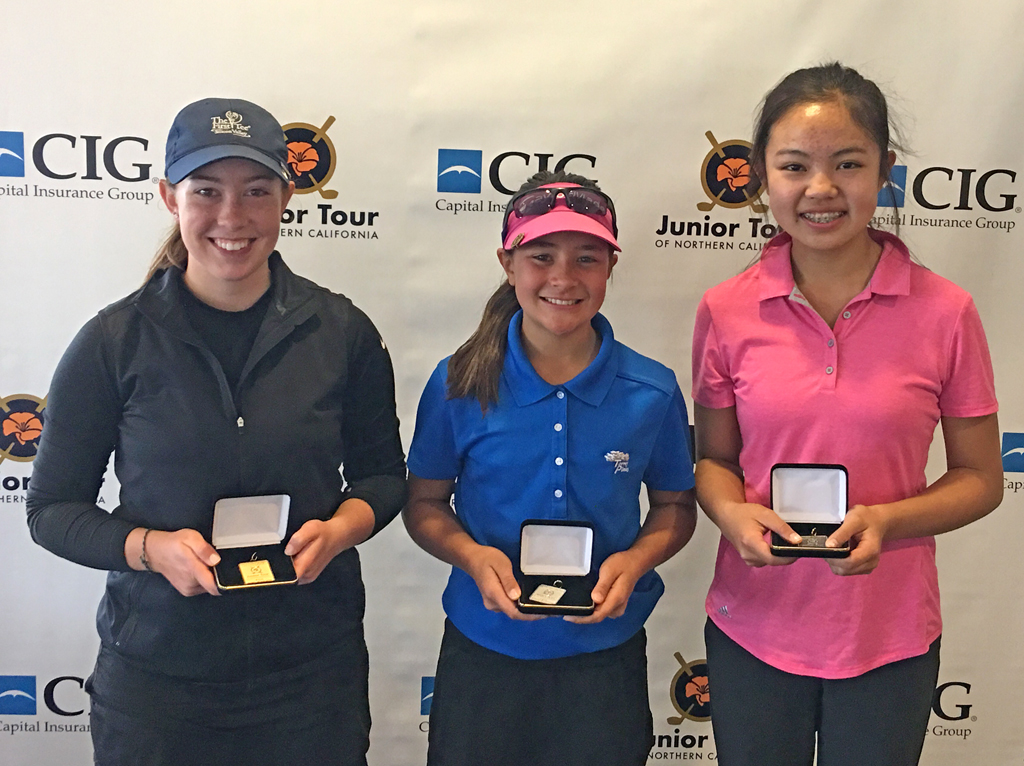 Spring Series II: Coyote Creek G.C.
Pairings | Alphabetical Pairings | Results
2017 Hard Card Please Read | JTNC Pace of Play Policy
Coyote Creek Yardages  | Approximate 2nd Round Times

CIG-Sponsored Junior Golf Tour of Northern California Crowns Winners at Spring Series II Championship at Coyote Creek Golf Course in San Jose
 PEBBLE BEACH, Calif. (March 27, 2017) – Sponsored by Capital Insurance Group, the 2016-2017 Junior Tour of Northern California (JTNC) crowned champions Sunday at the Spring Series II Championship at Coyote Creek Golf Course in San Jose.
Mountain View resident Moibhi Tyndall shot 3-under par 141 and San Jose resident Sabrina Iqbal shot 1-under 143 to win their respective divisions at the Spring Series II Championship held Saturday and Sunday at par-72 Coyote Creek Golf Course.
Tyndall grabbed his first victory of the 2016-2017 season by being the only player to break par both days. In the first round, Tyndall posted a solid 2-under 70 that included a front-nine 34 with three birdies and a closing eagle on the par-5 5th.
A day later, Tyndall was still in a groove, carding four birdies to go against three bogeys. It'd be good enough to hold off runner-up Daniel Kim of San Jose by a stroke.
On Saturday, Kim set the pace with a stellar 68 that included seven birdies. With a birdie on the 11th on Sunday, he'd stay in the hunt. But a pair of costly bogeys on No.12 and No.14 left him one back.
Max Ting of Atherton finished in third place at 144 after back-to-back rounds of 72, while San Jose's Sebastian Iqbal claimed fourth place at 145 after a 72. Fifth place went to Danville's Jared Khoo at 146.
In the Girls' Championship, Iqbal got her first JTNC win of 2017 with yet another stellar performance. Coming off her second straight win at the San Francisco City Women's Championship, Iqbal posted rounds of 74-69 to come in at 143 and win by seven shots.
It was the 25th JTNC win for Iqbal, extending her record for most career Northern California junior "major" victories. In shooting 69, the Pioneer High junior posted five birdies to go against just two bogeys.
Placing second was Santa Clara's Andrea Gomez at 150 after a 71, while Kaleiya Romero of San Jose was third at 152 following a 77.
Jacqueline Ha of San Ramon and Maya Pugtach of San Jose shared fourth place at 153.
In the Boys' First Flight Championship, Jacob Ponce of San Ramon shot a final round 78 to come in at 151 and edge co-runner-ups William Yao of Santa Clara and Krishan Patel of San Jose by a stroke. Yao had a final round 75, while Patel, who was awarded second place after card-off (better back-nine score), had a 78.
Jacques Le of San Jose was fourth at 156, while Marina's Curtis Dasilva and Palo Alto's Aditya Tadimeti shared fifth place at 160.
In the Girls' First Flight Championship, Clare Brady of Campbell shot a final round 77 to come in at 157 and defeat co-runner-ups Kiara Romero of San Jose and Vikki Xu of Los Altos by seven shots. Romero was awarded second place following a card-off.
Sophie Thai of Los Altos and Redwood Shores resident Viveka Kurup finished T-4 at 164.
Next up on the JTNC calendar is the Spring Series III Championship, slated for April 8-9 at Paso Robles Golf Club in Paso Robles.