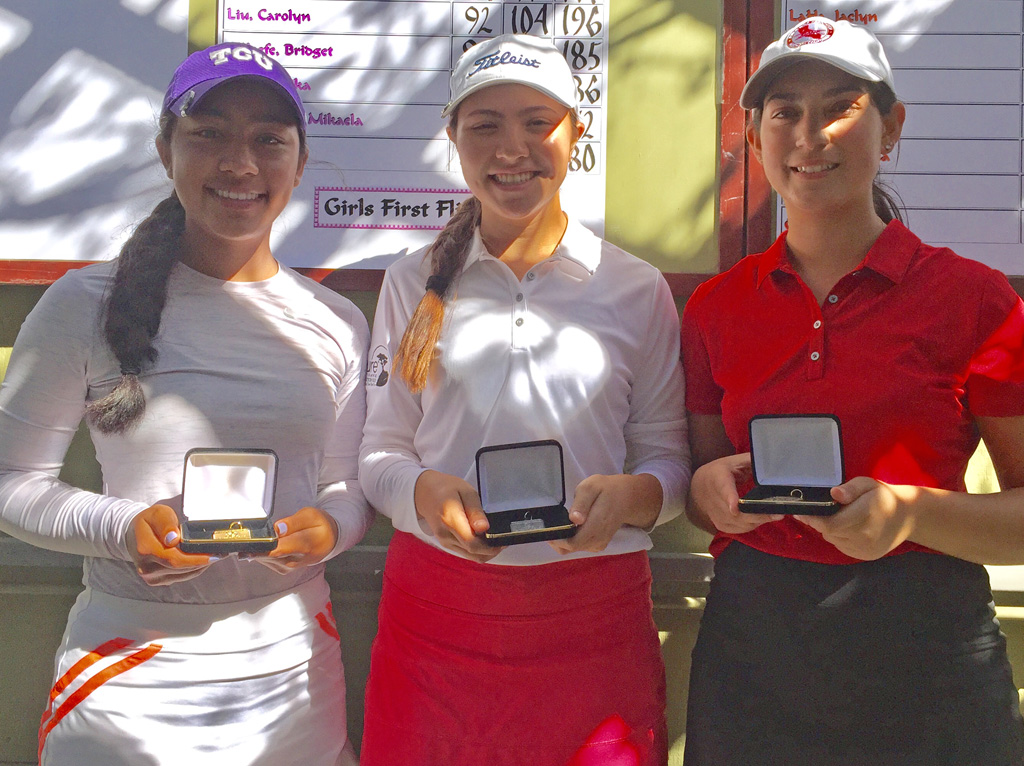 Fall Series VI: Greenhorn Creek G.C.
Pairings | Alphabetical Pairings | Results
Player Information Sheet | Greenhorn Yardages
Approximate Second Round Tee Times 
JTNC Pace of Play Policy | Standard Local Rules

CIG-Sponsored Junior Golf Tour of Northern California Crowns Winners at Fall Series VI Championship at Greenhorn Creek Golf Course in Angels Camp
 PEBBLE BEACH, Calif. (October 3, 2017) – Sponsored by Capital Insurance Group, the 2017-2018 Junior Tour of Northern California (JTNC) crowned champions Sunday at the Fall Series VI Championship at Greenhorn Creek Golf Course in Angels Camp.
Cupertino resident Ethan Chung shot even-par 144 and San Jose resident Sabrina Iqbal shot 8-over 152 to win their respective divisions at the Fall Series VI Championship held Saturday and Sunday at par-72 Greenhorn Creek Golf Course.
Chung captured his first title of the 2017-2018 season thanks to solid rounds of even-par both days. Overall, Chung posted 10 birdies to hold off runner-up Carlos Arieta Winsett of Los Altos by four strokes. Chung had a wild first round, posting six birdies to go against four bogeys and a double-bogey.
On Sunday, Chung wrapped up his weekend with a birdie on the 18th.  Arieta Winsett, who opened with a 72, fell back to a 76 on Sunday to come in at 148.
Nikolai Friedman of Mill Valley and Sebastian Iqbal of San Jose finished T-3 at 149 after rounds of 73 and 75, respectively. Iqbal was awarded third place following a card-off. Fifth place went to Danville's Wanxi Sun at 151.
In the Girls Championship,  Iqbal won her fourth event of the season.
The Pioneer High senior was clutch, carding a birdie on the 18th to hold off runner-up Sienna Lyford of Roseville by a shot. Iqbal, who notched her sixth win in 2017, had rounds of 75-77.
In Saturday's opening round, Iqbal got going with three straight birdies during a stretch on the front-nine.
Lyford, who also opened with a 75, had an opportunity to catch Iqbal but slipped with a bogey on 18.
Vanessa Richani of Granite Bay was third at 159 after an 80. Mika Jin of Fremont was fourth at 160, while Kristine Tran of San Jose was fifth at 165.
In the Boys' First Flight Championship, Ryan Stewart of Petaluma shot a final round 79 to come in at 159 and defeat runner-up Eric Ni of Dublin by three shots.
Leonardo Veira of San Leandro was third at 163, while Vince Boyack of Sonora and Calvin Kong of Cupertino finished T-4 at 164.
In the Girls' First Flight Championship, Nicole Iniakov of Prunedale shot a final round 86 to come in at 168 and defeat runner-up Emily Hou of San Ramon by a shot.
Third place went to Mikaela Paracuelles of Folsom at 172. Stella Lin of San Ramon was fourth at 177, while Darla May Dela Torre was fifth at 178.
Next up on the JTNC calendar is the 2017-2018 Fall Series VII Championship, to be held Oct.7-8 at Rancho Murieta Country Club in Rancho Murieta.