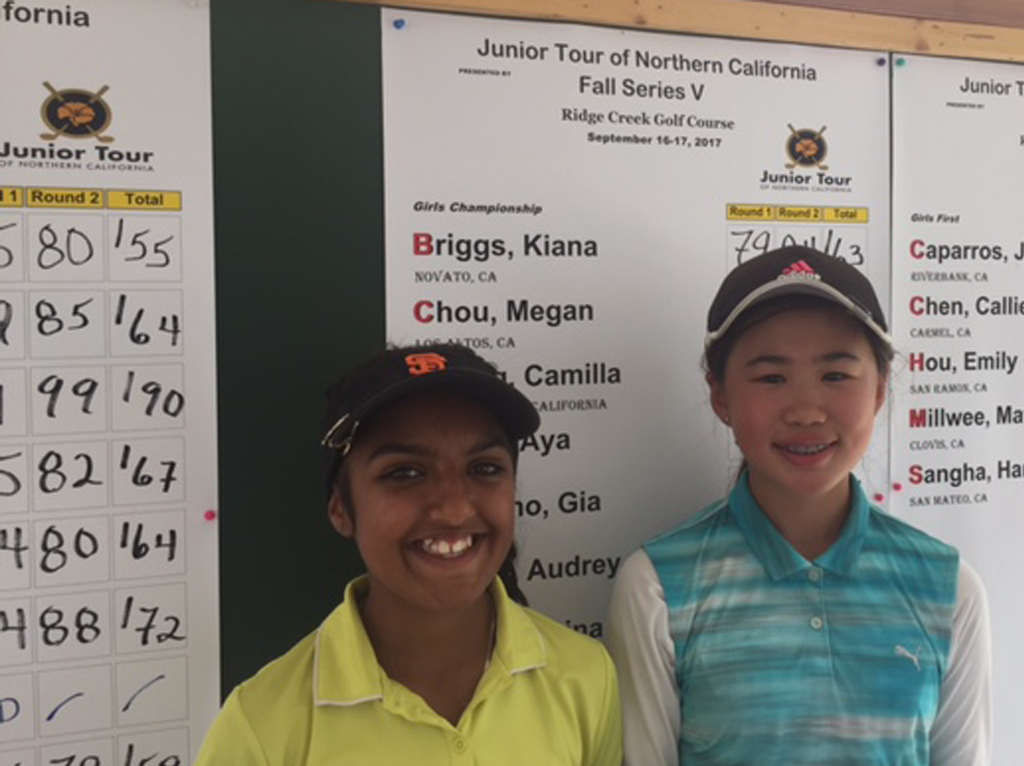 Fall Series V: Ridge Creek Dinuba G.C.
Pairings | Alphabetical Pairings | Results
Player Information Sheet | Yardages
Approximate Second Round Times
JTNC Pace of Play Policy | Standard Local Rules

CIG-Sponsored Junior Golf Tour of Northern California Crowns Winners at Fall Series V Championship at Ridge Creek Golf Course in Dinuba
 PEBBLE BEACH, Calif. (September 18, 2017) – Sponsored by Capital Insurance Group, the 2017-2018 Junior Tour of Northern California (JTNC) crowned champions Sunday at the Fall Series V Championship at Ridge Creek Golf Course in Dinuba.
Kingsburg resident Brian Stark shot 6-under 138 and San Jose resident Sabrina Iqbal shot 11-under 133 to win their respective divisions at the Fall Series V Championship held Saturday and Sunday at par-72 Ridge Creek Golf Course.
Stark captured his first title of the 2017-2018 season by shooting solid scores of 3-under 69 both days. Overall, he'd post 12 birdies to go against just four bogeys and a double-bogey.
In Sunday's finale, Stark caught fire, running off five straight birdies from holes Nos.11 through No.15.
Finishing as runner-up at 141 after a final round of 71 was Maverick Pavletich of Bakersfield. Ethan Chung of Cupertino was third at 142 following a 74.
Fourth place went to Los Altos' Carlos Arieta-Winsett at 145. Three players—Vivek Vasireddy of Fremont, Caleb Shetler of Saratoga and Wanxi Sun of Danville—finished T-5 at 146.
In the Girls Championship,  Iqbal won her third event of the season in record fashion.
The Pioneer High senior's winning total of 11-under 133  tied the JTNC record for lowest winning girls' score. Casie Cathrea shot 11-under 133 in winning at Ridge Creek in 2012. Iqbal's second round 64 was the second lowest 18-hole score in JTNC history. Cathrea had a 63 at Ridge Creek.
Iqbal would post two eagles and 10 birdies with only three bogeys. She is 21-under over her last four rounds at Ridge Creek.
Finishing as runner-up at 145 after a final round 73 was San Mateo's Kiran Sangha. Third place went to Mika Jin of Fremont at 153.
Megan Chou of Los Altos and Audrey Heckel of San Jose finished T-4 at 161.
In the Boys' First Flight Championship, Yusuf Ahmed of Folsom took the title after coming in tied at 11-over 155 with Patrick Sperling of Fresno. Ahmed won in a playoff.
Third place went to Rishab Ragineni of Cupertino at 159. Carlos Feliciano of Concord and Andrew Burdick of Arroyo Grande finished T-4 at 164.
In the Girls' First Flight Championship, Emily Hou of San Ramon shot a final round 77 to come in at 148, defeating runner-up Hannah Sangha of San Mateo by 11 shots. Sangha had an 81.
Mattie Millwee of Clovis and Janea Caparros of Riverbank finished third and fourth, respectively, at 165 and 176.
Next up on the JTNC calendar is the 2017-2018 Fall Series VI Championship, to be held Sept. 30-Oct.1 at Greenhorn Creek Resort in Angels Camp.