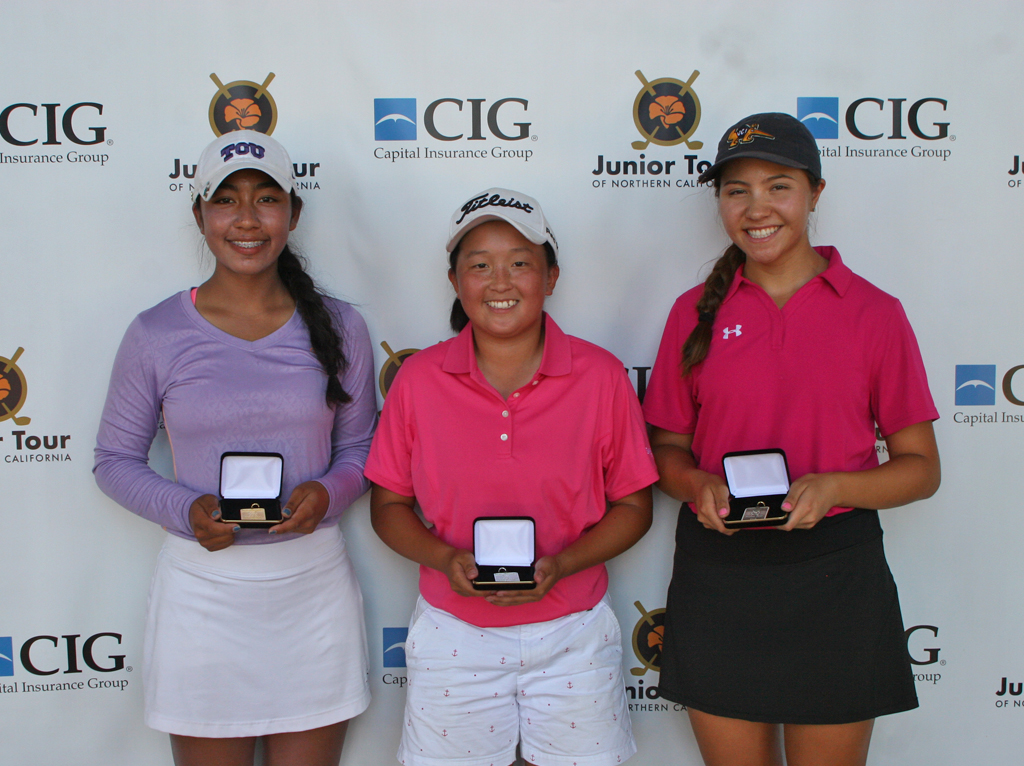 Fall Series II: San Juan Oaks G.C.
Hollister, CA
August 26-27, 2017
Pairings | Alphabetical Pairings | Results
Yardages | Approximate Final Round Times
Standard Local Rules | Pace of Play Policy

CIG-Sponsored Junior Golf Tour of Northern California Crowns Winners at Fall Series II Championship at San Juan Oaks Golf Club in Hollister
 PEBBLE BEACH, Calif. (August 28, 2017) – Sponsored by Capital Insurance Group, the 2017-2018 Junior Tour of Northern California (JTNC) crowned champions Sunday at the Fall Series II Championship at San Juan Oaks Golf Club in Hollister.
Los Altos resident Carlos Arieta Winsett shot 6-under 138 and defeated Ty Griggs in a playoff and San Jose resident Sabrina Iqbal shot 1-over 145 to win their respective divisions at the Fall Series II Championship held Saturday and Sunday at par-72 San Juan Oaks Golf Club.
Winsett notched his first win of the new season with solid play both days, carding a 70 and 68, respectively. Overall, he'd card nine birdies to go against just one bogey. Along with coming up big in the playoff, he'd close with five straight pars to stay tied for first place.
Griggs, of Manteca, put himself in position with a sizzling first round 66 that featured seven birdies and just one bogey. On the front-nine, Griggs posted a 32.
Jason Chen of San Jose was third at 143 following a final round 70. Sebastian Iqbal of San Jose and Mill Valley's Nikolai Friedman tied for fifth at 144 following rounds of 71 and 73, respectively.
In the Girls' Championship, Iqbal, the reigning four-time Girls' Player of the Year, nabbed her second straight win to start the new season. The Pioneer High senior had a final round 74 to hold off Danielle Suh of San Ramon by a shot.
The win marked Iqbal's 27th career Northern California major, increasing her record.
Suh had a chance to force a playoff with Iqbal but closed with a bogey on the 18th for a 73 and two-day total of 146.
Roseville's Sienna Lyford, the runner-up at the Fall Series I Championship, and Fremont's Mika Jin both finished T-3 at 150 following rounds of 73 and 77, respectively. Lyford earned third place following a card-off.
Borina Sutikto of Fremont and Kiana Briggs of Novato finished T-5 at 152 after rounds of 72 and 75, respectively.
In the Boys' First Flight Championship, Matthew Ro of San Jose shot a final round 78 and defeated Curtis DaSilva of Marina in a playoff to win the title. DaSilva also had a final round 78.
In another tie, Eric Ni of Dublin and Ralph Kho of Belmont finished third at 155. Kho earned third place in a card-off. Calton Kong of Cupertino was fifth at 157.
In the Girls' First Flight Championship, Sophie Thai of Los Altos had a final round 75 to come in at 154 and win by four shots. At the Fall Series I, Thai had lost in a playoff.
Kristina Oh of San Jose and Annabelle Chen of Fremont finished tied for second at 158. Oh earned second place in a card-off. Emily Luo of Danville was fourth at 163, while Samira Pal of Cupertino was fifth at 164.
Next up on the JTNC calendar is the 2017-2018 Fall Series III Championship, to be held Sept. 2-3 at Laguna Seca Golf Ranch in Monterey.