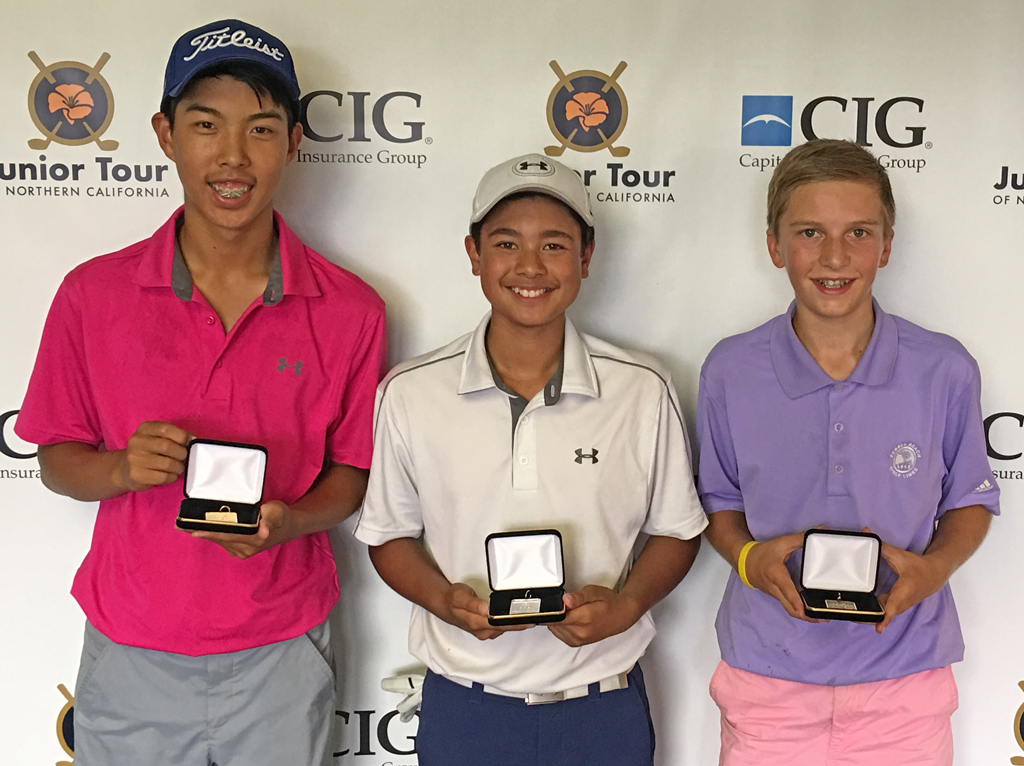 Fall Series III: Laguna Seca G.C
Monterey, CA
September 2-3, 2017
Pairings | Alphabetical Pairings | Results
Yardages | Approximate Final Round Times
Standard Local Rules | Pace of Play Policy

CIG-Sponsored Junior Golf Tour of Northern California Crowns Winners at Fall Series III Championship at Laguna Seca Golf Ranch in Monterey
 PEBBLE BEACH, Calif. (September 5, 2017) – Sponsored by Capital Insurance Group, the 2017-2018 Junior Tour of Northern California (JTNC) crowned champions Sunday at the Fall Series III Championship at Laguna Seca Golf Ranch in Monterey.
Menlo Park resident Carlos Will Meinhardt shot 2-under 140 and Fremont resident Mika Jin shot 4-over 146 to win their respective divisions at the Fall Series III Championship held Saturday and Sunday at par-71 Laguna Seca Golf Ranch.
Meinhardt grabbed his first win of the new season with solid play both days, carding a 69 and 71, respectively. Overall, he'd post eight birdies to go against six bogeys. Two of his biggest birdies came on the 13th and 15th holes, leading him to edge runner-up Wanxi Sun by a stroke.
Sun, of Danville, had opened with a solid 68 featuring five birdies. On Sunday, he'd get tripped up late by a bogey on the 17th, leading to a 73 and two-day total of 144.
Jonathan Dicks of Menlo Park was third at 144 after a 70, while Sebastian Iqbal of San Jose was fourth at 146 after a 73.
Four players—Saratoga's Victor Shin, Maverick Pavletich of Bakersfield, Carlos Arieta Winsett of Los Altos and Ethan Chung of Cupertino—tied for fifth at 147.
In the Girls' Championship, Jin shot a final round 74 to win by a stroke over runner-up Grace Chen of Sunnyvale. Coming off a first round 72, Jin, who notched her first win of the season, was fueled by key back-to-back birdies on the 11th and 12th holes.
Chen, who'd opened with a 71, slipped back to a 76 on Sunday. She'd be stung by bogeys on the 16th and 18th holes, leaving her with a two-day total of 147.
Three players—Borina Sutikto of Fremont, San Jose's Kaleiya Romero and San Mateo's Kiran Sangha—all finished tied for third at 149. Sangha, who shot a final round 71, earned third place following a card-off.
In the Boys' First Flight Championship, Matthew Ro of San Jose won his second straight title, shooting a final round 72 to come in at 151 and defeat runner-up Joshua Yeater of Marina by a stroke. Ro was powered in part by a hole-in-one on the par-3 12th in the final round. Yeater had a final round 75.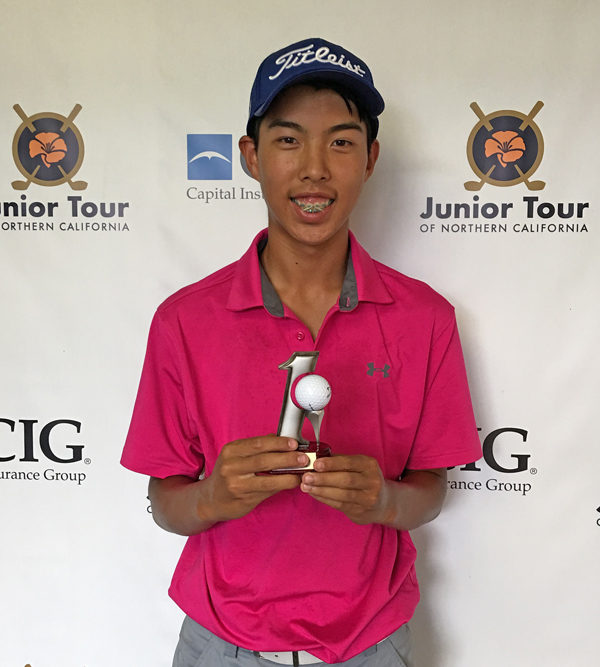 Third place went to Marina's Curtis Dasilva at 155, while Advaith Pathi of San Jose was fourth at 157. Fifth place went to Jonathan Le of San Jose at 161.
In the Girls' First Flight Championship, Sophie Thai of Los Altos also won her second event in a row, posting a final round 79 to finish at 162, good enough for a one-shot win over runner-up Emily Hou of San Ramon.
Third place went to Kiara Romero of San Jose at 165. Palo Alto's Lauren Sung was fourth at 170, while Kati Wilkes of Danville was fifth at 171.
Next up on the JTNC calendar is the 2017-2018 Fall Series IV Championship, to be held Sept. 9-10 at Haggin Oaks Golf Complex in Sacramento.