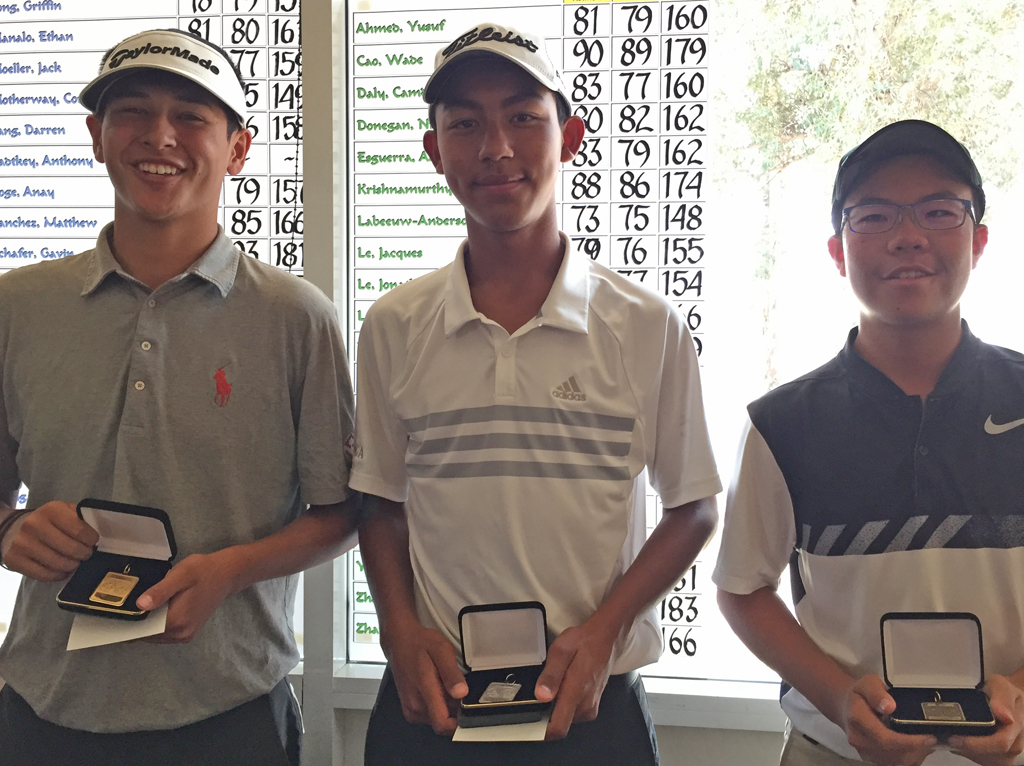 Fall Series I: Cypress Lakes G.C
Vacaville, CA
August 19-20, 2017
Pairings | Alphabetical Pairings | Results
Yardages | Approximate Final Round Times
Standard Local Rules | Pace of Play Policy

CIG-Sponsored Junior Golf Tour of Northern California Crowns Winners at Fall Series I Championship at Cypress Lake Golf Course in Vacaville
 PEBBLE BEACH, Calif. (August 21, 2017) – Sponsored by Capital Insurance Group, the 2017-2018 Junior Tour of Northern California (JTNC) crowned champions Sunday at the Fall Series I Championship at Cypress Lakes Golf Course in Vacaville.
Saratoga resident Caleb Shetler shot 1-over 145 and San Jose resident Sabrina Iqbal shot 7-over 151 to win their respective divisions at the Fall Series I Championship held Saturday and Sunday at par-72 Cypress Lakes GC.
Shetler notched the inaugural win of the new 2017-2018 season thanks in part to a solid opening round 71 that included four birdies. Shetler had closed the 2016-2017 season with a victory at the Summer Series V Championship.
In Sunday's finale, Shetler went 2-over on the back-nine but he'd close with four straight clutch pars, giving him a one-shot edge over co-runners-up Sebastian Iqbal of San Jose and Ethan Chung of Cupertino.
Iqbal, who earned second place in a card-off, made a huge late charge, carding a 69 on Sunday. His round would feature five birdies to go against just two bogeys. Chun, who'd opened with a 71, had a chance to tie Shetler but bogeyed the 17th.
Fourth place went to Orinda's Brendon Choe at 147 following a 70. Nathan Wang of Fremont finished fifth at 148 after a 74.
In the Girls' Championship, Iqbal, the reigning four-time Girls' Player of the Year, picked up right where she left off. The Pioneer High senior had a final round 74 that included four straight clutch pars on holes No.15 through No.18 to hold off Sienna Lyford by a shot.
The win was Iqbal's 26th career Northern California major, increasing her record. Lyford, of Roseville, had a chance to force extra holes but bogeyed the 18th. She'd finish at 152, posting back-to-back rounds of 76.
Third place went to Kiran Sangha of San Mateo at 153 following a 75. Stockton's Anitra Khoth was fourth at 156, while Roseville's Neeve Chen took fifth place at 157.
In the Boys' First Flight Championship, Duncan Labeeuw-Anderson of Mill Valley shot a final round 75 to come in at 148 and win by six over runner-up Jonathan Le of San Jose. Le shot a final round 77.
Third place went to Jacques Le at 155, while Advaith Pathi of San Jose was fourth at 156. Dublin's Sameeer Paila was fifth at 159.
In the Girls' First Flight Championship, Sophie Thai of Los Altos and Sydney Sung of Palo Alto finished tied for first at 158 after final rounds of 78 and 81, respectively. Sung would win in a sudden-death playoff.
Alexis Esquerra of Alameda was third at 161, with San Jose's Kristina Oh taking fourth at 164.
Next up on the JTNC calendar is the 2017-2018 Fall Series II Championship, to be held August 26-27 at San Juan Oaks Golf Club in Hollister.