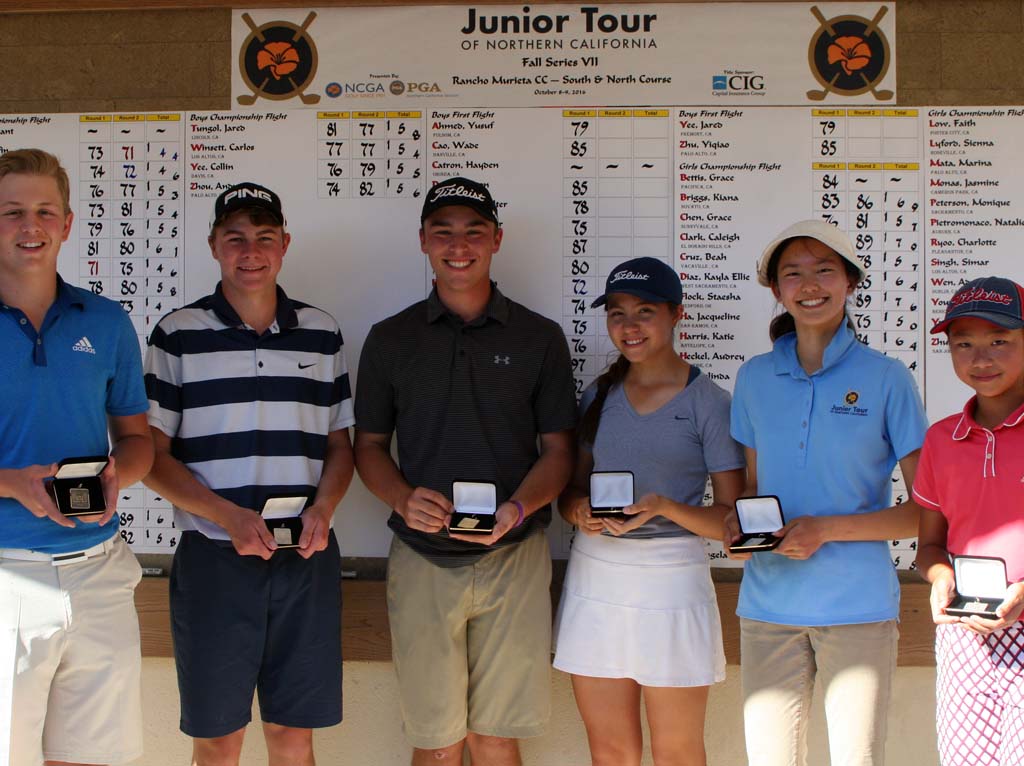 Fall Series VII: Rancho Murieta C.C.
Rancho Murieta, CA
October 8-9, 2016
Contestant Information Sheet   |  Yardages: South Course  &   North Course

CIG-Sponsored Junior Golf Tour of Northern California Crowns Winners at Fall Series VII Championship at Rancho Murieta Country Club in Rancho Murieta
 PEBBLE BEACH, Calif. (October 10, 2016) – Sponsored by Capital Insurance Group, the 2016-2017 Junior Tour of Northern California (JTNC) crowned champions Sunday at the Fall Series VII Championship at Rancho Murieta Country Club in Rancho Murieta.
Lodi resident Justin Gums shot 6-under par 138 and Roseville resident Sienna Lyford shot 2-over 146 to win their respective divisions at the Fall Series VII Championship held Saturday and Sunday at par-72 Rancho Murieta CC.
Gums picked up his first win of the 2016-2017 season by posting back-to-back rounds of 3-under 69. Overall, he'd card an eagle and seven birdies to go against just one bogey and a double-bogey.
He'd get his eagle on the par-5 8th in the second round, helping him shoot a front-nine 33 to keep control of the lead. Gums was coming off a second place finish at the Fall Series VI Championship. He was the only player to break 70 both days.
Finishing tied for second at 142 were Reno's Charles Osborne and Alamo's Ryan Grauman following final rounds of 71 and 72, respectively. Osborne was awarded second place following a card-off.
Both Michael Shaw of Pleasanton and Davis resident Griffin Long finished T-4 at 144 following rounds of 69 and 71, respectively. Shaw was flawless in the finale, posting three birdies with zero bogeys.
In the Girls' Championship, Lyford also picked up her first victory of the new season. But she had to put in some extra work to get it.
Lyford had a final round 71 to finish tied after regulation with both Belinda Hu of San Ramon and Foster City's Faith Low. Lyford finally emerged victorious following a three-hole sudden-death playoff.
Trailing by four shots after a first round 75, Lyford got back in it by posting four birdies to go with three bogeys.
Hu also shot a final round 71, while Low had her second straight 73. Hu would be awarded second place following a card-off. Simar Singh of Los Altos, winner of the 2015  California Girls' Junior, came in fourth at 148 after a 78.
Both Katherine Zhu of San Jose and Fremont's Mika Jin shared fifth place at 149. Jin had grabbed the first round lead with a 71.
In the Boys' First Flight Championship Krishan Patel of San Jose took the title by three shots, shooting a 75 to come in at 148. Leonardo Viera of Castro Valley was runner-up at 151 after a 78.
Third place went to Cameron Keith of Alamo at 152, while San Jose's Gregory Lee was fourth at 153. Yusuf Ahmed of Folsom was fifth at 154.
In the Girls' First Flight Championship, Alyssa Yee of Davis shot a final round 82 to eke out a one-shot win over Zoe Offield of Stockton. Yee was helped by back-to-back pars on the closing 17th and 18th holes.
Milpitas' Cynthia Zhang was third at 161. Both Rachel Shaw of Pleasanton and Kate Lim of Pleasanton shared fourth place at 165.
Next up on the 2016-2017 season calendar is the Fall Series VIII Championship, slated for Oct. 15-16 at Poppy Ridge Golf Course in Livermore.