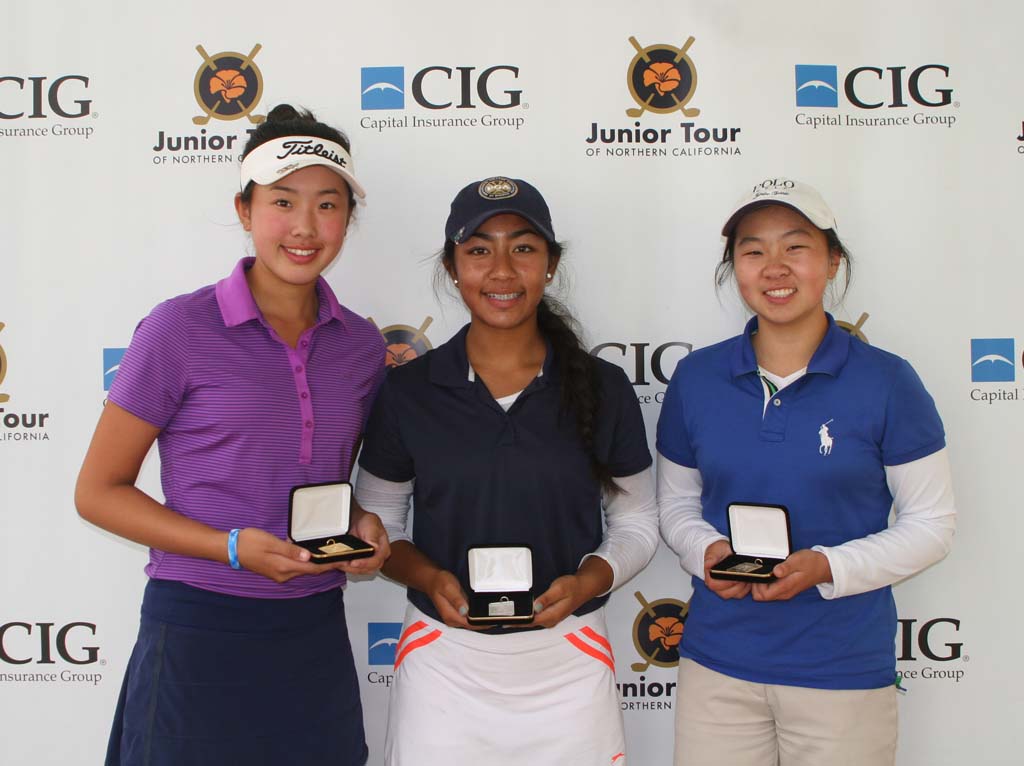 Fall Series VI: Greenhorn Creek G.C.
Angels Camp, CA
October 1-2, 2016
Contestant Information Sheet  |  Yardages   

CIG-Sponsored Junior Golf Tour of Northern California Crowns Winners at Fall Series VI Championship at Greenhorn Creek Golf Club in Angels Camp
 PEBBLE BEACH, Calif. (October 3, 2016) – Sponsored by Capital Insurance Group, the 2016-2017 Junior Tour of Northern California (JTNC) crowned champions Sunday at the Fall Series VI Championship at Greenhorn Creek Golf Club in Angels Camp.
Pleasanton resident Noah Woolsey shot 6-under par 138 and Concord resident Yealimi Noh shot 2-over 148 to win their respective divisions at the Fall Series VI Championship held Saturday and Sunday at par-72 (par-73 Girls) Greenhorn Creek GC.
Woolsey picked up his first win of the 2016-2017 season thanks to some clutch play down the stretch. He'd birdie holes No.14-No.16 in succession for a second round 70, helping him hold of runner-up Justin Gums of Lodi by a stroke.
On Saturday, Woolsey took the first round lead with a solid 4-under 68 that featured five birdies to go against just one bogey. In Sunday's critical final round, he'd start slowly out the gate with a front-nine 36.
Gums did his best to try and catch Woolsey. Coming off a first round 72, he'd shoot a 67 that featured seven birdies to go against just two bogeys. Gums wrapped up his round with back-to-back birdies on the 17th and 18th, but Woolsey held firm, making pars on the holes.
San Jose resident Matt Lloyd finished third at 143 after a final round 71. Alexander Chin of Pleasanton and Ashkaan Hakim of San Ramon finished T-4 at 147 following final rounds of 71 and 73, respectively.
In the Girls' Championship, Noh got her second win of the 2016-2017 season after holding off three-time defending JTNC Girls' Player of the Year Sabrina Iqbal. The clincher would be a clutch birdie on the 18th in Sunday's final round.
In the opening round, Noh grabbed the lead with a solid 71 that featured an eagle (hole No.1) and three birdies to go against three bogeys. A day later, Noh fell back to a 77 but came through when she had to.
Iqbal, who was looking for her fourth win of the new season, was within three shots of Noh following a first round 74. On Sunday, the Pioneer High junior crept closer with a front-nine 1-under 36. Iqbal's undoing would be a double-bogey on the 16th followed by a bogey on the 17th.
Katherine Zhu of San Jose took third at 151 following a final round 73. San Mateo's Kiran Sangha and Belinda Hu of San Ramon finished T-4 at 155 after rounds of 77 and 79, respectively.
In the Boys' First Flight Championship Will Clark of San Jose shot a final round 76 to come back and defeat co-runner-ups Justin Hopkins of Danville and Ethan Jaehn of Fremont by a stroke. Hopkins had opened the second round just a shot behind Clark, while Jaehn was tied with Clark entering the final round. In a card-off, Hopkins would be awarded second place.
Cupertino's Rishab Ragineni came in fourth at 166 after a 79, while Eric Ni of Dublin was fifth at 167 following an 84.
In the Girls' First Flight Championship, Samira Pal of Cupertino had a final round 82 to come in at 168 and defeat runner-up Cynthia Zhang of Milpitas by a stroke. Zhang shot a final round 85.
Third place went to Meghan Paracuelles of Folsom at 170, while fourth place was claimed by Jaclyn LaHa of Pleasanton at 171. Hannah Sangha of San Mateo was fifth at 173.
The shot of the championship came from Beck Harvey, who aced the 150-yard 13th hole during Sunday's second round.
Next up on the 2016-2017 season calendar is the Fall Series VII Championship, slated for Oct. 8-9 at Rancho Murieta Country Club in Rancho Murieta.