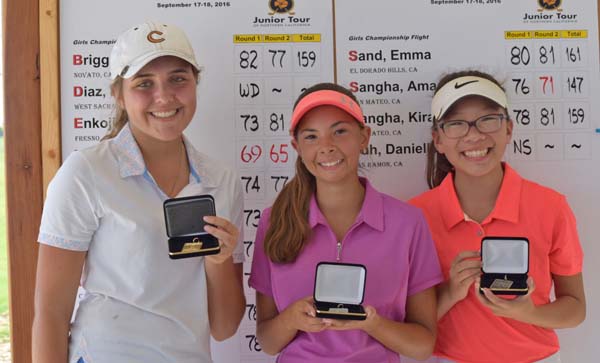 Fall Series V: Ridge Creek G.C.
Dinuba, CA
September 17-18, 2016
Contestant Information Sheet  | Yardages

CIG-Sponsored Junior Golf Tour of Northern California Crowns Winners at Fall Series V Championship at Ridge Creek Golf Club
PEBBLE BEACH, Calif. (September 19, 2016) – Sponsored by Capital Insurance Group, the 2016-2017 Junior Tour of Northern California (JTNC) crowned champions Sunday at the Fall Series V Championship at Ridge Creek Golf Club in Dinuba.
Kingsburg resident Brian Stark shot 6-under par 138 and defeated Ian Oehlschlaeger in a playoff and San Jose resident Sabrina Iqbal shot 10-under 134 to win their respective divisions at the Fall Series V Championship held Saturday and Sunday at par-72 Ridge Creek GC.
Stark picked up his first win of the new season thanks to a final round charge. He'd post a solid 4-under 68 with four birdies and zero bogeys. Stark had six birdies in the first round but also had four bogeys.
Oehlschlaeger, who opened with a 67, fell out of his groove on Sunday. He'd card four birdies but also had four bogeys.
Michael Cliff of Fresno, who took third, was also in the hunt. Cliff shot a first round 68 but had a final round 71. He'd have a chance to join the playoff but suffered a crucial bogey on the 16th.
Four players—Cupertino's Ethan Chung, Lane Pulliam of Hanford, San Jose's Matt Lloyd and Cooper Hunt of El Dorado Hills—all finished T-4 at 140. Hunt had opened with a sizzling 66.
In the Girls' Championship, Iqbal got her third win of the 2016-2017 season. The reigning three-time defending JTNC Girls' Player of the Year would win by 10 strokes.
Coming off a first round leading 69, Iqbal caught fire, shooting a 7-under 65. The 65 is the second lowest Girls' round in JTNC history, tying Yoonhee Kim (2016 Summer Series III). The record is a 9-under 63 by former junior standout Casie Cathrea in 2012.
Iqbal posted nine birdies to go against just two bogeys. Over her 36 holes, the Pioneer High junior had 14 birdies with just four bogeys.
Audrey Lin of Fremont was second at 143 following a second round 70. Tammy Lim of Clovis was third at 146 following a 73.
Fourth place went to San Mateo's Amanjoty Sangha at 147 after a 71, while Cupertino's Bibilani Liu and Vannesa Richani of Granite Bay shared fifth place at 149 following rounds of 71.
In the Boys' First Flight Championship Alexander Guan of Fremont took the title by two shots, coming in at 146 following a final round 69. It was a great comeback by Guan, who'd opened with a 77. Steven Chen of San Jose was second at 148 after a 73.
Third place went to Andrew Burdick of Arroyo Grande at 151, while Alexander Iniakov of Prunedale was fourth at 153. Fifth place went to Rishab Ragineni of Cupertino at 160.
In the Girls' First Flight Championship, Caitlin Figura of Fresno won the title, shooting a final round 78 to finish at 154. Second place went to Ellie Sand of El Dorado Hills at 158.
Three players—Samira Pal of Cupertino, Pleasanton's Rachel Shaw and Pleasanton's Kate Lim—shared third place at 160.
Fresno's David Trevino had the shot of the tournament, carding an ace on the par-3 7th hole during Saturday's first round.
Next up on the 2016-2017 season calendar is the Fall Series VI Championship, slated for Oct. 1-2 at Greenhorn Creek Golf Club in Angels Camp.