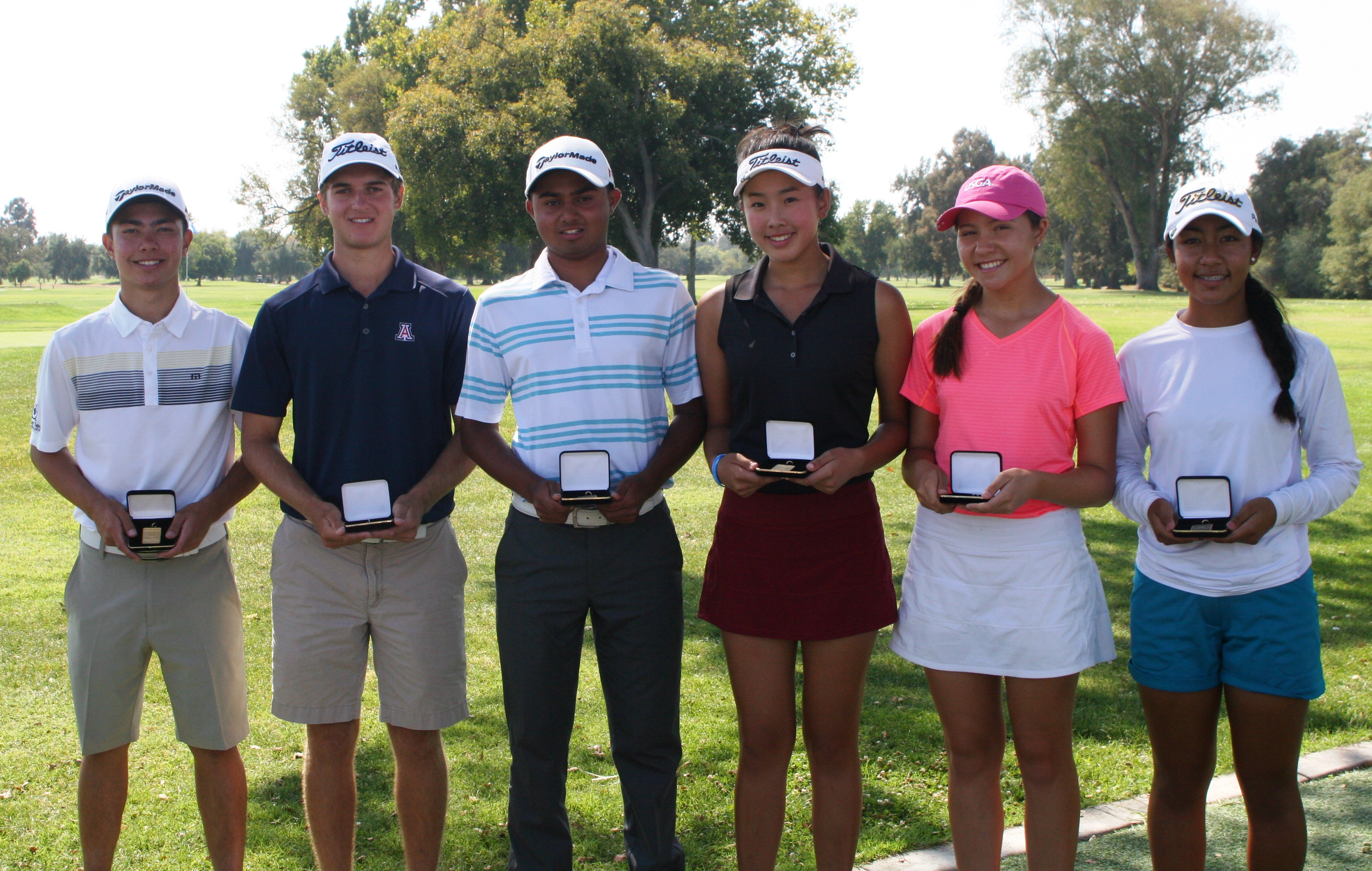 Fall Series IV: Haggin Oaks (MacKenzie & Arcade Courses)

CIG-Sponsored Junior Golf Tour of Northern California Crowns Winners at Fall Series IV Championship at Haggin Oaks Alister Mackenzie and Arcade Creek Courses.
PEBBLE BEACH, Calif. (September 13, 2016) – Sponsored by Capital Insurance Group, the 2016-2017 Junior Tour of Northern California (JTNC) crowned champions Sunday at the Fall Series IV Championship at Haggin Oaks in Sacramento.
San Jose resident Thomas Hutchison won a Junior Tour record third straight JTNC event at Haggin Oaks over the weekend with a six under par 138 total.   He is now three for three this Fall season with three tournaments and three victories.   Meanwhile Concord resident Yealimi Noh shot 141 a two day total three under par to pick up her second Junior Tour win of 2016.
Hutchison, who will be representing California in the USGA Sate Team Championship later this month, has been red hot lately; which bodes well for California.  At Haggin Oaks the rest of the field did not make it easy on him and he had to work for his this record third straight victory.  Drake Mendenhall from Granite Bay had two great rounds and was off to the first round lead with a 67 which included six birdies.  Hutchison who shot 68 in round one pulled into a tie with Mendenhall with a very solid 70 on the McKenzie course in round two.   Mendenhall had a 71 on Sunday leaving the two players tied at six under and heading into a sudden death playoff; Hutchison secured the victory on the par five first hole with a birdie.
Rounding out the winners in third place was Vijay Srinivasan from Fremont.  Vijay missed the playoff by one shoot 71, 68 for a five under two round total.  He was also one of two players to shoot a day two low round of 68.  All in all Griffin Long, Kevin Huff and Connor Motherway were all contenders with two day totals that were under par.
In the Girls Championship Flight Yealimi Noh picked up another Junior Tour victory with her win at Haggin Oaks and finished off a great summer of play.   Beyond winning twice on the JTNC she qualified for match play in both the USGA Women's Am and Junior Girls; a very impressive level of play.  Noh's two day total of three under 141 was the only girl to break par during this event.  She started hot with a 69 and followed it up with a very solid two birdie two bogey 72.
Roseville's Sienna Lyford and San Jose's Sabrina Iqbal finished in a tie for second at 145.  Lyford shot the low round of the day for the girls with a 70 on the Arcade course on the second day.  Lyford took second in the tie breaker and Iqbal took third.  Iqbal has now medaled in every event of the Fall Series.  The three time JTNC Player of the Year is showing no sign that she is willing to give up that title.
In the first flight Steffi Lin of San Ramon is on quite the hot streak herself.  She has now won three straight Fall Series event events just as Hutchison has.  She picked up the latest victory at Haggin Oaks with rounds of 73 and 75.  She took the lead with a day one 73 and never relinquished it; both rounds were the low rounds of the day.  Walnut Creek's Skye Mingming also shot a day two low round of 75 which helped move her into second place.   Jacqueline Lucena from Chico and Linette Jun from Cupertino shot matching 77, 76's for a third place tie.  Both very solid rounds for these up and coming players.
The Boys First Flight ended in a two day tie with a total of 148 between Collin Yee of Davis and Krishan Patel of San Jose.  Krishan got off to a day one lead with a low for the day of 72 for the first flighters.   He played well on day two with a 76 but was reeled in by Collin Yee who shot 70, the only round under par for the first flight over the two days.  They went to a sudden death playoff on the first hole, a par five, Yee made birdie and won it there.   Third place in this flight was claimed by Seung Lee of San Leandro who played very solid and finished one shot out of the playoff with a 149.
Next up on the 2016-2017 season calendar is the Fall Series V Championship, slated for Sept. 17-18 at Ridge Creek in Dinuba.