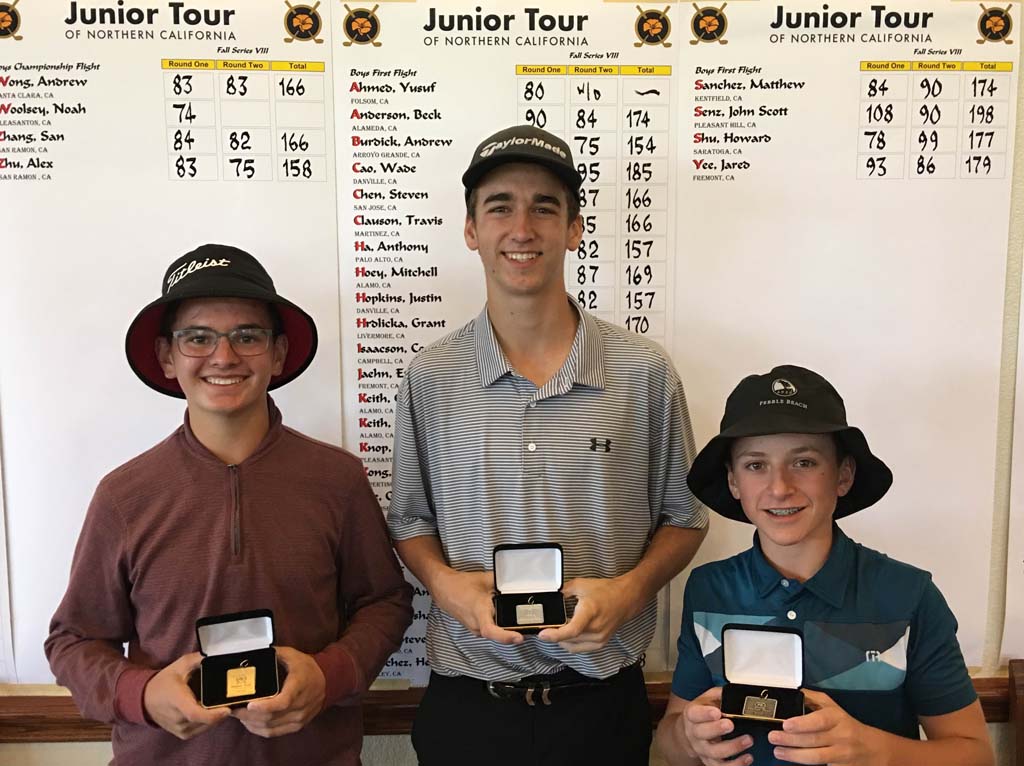 Fall Series VIII: Poppy Ridge G.C.
Livermore, CA
October 15-16, 2016
Yardages  |  Player Information Sheet

CIG-Sponsored Junior Golf Tour of Northern California Crowns Winners at Fall Series VIII Championship at Poppy Ridge Golf Course in Livermore
 PEBBLE BEACH, Calif. (October 17, 2016) – Sponsored by Capital Insurance Group, the 2016-2017 Junior Tour of Northern California (JTNC) crowned champions Sunday at the Fall Series VIII Championship at Poppy Ridge Golf Course in Livermore.
San Ramon resident Ashkaan Hakim shot 6-over par 150 and Concord resident Yealimi Noh shot 7-over 151 to win their respective divisions at the Fall Series VIII Championship held Saturday and Sunday at par-72 Poppy Ridge GC.
Hakim picked up his first win of the 2016-2017 season thanks to solid play despite wet and windy conditions. Hakim shot a final round 77, and made a crucial par on the 18th hole, to hold off Jason Chen of San Jose by a stroke.
Along with his par on the 18th, Hakim was boosted by a final round birdie on the par-5 14th. He'd opened the tournament with a 1-over 73 that included three birdies.
Chen, who shot a first round 74, birdied the 18th but it wasn't enough to catch Hakim.
Finishing T-3 at 152 were Newark's Jeremy Villafuerte and Saratoga's Caleb Shetler after final rounds of 79 and 81, respectively. Shetler was awarded third place in a card-off. He was the only player to break par in Saturday's blustery first round.
Three players—Grant Fairbairn of Orinda, San Ramon's Isaiah Choi and Walnut Creek's Grant Johnson—finished T-5 at 153. Johnson was tied for the first round lead following an opening 72.
In the Girls' Championship, Noh won her third event of the season thanks in part to a stellar opening round. On Saturday, Noh fired a 1-over 73 that featured four birdies and five bogeys.
A day later in the wind and rain, Noh made a critical par on the 18th hole to hold off co-runner-ups Belinda Hu of San Ramon and San Jose's Sabrina Iqbal.
Hu and Iqbal shot final rounds of 81 and 82, respectively. Hu was awarded second place in a card-off. Iqbal is the three-time defending JTNC Girls' Player of the Year.
Coming in at 162, and tying for fourth place, were Mika Jin of Fremont and Ashely Shim of San Mateo.
In the Boys' First Flight Championship, Andrew Burdick of Arroyo Grande won the title with a two-day score of 154. Second place went to Campbell's Connor Isaacson at 156.
Anthony Ha of Palo Alto and Justin Hopkins of Danville finished T-3 at 157 following final rounds of 82. Hopkins earned third place in a card-off. Krishan Patel of San Jose was fifth at 160.
In the Girls' First Flight Championship, Kate Lim of Pleasanton had a final round 82 to come in at 163 and edge runner-up Cynthia Zhang of Milpitas by a stroke. Zhang shot a final round 83.
Third place went to Lauren Lee of Pleasanton at 167, while fourth place went to Selena Tang of Fremont at 172. Walnut Creek's Skye Mingming was fifth at 173.
Next up on the 2016-2017 season calendar is the Fall Series IX Championship, slated for Oct. 22-23 at Bidwell Park Golf Course in Chico.