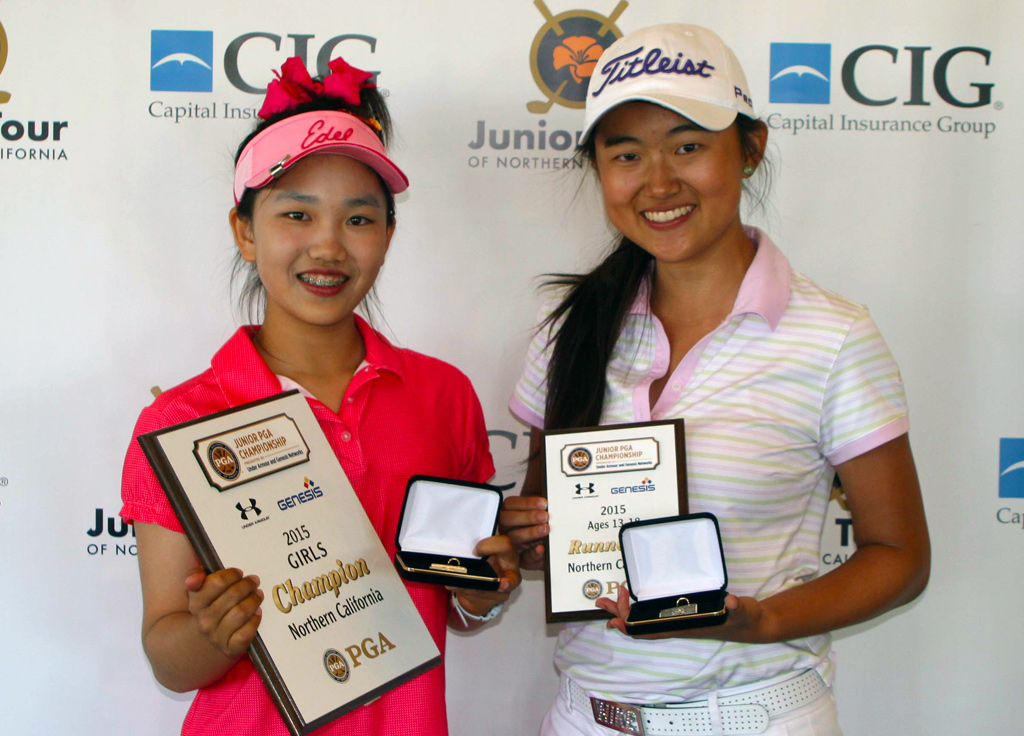 Junior Tour Summer II: Poppy Ridge GC
Livermore, CA
June 17-18, 2015
Contestant Information Sheet | Yardages
JTNC Pace of Play Policy |  JTNC Standard Local Rules
**This tournament is a PGA Junior Championship Qualifier for eligible players.
**Poppy Ridge consists of three nine hole courses (Zinfandel, Chardonnay, and Merlot) make sure to look at the player info sheet and yardages to determine which configuration each flight is playing.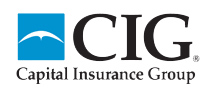 CIG-Sponsored Junior Golf Tour of Northern California Crowns Winners in Summer Series II at Poppy Ridge Golf Course
PEBBLE BEACH, Calif. (June 19, 2015) – Sponsored by Capital Insurance Group, the 2015 Junior Tour of Northern California (JTNC) crowned champions Thursday in the Summer Series II Championship at Poppy Ridge Golf Course in Livermore.
San Jose resident Justin Suh shot 7-under 137 and Redwood Shores resident Lucy Li shot 5-under 139 to win their respective divisions at the Summer Series II Championship held Wednesday and Thursday at par-72 Poppy Ridge Golf Course.
With their victories, both Suh and Li earned automatic berths into this year's PGA Junior Championship, slated for August 3-6 at Miramont Country Club in Texas.
Suh, who will begin playing for USC in the fall, captured his second JTNC title of the 2014-2015 season thanks to a brilliant opening round.
On Wednesday, the 2015 San Francisco City champion caught fire, posting a stellar 6-under 66 that featured seven birdies and just one bogey. Suh was perfect on his front-nine, posting a 32 with four birdies and no bogeys.
The opening 66 gave Suh some breathing room, and he'd take advantage of it, shooting a second round 71 to defeat runner-up Ashkaan Hakim of San Ramon by four strokes.
In his second round, Suh was the epitome of steady, posting a birdie to go with 17 pars.
Hakim, who had opened with a sluggish 1-over 73, turned things around in the second round, carding a 68 that featured five birdies and just one bogey.
Finishing tied for third place in the Boys' Championship at a total of 2-under 142 were three players—Ray Navis of Nipomo, Finigan Tilly of Redwood City and Matt Heitel of Redwood City.
Both Navis and Tilly shot final round scores of 70. In Wednesday's first round, Tilly recorded a hole-in-one on the par-3 2nd hole of the Zinfandel Course.
Heitel was only two behind Suh after the first round, carding a solid 68 that included five birdies and a bogey.
In a card-off, Tilly was awarded third place in the Boys' Championship.
Over in the Girls' Championship, Li, who was the darling of the 2014 U.S. Women's Open, had to survive a playoff with Pleasanton's Xinyang Wang to win the title.
A thriller, Wednesday's first round saw Belinda Hu of San Ramon take the lead with a stellar 5-under 67 that included eight birdies and three bogeys. On the back-nine, Hu was a machine, carding a 7-under 29 that included five straight birdies from holes No.12 through No.16.
As great as Hu was though, she'd have company atop the leaderboard. Coming in with matching 68's, and leaving them just a stroke back after day one, were Li, Wang and Michelle Xie of Palo Alto.
In Thursday's finale, it became a duel between Li and Wang. Li, who last year at age 11 became the youngest player to ever qualify for the U.S. Women's Open,  got to a total of 6-under with a birdie on No.4, but bogeyed the 7th to fall back to 5-under. She'd par her final 11 holes for a 71 and score of 139.
Wang, meanwhile, got to a total of 5-under with a birdie on the 16th. She'd bogey the 17th to fall one behind Li, but made up the difference with a clutch birdie on the 18th to force extra holes. In the playoff, Li won on the first hole.
Hu, who had held the first round lead, shot a second round 79 that included an ace on the par-3 2nd of the Zinfandel Course to finish alone in fifth place at 146.
Xie shot a final round 73 to finish in third place at 141. Katherine Zhu of San Jose came in fourth at 144 following a 72.
Also carding a hole-in-one in the Girls' Championship was Dublin's Carissa Wu, who aced the par-3 3rd hole on the Chardonnay Course in the second round.
San Jose resident Sabrina Iqbal, who was looking to tie her own record for consecutive JTNC wins (4), finished in 12th place at 150.
Also turning out to be a barnburner was the Boys' First Flight Championship.
There, Brad Sparrer of Hollister shot a final round 69 to edge runner-up Raymond Abels of Pleasanton by a stroke.
Coming off a first round 73, Sparrer posted an eagle on the par-5 5th and added four birdies to go against a bogey and double-bogey to come in with a two-day total of 2-under 142.
Abels, who opened with a 74, also had an eagle (par-5 9th) and four birdies to go with a bogey and double-bogey.
Finishing in third place was Corte Madera's Ian Gilligan, who came in at 146 following a final round 71.
Fourth place in the Boys' First Flight Championship went to Michael Shaw of Pleasanton at 153. Darren Pang of San Ramon and Jeremy Choi of Fremont tied for fifth place at 155.
The Girls' First Flight Championship also came down to the wire.
Divya Tadimeti of Palo Alto shot a final round 77 to finish at 156, edging runner-up Alice Liu of Pleasanton, had a final round 80, by a shot.
Third place went to Vanessa Van Pell of Lafayette at 160. Catherine Batang of South San Francisco and Madison Beckett of Santa Rosa finished fourth and fifth, respectively, at 162 and 163.
Next up on the JTNC calendar is the Summer Series III Championship, to be held June 22-23 at El Macero Country Club in El Macero.
# # #
About Capital Insurance Group
Capital Insurance Group® (CIG) has enhanced its dominance as a leading insurer of Northern California golf courses into a successful philanthropic program centered on the sport of golf through its sponsorship of the NCPGA Junior Tour of Northern California, and the annual fund raising golf tournament, The Langley – A Tribute to Legends.
CIG is the leading regional property and casualty insurer serving the Western U.S. since 1898. CIG insures Personal Auto, Homeowners, Farmowners, Condo Owners, Vacation Property, Renters, Apartment Building Owners, and many kinds of Commercial and Agricultural Auto and Property. The more-than 115 year-old company is rated "A" (Excellent) by A.M. Best, the independent financial monitor of the insurance industry. CIG has been selected for the  Ward's 50 as one of the safest and most efficient property/casualty insurers in the U.S.  CIG manages personal, business, and agriculture risks underwritten by its affiliate companies: California Capital Insurance Company, Eagle West Insurance Company, Nevada Capital Insurance Company, and Monterey Insurance Company. Types of policies may vary from state to state. For more information, please visitwww.CIGinsurance.com
CIG DELIVERS MORE. Continuously. ™