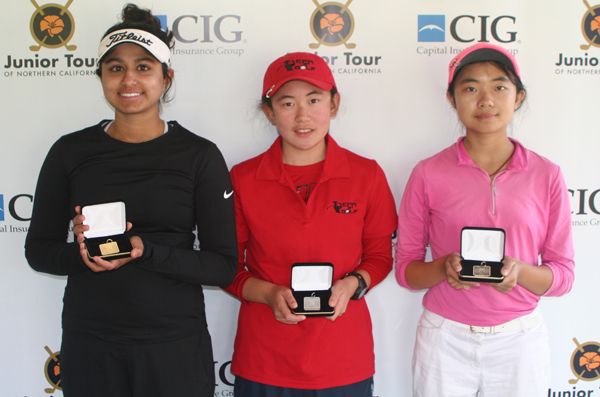 Holiday Series I: Del Monte & Laguna Seca G.C.
Monterey, CA
November 21-22, 2016
Yardages: Del Monte | Laguna Seca

CIG-Sponsored Junior Golf Tour of Northern California Crowns Winners at Holiday Series I Championship at Del Monte Golf Course and Laguna Seca Golf Ranch in Monterey
PEBBLE BEACH, Calif. (November 23, 2016) – Sponsored by Capital Insurance Group, the 2016-2017 Junior Tour of Northern California (JTNC) crowned champions Tuesday at the Holiday Series I Championship at Del Monte Golf Course and Laguna Seca Golf Ranch in Monterey.
New York resident Daulet Tuleubayev shot 3-over par 146 and defeated Owen Avrit in extra holes and Los Altos resident Simar Singh shot 10-over 153 to win their respective divisions at the Holiday Series I Championship held Monday and Tuesday at par-72 Del Monte GC and par-71 Laguna Seca GR.
Tuleubayev picked up his first win of the 2016-2017 season in dramatic fashion, making birdie on the second hole (No.18) of a sudden death playoff to beat Avrit after the two finished regulation tied at 146.
In Monday's first round at Laguna Seca, Tuleubayev opened with a 72 that featured four birdies, two bogeys and a triple-bogey. At Del Monte, he'd post two birdies to go against four bogeys.
Avrit, of Arroyo Grande, was able to catch Tuleubayev thanks to a solid 71 at Del Monte that included three birdies and two bogeys. He had a shot at taking the outright lead, but had to settle for pars on his final three holes.
Casey Leebrick of San Luis Obispo and Ethan Chen of Fremont finished tied for third at 147 after identical final round scores of 75. Armand Melendez of Salinas placed fifth at 148 after a 73.
In the Girls' Championship, Singh also got her first victory of the season. Coming off a shaky first round 81 at Laguna Seca, Singh put things back in order at Del Monte with a 71 that featured 16 pars.
Singh's previous best finish this season was a fourth place run at the Fall Series VII Championship at Rancho Murieta CC.  In 2015, she won the California Junior Girls' Championship.
Three players—Borina Sutikto of Fremont, Mika Jin of Fremont and Adora JiaYi Wen of Dublin—all finished tied for second at 157. Sutikto, who had a final round 75, earned second place in a card-off. Wen, who shot a 79, was awarded third place in a card-off.
Sammy Lee of San Ramon was fifth at 160 following her second straight 80.
In the Boys' First Flight Championship, Krishan Patel of San Jose birdied holes No.12-No.14at Laguna Seca in succession for a final round 74 to hold off runner-up Rishab Ragineni of Cupertino by a stroke.
Lucas Briar of Alamo and Gregory Lee of San Jose shared third place at 159 after rounds of 75 and 76, respectively. Keyan Patel of Pismo Beach was fifth at 160 after a 78.
In the Girls' First Flight Championship, Selena Tang had a final round 81 to come in at 157, cruising to a seven-shot victory. Second place went to Jaclyn LaHa of Pleasanton at 164, while third place went to Annika Cruz of Milpitas at 167.
Fourth place would be captured by Vani Karimanal of San Jose (172), while both Isabel Carpenter of San Luis Obispo and Cynthia Zhang of Milpitas shared fifth place at 173.
Next up on the 2016-2017 season calendar is the Holiday Series II Championship, slated for Dec. 3-4 at Morro Bay Golf Course in Morro Bay.