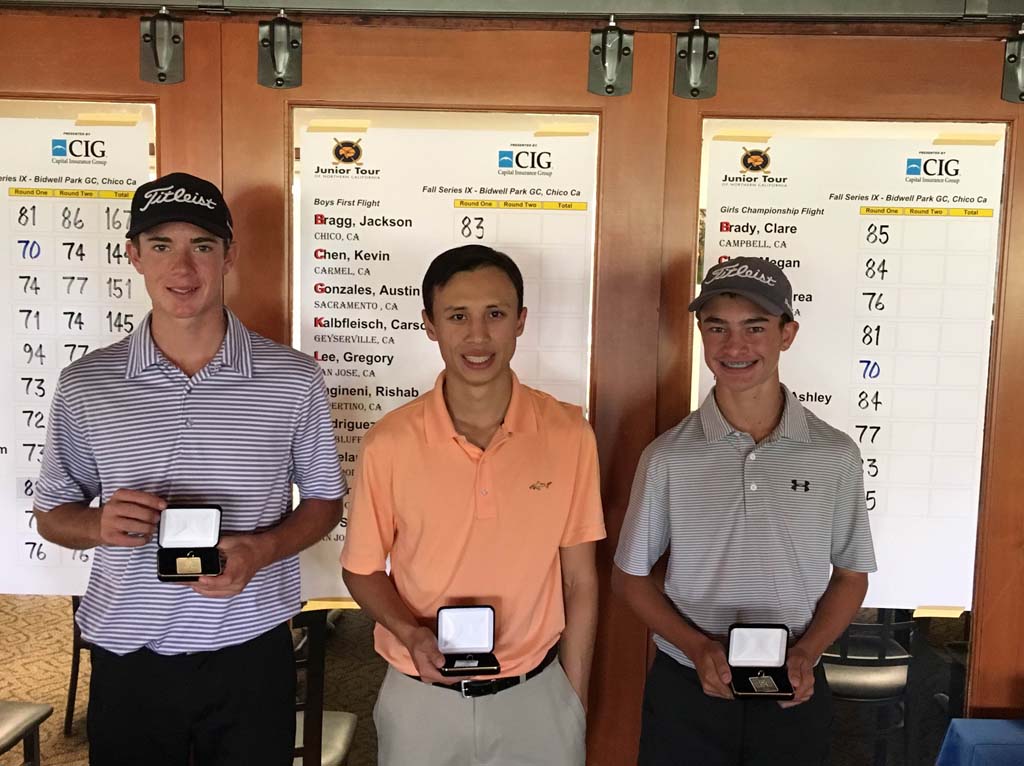 Fall Series IX: Bidwell Park G.C.
Chico, CA
October 22-23, 2016
Yardages | Contestant Information Sheet 

CIG-Sponsored Junior Golf Tour of Northern California Crowns Winners at Fall Series IX Championship at Bidwell Park Golf Course in Chico
PEBBLE BEACH, Calif. (October 24, 2016) – Sponsored by Capital Insurance Group, the 2016-2017 Junior Tour of Northern California (JTNC) crowned champions Sunday at the Fall Series IX Championship at Bidwell Park Golf Course in Chico.
Manteca resident Ty Griggs shot 1-under par 139 and Fremont resident Mika Jin shot 5-over 145 to win their respective divisions at the Fall Series IX Championship held Saturday and Sunday at par-70 Bidwell Park GC.
Griggs picked up his first win of the 2016-2017 season thanks to a sizzling first round 5-under 65. After posting a 1-under 34 on the front-nine, Griggs caught fire, shooting a back-nine 31 with four birdies.
A day later, Griggs made the 65 hold up, carding a 4-over 74 to defeat runner-up Grant Fairbairn of Orinda by two shots.
Fairbairn also was solid on Saturday, posting a 67 that featured five birdies and two bogeys. He'd have a chance at catching Griggs but was stung on Sunday in part by a crucial double-bogey on the par-3 16th.
Finishing in third place at 143 after a 70 was Rocklin resident Sam Summerhauser.
Connor Motherway of Reno and Ethan Chung of Cupertino shared fourth place at 144 following rounds of 74 and 76, respectively.
In the Girls' Championship, Jin also got her first victory of the season. Coming off a T-4 finish at the Fall Series VIII Championship, Jin made her move with a first round 70 that featured four birdies and four bogeys.
A day later, Jin posted a 75 to claim the title by seven shots over runner-up Sofia Young of Benicia. Young carded rounds of 75-77.
Sammy Lee of San Ramon took third at 153 following a round of 76. Andrea Gomez of Santa Clara was fourth at 155 following a 79.
Ashley Knepshield of Carmichael was fifth at 163 after a 79.
In the Boys' First Flight Championship, Gregory Lee of San Jose shot a final round 75 to come in at 152 and win by 10 strokes over runner-up Carson Kelbfleisch of Geyserville.
Stanley Wu of San Jose and Cupertino's Rishab Ragineni finished T-3 at 163 after rounds of 81 and 82, respectively. Wu was awarded third place in a card-off. Jackson Bragg of Chico took fifth place at 172.
In the Girls' First Flight Championship, Kate Lim of Pleasanton won her second straight event in thrilling fashion. Lim shot a final round 85 to finish tied with Skye Mingming of Walnut Creek and Meghan Paracuelles of Folsom at 165. Lim would take the title, winning on the second hole of a sudden-death playoff. Mingming finished second.
Folsom's Mikaela Paracuelles was fourth at 177, while Mike Paligo of Sacramento was fifth at 191.
The event wrapped up the 2016-2017 Fall Series. Next up on the 2016-2017 season calendar is the Holiday Series I Championship, slated for Nov. 21-22 at Del Monte Golf Course and Laguna Seca Golf Ranch in Monterey.