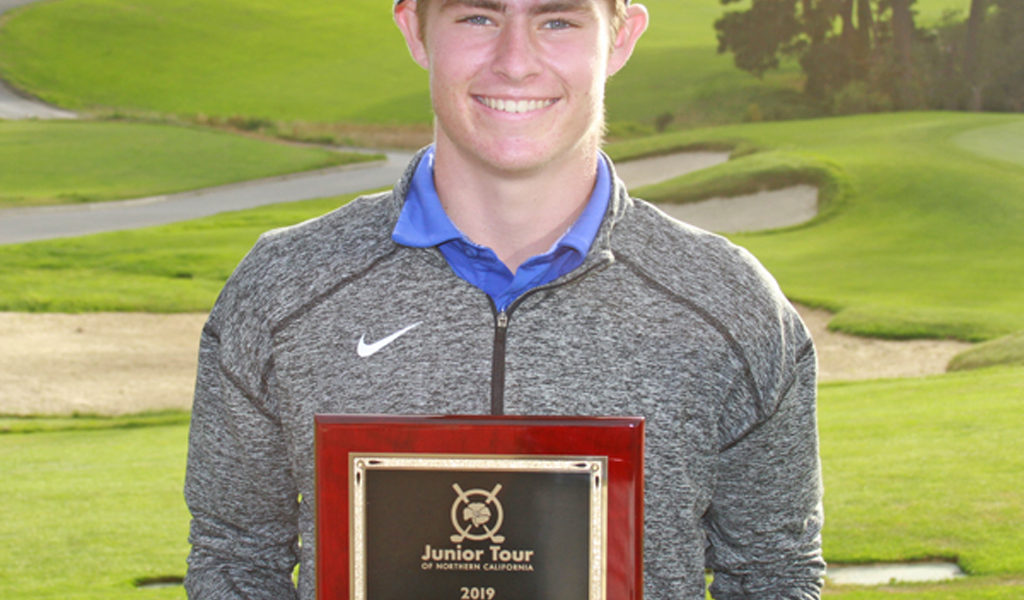 July 31, 2019 
Boys' Player of the Year—Dylan McDermott
From the moment the season started, Dylan McDermott had his sights set on Player of the Year honors.
While there'd admittedly be some ups and downs, he accomplished his goal. The Granite High junior won the title with a total of 2,124 points. His good friend, Sam Sommerhauser, would place second at 1,971.
"It means a lot to me to be Player of the Year," McDermott said. "I had some events where I played really well and some where I didn't play well. But I played good enough and consistent enough to keep my points up."
He'd post wins at the Fall Series II and IV Championships and later added a runner-up place finish at the annual NCGA Junior Championship. For extra measure, McDermott also had three third place finishes—Spring Series VI, Summer Series III and the Tour Championship. It was his finish at the Tour Championship that sealed his crown.
He joins great company as a Player of the Year winner. Past champs include PGA Tour winner Bryson DeChambeau (2011) and former USC standout and No.1 world-ranked amateur Justin Suh (2013, 15').
"I really want to follow in the footsteps of those guys," McDermott said. "Hopefully I'll be playing with them in the future."

Girls' Player of the Year—Madelyn Gamble
It seemed headed this way.
In 2017, Madelyn Gamble finished tied for 44th in the Girls' Player of the Year standings. A year later, she quickly ascended to the No.5 spot.
For the 2018-2019 season, she finished No.1.
Still just a junior at Carondelet High, Gamble ended the season with 2,193 points. She'd edge runner-up Danielle Suh, who finished at 2,136.
"It's an honor to win this award and join the company of some great golfers," Gamble said. "I have worked really hard and am excited to see improvement in many aspects of my game."
Gamble had a season to remember. She'd rack up three wins, at the Fall Series IV, Spring Series II and Summer Series I Championships.
The Pleasant Hill resident also had two runner-ups (Summer Series II, Holiday Series II) and was third at the Fall Series VI Championship.  Outside the JTNC, Gamble reached the semifinals of the 2019 San Francisco Women's City and the quarterfinals of the California Junior Girls' State Championship.
"The season I had has been very special," Gamble said. "At the beginning of the season, I outlined some of the goals I had and, for the most part, I accomplished them. Overall this season was full of many positive and unforgettable experiences."