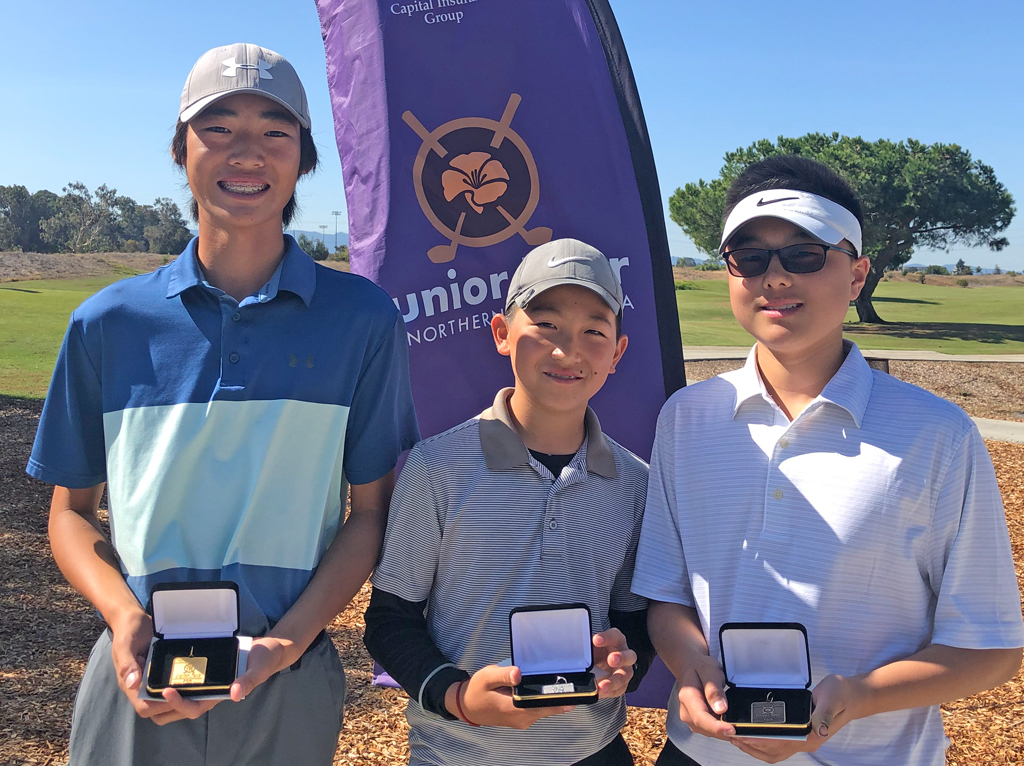 Fall Series VIII – Baylands Golf Links

CIG-Sponsored Junior Golf Tour of Northern California Crowns Winners at Fall Series VIII Championship at Baylands Golf Links in Palo Alto
PEBBLE BEACH, Calif. (October 10, 2019) – Sponsored by Capital Insurance Group, the 2019-2020 Junior Tour of Northern California (JTNC) crowned champions Sunday at the Fall Series VIII Championship at Baylands Golf Links in Palo Alto.
Baron Szeto shot 3-under par 141 and Sophie Zhang-Murphy shot 5-over 149 to win their respective divisions at the Fall Series VIII Championship held Saturday and Sunday at par-72 Baylands Golf Links.
Szeto captured his first event of the season thanks to a clutch birdie on the par-5 18th hole on Sunday. A day earlier, Szeto had eagled the hole.
In Saturday's opener, Szeto also four birdies. In Sunday's finale, he was propelled by a back-nine 34 that included yet another birdie.
Three players—Jacob Ponce, Collin Yee, and Jeremy Yun—all came in tied for second at 142. Yun, who had a final round 70, earned second place following a card-off.
Ponce, who opened with a 68, earned third place over Yee after a card-off. Three players—Calton Kang, Akira Isayama and Krishan Patel—finished T-5 at 144.
In the Girls' Championship, Zhang-Murphy also got her first win of the season in a thriller.
Zhang-Murphy made par on seven of her last eight holes to come in with a final round 73, good enough to hold off runner-up Linette Jun by a stroke.
Over her two rounds, Zhang-Murphy had five birdies and an eagle.
Jun made a charge into second place after carding a second-round 72. She eagled the par-5 3rd on Sunday to help make things tight.
Selena Tang and Madison Pineda finished T-3 at 151 after rounds of 76 and 78, respectively. Tang was award third place in a card-off.
Fifth place went to Vani Karimanal at 152.
In the Boys' First Flight Championship, Alexander Suen shot a final round 79 to come in at 154 and defeat runner-up Joshua Wang by a shot. Wang had a final round 79 as well.
Third place went to Alexander Guan at 156. Ray Zhang was fourth at 158. Arnold He, Paolo Castaneda, and Will Ellard were fifth at 159.
In the Girls' First Flight Championship, Norah Yang shot a final round 76 to come in at 155 and defeat co-runners-up Lily Peng and Gianna Singh by six shots. Peng, who was awarded second place in a card-off, had a final round 76. Singh had an 82.
Cathy Zhang and Emma Wang finished T-4 at 162.
The next event on the JTNC calendar is the Fall Series IX Championship, to be held Oct. 19-20 at Poppy Ridge Golf Course in Livermore.