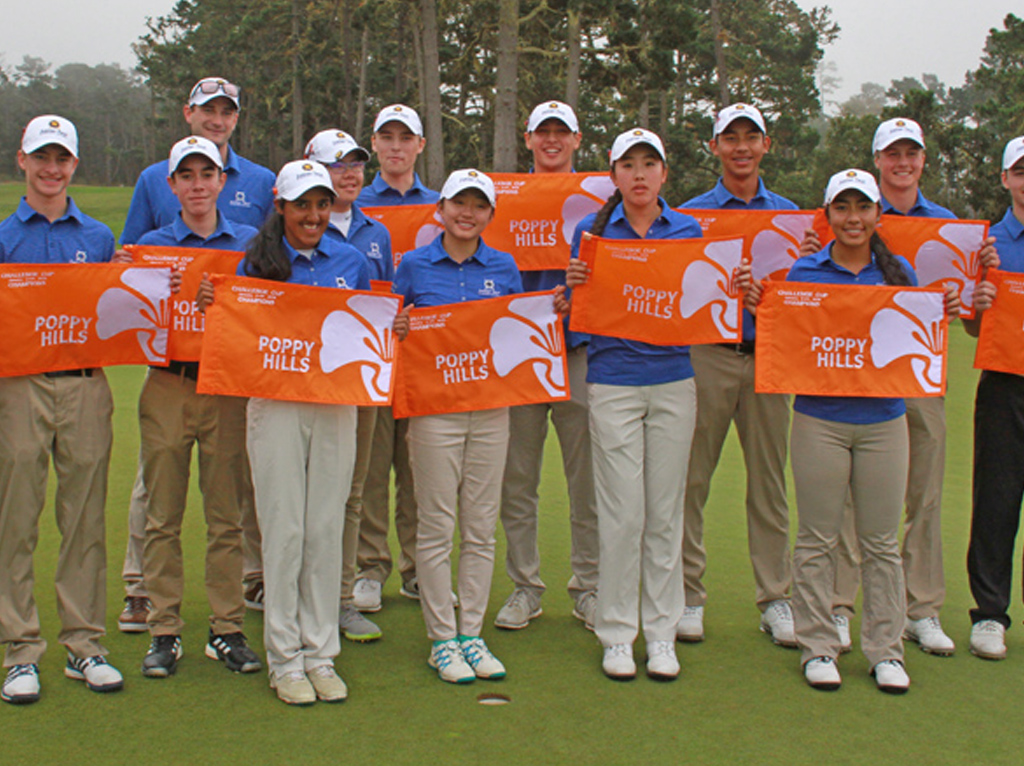 Challenge Cup Set to Return to Poppy Hills Jan. 3-4
November 19, 2018
Challenge Cup Set to Return to Poppy Hills Jan. 3-4
The best of Northern California are set to take on the best of Southern California again.
Come Jan. 3-4, the fourth annual Challenge Cup will return to Poppy Hills Golf Course in Pebble Beach. The Cup features 12 members (eight boys, four girls) of the CIG-sponsored Junior Tour of Northern California taking on 12 players from the Southern California Junior Tour in a Ryder Cup-like format.
Last year, the JTNC took a 2-1 lead in the series with a dominating 17-7 victory.
But there's much more to the Cup than just the regional rivalry. For the juniors, the Cup provides a rare opportunity to compete not only in a team format but also in match play.
"I like that it's a team format. Everything else I play in is an individual tournament so it's a new experience," said Mika Jin at the 2017 event. "It's fun too to get to meet the players from SoCal. It's fun to compare your games."
The Cup also has become a scouting hot spot for coaches from collegiate programs such as UCLA, University of Oregon, Cal, Stanford and New Mexico State.
Play on Thursday, Jan.3 will consist of nine holes of Foursomes and nine holes of Four-Ball. Friday's (Jan. 4) action will feature the Singles matches.
The four girls who'll tee it up for the JTNC are:
Mika Jin—A returner from 2017, Jin is a two-time winner this season (Fall Series VI and IX Championships)
Danielle Suh—Like Jin, Suh is a two-time champion this season, having won the Fall Series I and II titles.
Jasmine Chen—Along with winning the Fall Series III Championship, Chen placed T-3 at the Fall Series IX Championship.
Jacqueline Lucena—A high school senior, Lucena has three Top 10's, including a victory at the Fall Series VII Championship.
The eight JTNC boys will be:
Dylan McDermott—McDermott has four Top 5's including victories at the Fall Series II and IV Championships.
Sebastian Iqbal—Iqbal has a win at the Fall Series IX Championship and a runner-up finish at the Fall Series VII Championship.
Lucas Carper—Along with a win at the Fall Series VI Championship, Carper has two-runner-ups (Fall Series IV and IX Championships).
Sam Sommerhauser—Sommerhauser has three runner-up finishes on the season (Fall Series I, II and IV Championships).
Connor Motherway—Motherway has four Top 5 finishes this season, including a win at the Fall Series I Championship.
Caleb Shetler—Shetler won the Fall Series VII Championship and was T-2 at the Fall Series V Championship.
Jackson Koivun—Koivun has placed in the Top 3 twice, at the Fall Series III and VI Championships.
George McNeely—McNeely, who had a breakout season last year, was runner-up at the Fall Series VI Championship.
Southern California PGA Junior Tour Roster
Girls
Sherilyn Villanueva-Anaheim
Serena Sepersky – Temecula
Kamille Dimayuga-Buena Park
Jasmine Koo-Cerritos
Boys
Clay Seeber-Newport Beach
Guy Clauss-Newport Beach
Joseph Chun-Irvine
Ian Maspat –San Diego
Johnny Walker-Riverside
Lincoln Melcher-Burbank
Caden Fioroni-San Diego
Sebastian Vallejo-Long Beach