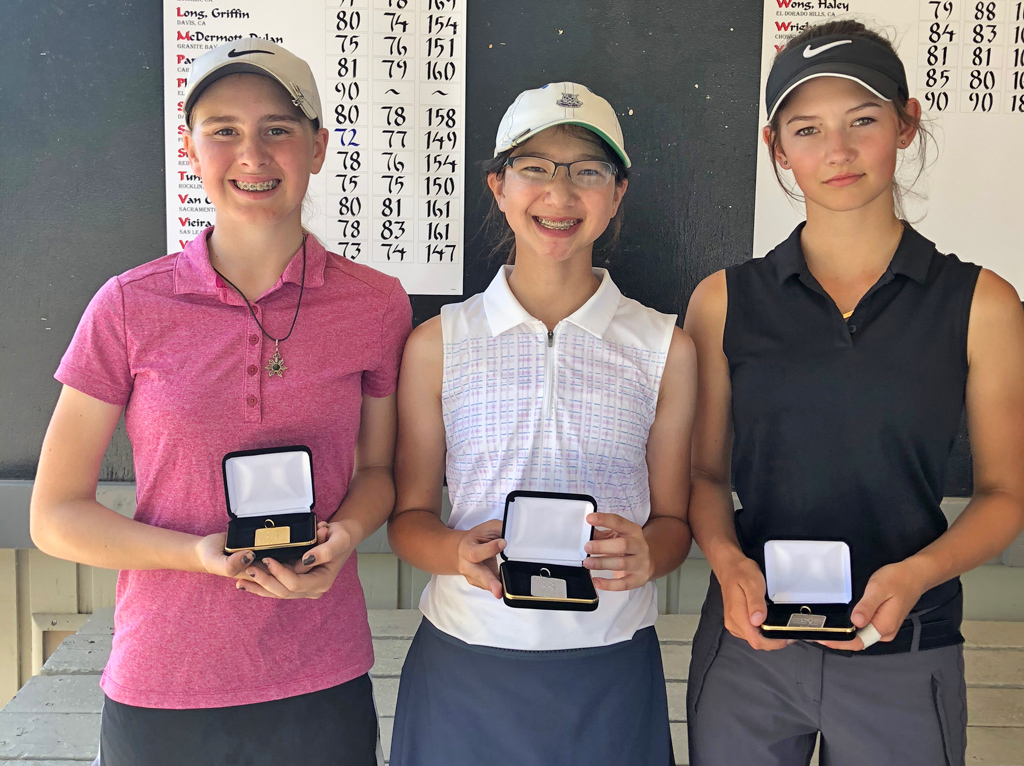 Summer Series III – El Macero CC
Pairings | Alphabetical Pairings| Results
Approximate Second Round Times
El Macero Yardages| Player Information Sheet
JTNC Pace of Play Policy | Standard Local Rules
Access NCGA GO for the hotel rates in the area!
CIG-Sponsored Junior Golf Tour of Northern California Crowns Winners at Summer Series III Championship at El Macero Country Club in Davis
 PEBBLE BEACH, Calif. (June 25, 2018) – Sponsored by Capital Insurance Group, the 2017-2018 Junior Tour of Northern California (JTNC) crowned champions Monday at the Summer Series III Championship at El Macero Country Club.
Sacramento resident Jacob Westberg shot 3-over 147 and Rocklin resident Kaylyn Noh shot 12-over 156 to win their respective divisions at the Summer Series III Championship held Sunday and Monday at par-72 El Macero Country Club.
Westberg notched his first win of the 2017-2018 season thanks to stellar play each day. He'd open with a 1-over 73 and followed that up with a 74 to defeat co-runners-up Paramdeep Sodhi of Folsom and Justin Hopkins of Danville by two strokes.
Over his two rounds, Westberg would card seven birdies. He'd cap the win with a closing birdie on the 18th.
Sodhi and Hopkins had final rounds of 74 and 72, respectively. Sodhi earned second place follow a card-off (lower score back-nine).
Fourth place went to Jared Tungol of Rocklin at 150. Dylan McDermott of Granite Bay and Jack Deaner of Carmichael shared fifth place at 151.
In the Girls Championship, Noh won by two shots over runner-up Nthenya Maithya thanks to a pair of 78's. In her two rounds, Noh would post four birdies.
Maithya, of Modesto, came in at 158 after a second round bounce-back 74. Third place went to Alyssa Yee of Davis at 162.
Kimberly Burch of Dublin and Ashley Knepshield of Carmichael finished T-4 at 163.
In the Boys' First Flight Championship, Kibum Kim of Pleasanton had a final round 74 to come in at 152 and defeat runner-up David Studer of Davis by three shots.
Alexander Suen of Dublin and Andre Chung of San Francisco finished T-3 at 156. Suen won the card-off. Danton Indelicato of Manteca was fifth at 159.
In the Girls' First Flight Championship, Harper Clementz of San Francisco shot a final round 85 to come in at 163 and defeat co-runners-up Jessie Burch of Dublin and Amelia Greenlee of Roseville by three shots. Burch earned second place in a card-off.
Sidney Hung of Alameda and Belinda Sutikto of Fremont were T-4 at 167.
Next up on the JTNC calendar is the Summer Series IV Championship, to be held July 22-23 at Spring Creek GC.