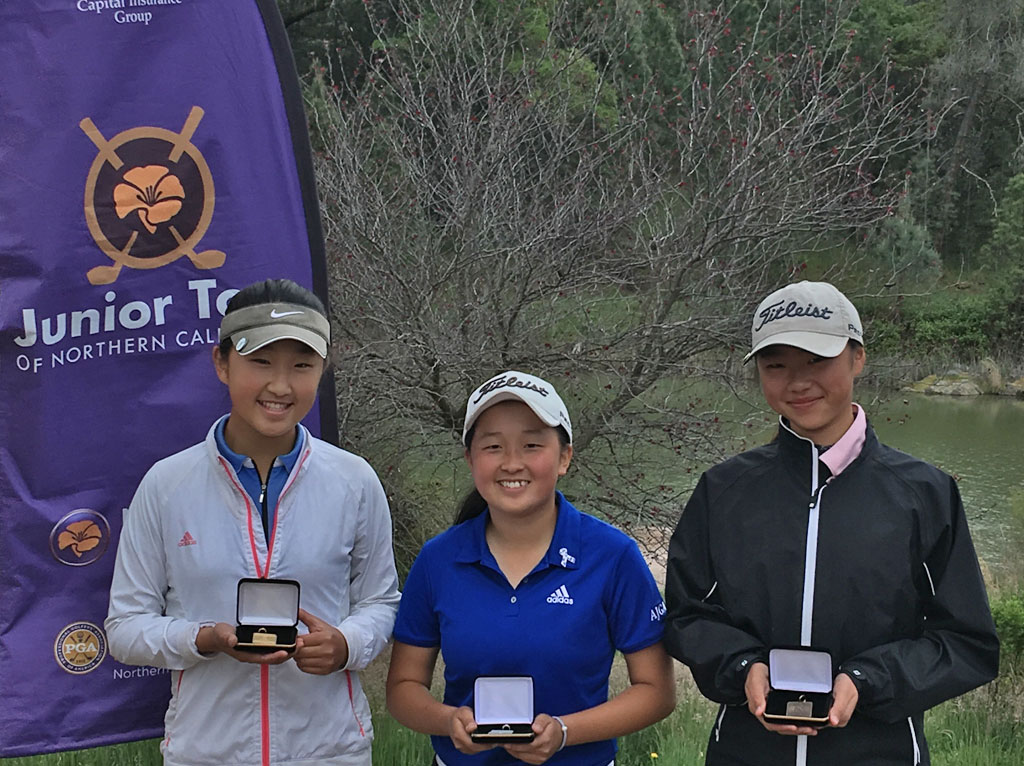 Spring Series V – Darkhorse GC
Access NCGA GO for the hotel rates in the area!
Round 2 – Pairings | Alphabetical Pairings | Scoring
Standard Local Rules | JTNC Pace of Play Policy
Player Information Sheet | Darkhorse Yardages

CIG-Sponsored Junior Golf Tour of Northern California Crowns Winners at Spring Series V Championship at Darkhorse
Golf Course in Auburn
PEBBLE BEACH, Calif. (April 30, 2018) – Sponsored by Capital Insurance Group, the 2017-2018 Junior Tour of Northern California (JTNC) crowned champions Sunday at the Spring Series V Championship at Darkhorse Golf Course in Auburn.
Youth on Course East Bay member Alan Chen shot 2-under 142 and YOC Pleasanton member Alice Liu shot 4-over 148 and defeated Danielle Suh in a playoff to win their respective divisions at the Spring Series V Championship held Saturday and Sunday at par-72 Darkhorse Golf Course.
Chen captured his first title of the season thanks to solid play both days. In Saturday's opener, he'd post a 2-under 70 featuring seven birdies, a bogey and two double-bogeys. A day later, Chen was even steadier, carding three birdies to go against three bogeys to defeat runner-up Baron Szeto of YOC East Bay by three shots.
Szeto also carded a 70 in the opener, posting seven birdies, but he'd slip to a 75 on Sunday to come in at 145.
Gregory Lee of YOC Santa Teresa and Paramdeep Sodhi of YOC tftgs both finished T-3 at 146 after rounds of 73. Lee claimed third place in a card-off. Lucas Carper of E-Club South Bay finished fifth at 147.
In the Girls Championship, Liu grabbed her first win of the season in dramatic fashion, carding a birdie on the first hole of a sudden-death playoff to beat Suh.
The two finished regulation tied at 148 after rounds of 73 and 71, respectively. Suh improved six shots on Sunday.
Faith Low of YOC Mariner's Point was third at 153 after rounds of 78-75. Jaclyn LaHa of Castlewood CC came in fourth at 154, while Sienna Lyford of YOC tftgs was fifth at 155.
In the Boys' First Flight Championship, Jalen Xing of YOC San Jose shot a final round 72 to come in at 152 and defeat runner-up Tylor Chou of Los Altos G&CC by a shot.
Third place was a tie between Julian Monas of Cameron Park and Camdan Indelicato of Spring Creek G&CC at 155. Monas took third in a card-off. Fifth place went to Reese Sato of YOC tftgs at 156.
In the Girls' First Flight Championship, Bridget O'Keefe of YOC South Bay defeated Varsha Ramachandran of E-Club East Bay on the fourth hole of a sudden-death playoff.
Stella Lin of YOC East Bay was third at 159. Harper Clementz of YOC San Francisco and Kimberly Burch of YOC East Bay were fourth and fifth, respectively, at 160 and 162.
Next up on the JTNC calendar is the Spring Series VI Championship, to be held May 12-13 at Monarch Bay Golf Club in San Leandro.