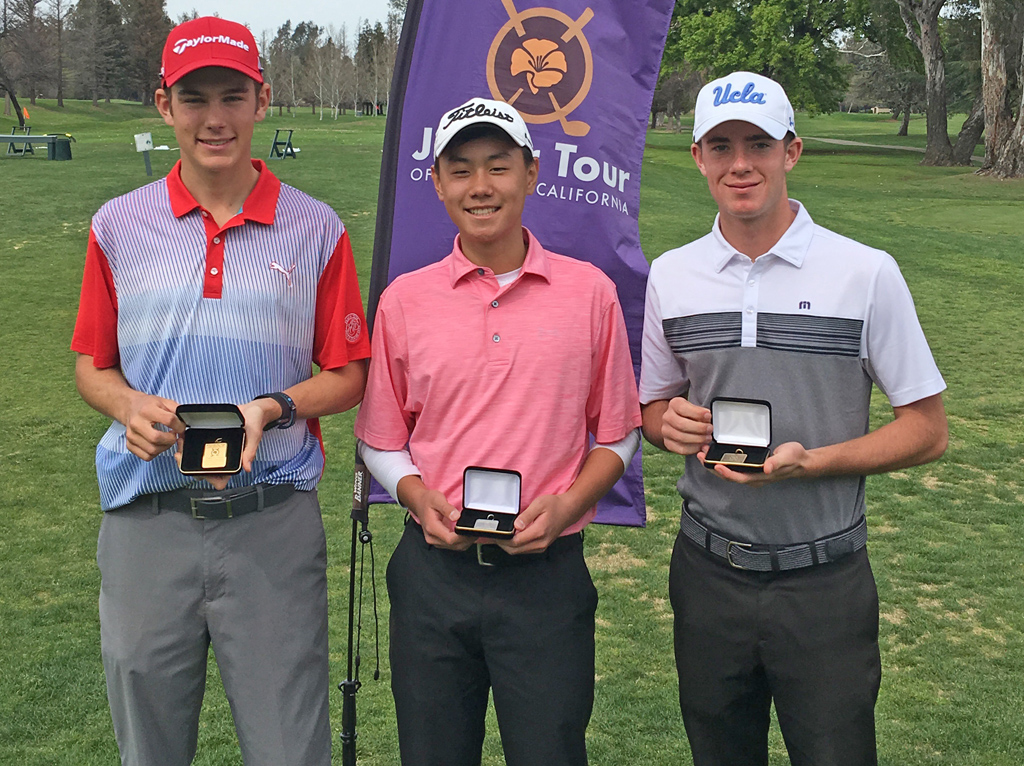 Spring Series I – Stockton GCC & Elkhorn GC
Access NCGA GO for the hotel rates in the area!
Pairings | Alphabetical Pairings | Scoring
PACE OF PLAY POLICY | 2018 JTNC Hard Card
Approximate Yardages – Elkhorn & Stockton GCC
Approximate 2nd Round Times – Elkhorn & Stockton

CIG-Sponsored Junior Golf Tour of Northern California Crowns Winners at Spring Series I Championship at Stockton Golf and Country Club and Elkhorn Golf Club in Stockton
 PEBBLE BEACH, Calif. (March 19, 2018) – Sponsored by Capital Insurance Group, the 2017-2018 Junior Tour of Northern California (JTNC) crowned champions Thursday at the Spring Series I Championship at Stockton Golf and Country Club and Elkhorn Golf Club in Stockton.
Olivehurst resident Trey Davis shot 3-over 145 and defeated Darren Pang of San Ramon in a playoff and Roseville resident Sienna Lyford shot 10-over 152 to win their respective divisions at the Spring Series I Championship held Saturday and Sunday at par-71 Stockton G&CC and par-71 Elkhorn GC.
Davis nabbed his first win of the season by making a par on the first hole of a sudden-death playoff versus Pang. Davis made his big move with a sizzling first round 5-under 66 at Elkhorn. He'd card six birdies—including a stretch of three in a row—to go against one bogey.
In Sunday's finale, he'd fall back with a 79 that let Pang back into it. Coming off a first round 74, Pang posted 14 pars, two birdies and a bogey to force a playoff.
Placing third at 146 after a final round 74 was Manteca's Ty Griggs. Griggs had a chance to join the playoff but bogeyed the 18th .
Alamo's Ryan Grauman and Lodi's Justin Gums both finished T-4 at 147 after final rounds of 71 and 76, respectively.
In the Girls Championship, Lyford got her first win of the season following a great comeback. A day after shooting 81, Lyford posted 14 pars with two birdies and two bogeys to hold off runner-up Angela Bagasbas of Danville by two shots.
Entering the championship, Lyford had two runner-ups and a third place finish. Bagasbas had back-to-back rounds of 77. She'd card five birdies in the final round but also had a double-bogey and triple-bogey.
Four players—Jacqueline Ha of San Ramon, Selena Tang of Fremont, Santa Clara's Andrea Gomez and Kaleiya Romero of San Jose—all finished T-3 at 156.
In the Boys' First Flight Championship, Nathan Jetton of El Dorado had a final round 67 to come in at 144, defeating co-runners-up William Bensch of Stockton and Curtis DaSilva of Marina by five strokes. Bensch had a second round 70 that featured 19 putts!
Fourth place went to Aditya Das of Fremont at 153, while Folsom's Reese Sato was fifth at 154.
In the Girls' First Flight Championship, Abigail Leighton of Santa Rosa had a final round 82 to come in at 163 and defeated Nikki Chindavong of Fairfield in a playoff two win. Chindavong shot 85 in the final round.
Third place went to Harper Clementz of San Francisco at 166, while Kaylen Tu of Orinda was fourth at 167. Camille Thai of Los Altos and Amelia Garibaldi of Stockton were T-5 at 173.
Next up on the JTNC calendar is the Spring Series II Championship, slated for March 24-25 at Coyote Creek GC in San Jose. The First Flight will be at Shoreline GL on March 24.