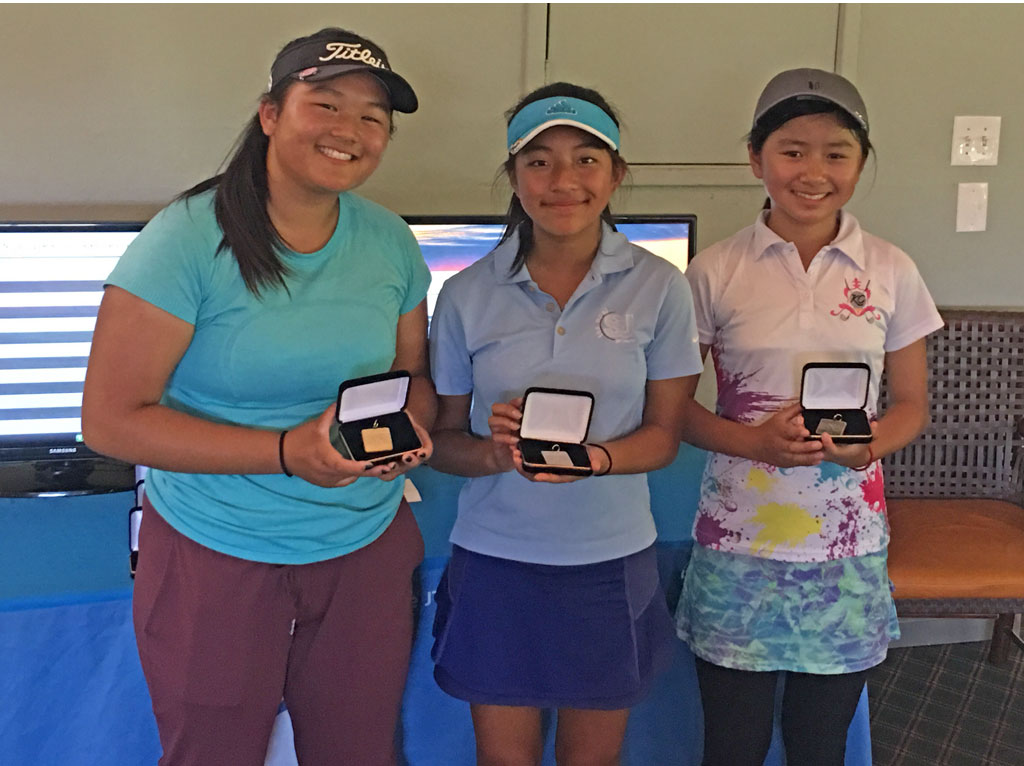 Spring Series IV – Franklin Canyon GC
Access NCGA GO for the hotel rates in the area!
Round 2 – Pairings | Alphabetical Pairings | Scoring
Standard Local Rules | JTNC Pace of Play Policy
Player Information Sheet | Franklin Canyon Yardages

CIG-Sponsored Junior Golf Tour of Northern California Crowns Winners at Spring Series IV Championship at Franklin Canyon
Golf Course in Hercules
 PEBBLE BEACH, Calif. (April 25, 2018) – Sponsored by Capital Insurance Group, the 2017-2018 Junior Tour of Northern California (JTNC) crowned champions Sunday at the Spring Series IV Championship at Franklin Canyon Golf Course in Hercules.
Olympic Club member Anthony Alioto shot 2-over 146 and E-Club East Bay member Mika Jin shot 1-under 143 to win their respective divisions at the Spring Series IV Championship held Saturday and Sunday at par-72 Franklin Canyon Golf Course.
Alioto captured his first title of the season thanks to a second round 71 that gave him a one-shot win over a group of three players. In Sunday's final round, Alioto, who opened with a 75, carded three birdies to go against just two bogeys. His biggest birdie came on the par-4 16th, and he'd follow that up with two pars for the win.
Darren Pang of E-Club East Bay, Paramdeep Sodhi of Youth on Course and Ryan Meyer of Oakdale G&CC all finished a shot back at 147. Sodhi would earn second place in a card-off, with Pang placing third.
All three players were in the running until a bogey within their final four holes.
Three players—Michael Vu of YOC East Bay, Jinhyuk Kim of E-Club South Bay and Dylan McDermott of Granite Bay GC—finished T-5 at 148.
In the Girls Championship, Jin got her second win of the season after posting a stellar 3-under 69 to defeat runner-up Madelyn Gamble of Richmond CC by two shots.
Jin, who shot 74 in the first round, caught fire on her final 11 holes, going 5-under with six birdies and a bogey. She'd be the only player to finish the event with a total score under par.
Gamble had a second round 74 to come in at 145, while Gia Feliciano of YOC East Bay was third at 148 after a 77.
Sofia Young of YOC North Bay and Anitra Khoth of Hampas Lupa GC finished T-4 at 149 after rounds of 71 and 75, respectively.
In the Boys' First Flight Championship, Jacob Ponce of YOC East Bay shot a final round 75 to come in at 148 and defeat runner-up Jonathan Le of YOC Santa Teresa by a stroke. Le had a final round 76.
Third place went to Chanhee Ryu of YOC Pleasanton at 153, fourth place went to Alexander Suen of YOC East Bay at 154 and fifth place went to Ashwath Ekambaram of YOC East Bay at 156.
In the Girls' First Flight Championship, Lauren Sung of YOC Santa Teresa shot a final round 80 to finish at 159 and defeated Chloe Weng of YOC Santa Teresa and Emily Luo of YOC Pleasanton in a playoff to win.
Weng earned second place after a card-off. Sydney Sung of YOC Santa Teresa was fourth at 160, while Camille Thai of YOC South Bay was fifth at 161.
Next up on the JTNC calendar is the Spring Series V Championship, to be held April 28-29 at Darkhorse Golf Club in Auburn.