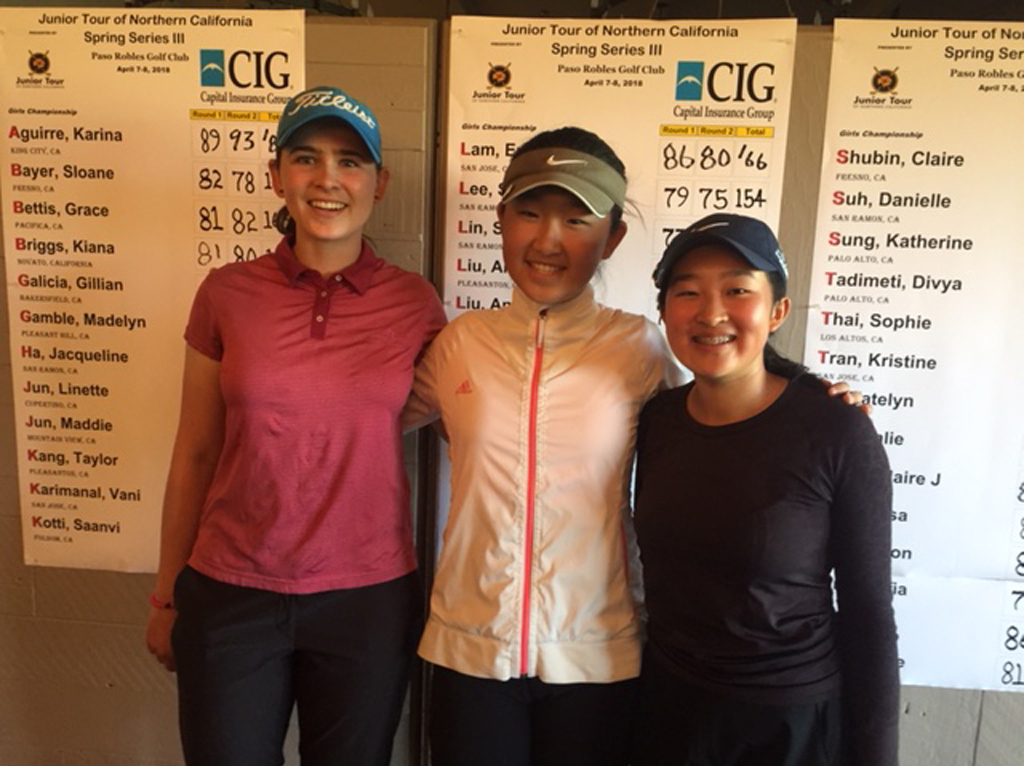 Spring Series III – Paso Robles GC
Access NCGA GO for the hotel rates in the area!
Pairings | Alphabetical Pairings | Scoring
Approximate Yardages | Approximate 2nd Round Times
Standard Local Rules | JTNC Pace of Play Policy

CIG-Sponsored Junior Golf Tour of Northern California Crowns Winners at Spring Series III Championship at Paso Robles  Golf Club in Paso Robles
 PEBBLE BEACH, Calif. (April 10, 2018) – Sponsored by Capital Insurance Group, the 2017-2018 Junior Tour of Northern California (JTNC) crowned champions Sunday at the Spring Series III Championship at Paso Robles Golf Club in Paso Robles.
Youth on Course Santa Teresa member Ethan Chung shot 3-under 137 and Ruby Hill GC member Katie Murphy shot 6-over 146 and defeated Alice Liu in a playoff to win their respective divisions at the Spring Series III Championship held Saturday and Sunday at par-71 Paso Robles Golf Club.
Chung notched his third win of the season thanks to solid play in both rounds. In Saturday's opener, he'd card a 3-under 69 featuring an eagle on the par-5 3rd and four birdies to offset a double-bogey and bogey.
A day later, Chung shot a 68 with five birdies and two bogeys. A clutch birdie on the closing 18th sealed a two-shot win over runner-up Alan Chen of E-Club Easy Bay. Chen posted a final round 69 but was held back by a pair of bogeys.
Third place went to Dakota Ochoa of E-Club Central Valley at 140 following a 69. Garrett Boe of YOC Fresno and Maverick Pavletich of E-Club Monterey Bay finished T-4 at 141 after rounds of 69 and 72, respectively.
In the Girls Championship, Murphy got her first win of the season after winning the first hole of a sudden-death playoff.
In Sunday's finale, Murphy posted a 74 with four birdies and seven bogeys. She'd trip with a bogey on the 17th, but made a clutch birdie on the 18th to remain tied with Liu.
Liu, of Youth on Course Pleasanton, posted a final round 75 that featured a birdie and five bogeys. She'd card three straight pars to finish her round to stay tied with Murphy.
Both Jacqueline Ha of YOC Pleasanton and Madelyn Gamble of Richmond CC finished tied for third at 147 after rounds of 72, respectively. Ha earned third place via a card-off.
Fifth place went to Annie Liu of YOC Pleasanton at 149.
In the Boys' First Flight Championship, Gregory Mouser of YOC Fresno shot a final round 79 and defeated Jamison Tan of YOC Santa Teresa on the fourth hole of a sudden death playoff for the win. Both players finished regulation tied at 150.
Tan had a final round 77. Chanhee Ryu of YOC Pleasanton was third at 152, while Advaith Pathi of YOC Santa Teresa was fourth at 154. Benjamin Mouser of YOC Fresno and Jonathan Patrick Chen of YOC AT&T Pebble Beach were fifth at 164.
In the Girls' First Flight Championship, Stella Lin of YOC East Bay shot a final round 78 and defeated Celine Ho of E-Club South Bay on the second hole of a sudden death playoff for the win. Both players finished regulation at 156.
Ho had a final round 78. Kimberly Burch of YOC East Bay was third at 159, while Francesca Sumcad of YOC Santa Teresa and Camille Thai of YOC South Bay were T-4 at 161.
Next up on the JTNC calendar is the Spring Series IV Championship at Franklin Canyon Golf Club in Hercules.