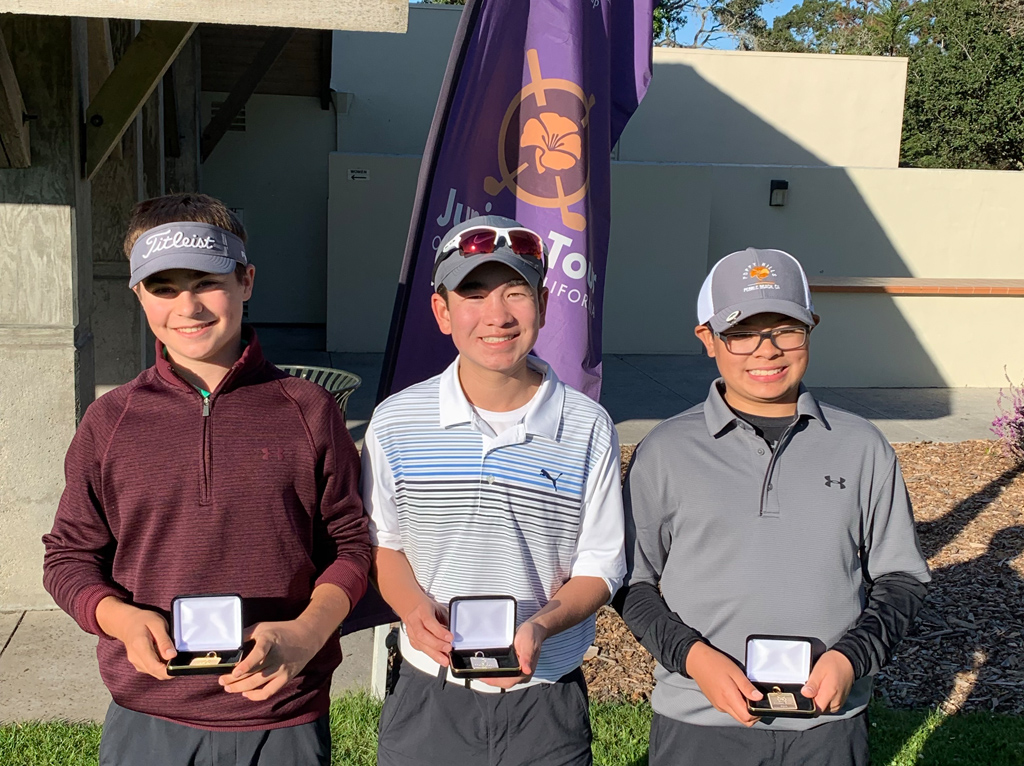 Holiday Series III – Poppy Hills GC & Del Monte GC
Access NCGA GO for the hotel rates in the area!
Pairings | Alphabetical Pairings | Scoring
Player Information | Yardages: Poppy Hills – Del Monte
Approximate Second Round Times: Boys Champ/ Girls First – Girls Champ/ Boys First
JTNC Pace of Play Policy | Standard Local Rules

CIG-Sponsored Junior Golf Tour of Northern California Crowns Winners at Holiday Series III Championship at Poppy Hills Golf Course in Pebble Beach and Del Monte Golf Course in Monterey
 PEBBLE BEACH, Calif. (December 31 2018) – Sponsored by Capital Insurance Group, the 2018-2019 Junior Tour of Northern California (JTNC) crowned champions Friday at the Holiday Series III Championship at Poppy Hills Golf Course and Del Monte Golf Course.
Carmichael resident Matthew Sutherland shot 3-over 146 and Foster City resident Faith Low shot 7-over 150 to win their respective divisions at the Holiday Series III Championship held Thursday and Friday at par-71 Poppy Hills GC in Pebble Beach and par-71 Del Monte GC in Monterey.
Sutherland got his first win of the season thanks in part to a sensational 3-under 69 opening round at Del Monte. The junior champ at this year's PURE Insurance Championship, Sutherland eagled the par-4 11th and tacked on four birdies on the historic layout.
A day later at Poppy Hills, Sutherland, the nephew of pro Kevin Sutherland, closed his round out with a birdie on the 18th to defeat runner-up Sam Sommerhauser of Rocklin by two shots. Sommerhauser had back-to-back rounds of 74.
Three players—Wanxi Sun of Danville, Jackson Koivun of San Jose and Jack Deaner of Carmichael—finished tied for third at 149. Sun won the card-off to claim third place.
In the Girls' Championship, Low carded a final round 79 to defeat San Jose's Megan Yang by a shot. Low made a big move by playing her final four holes at Del Monte at 1-under thanks to a birdie on the 17th.
Both Low and Yang would open with rounds of even-par 71 at Poppy Hills. Yang also birdied the 17th on Friday but finished with a bogey on the 18th.
Danielle Suh of San Ramon took third at 156 after back-to-back rounds of 78.
Carissa Wu of Dublin was fourth at 157, while Cynthia Zhang of Milpitas and Claire Chen of Fremont finished T-5 at 158.
In the Boys' First Flight Championship, Will Phelan of Rocklin shot a final round 79 and defeated Marcus Ying of Los Altos in a playoff to win. The two finished regulation tied at 159.
Third place went to Luke Montoya of Arroyo Grande at 161. Fourth place went to Jamison Tan of Los Altos at 163. Jimmy Farrell of San Francisco was fifth at 164.
In the Girls' First Flight Championship, Camille Thai of Los Altos came in at 167, defeating runner-up Olivia Duan of Cupertino by two shots.
Joyce Zhang of Milpitas was third at 172. Jordan Chan of Los Gatos and Norah Yang of Los Altos were T-4 at 177.
Next up on the JTNC calendar is the Challenge Cup, to be held Jan. 3-4 at Poppy Hills Golf Course in Pebble Beach.
Photo Gallery