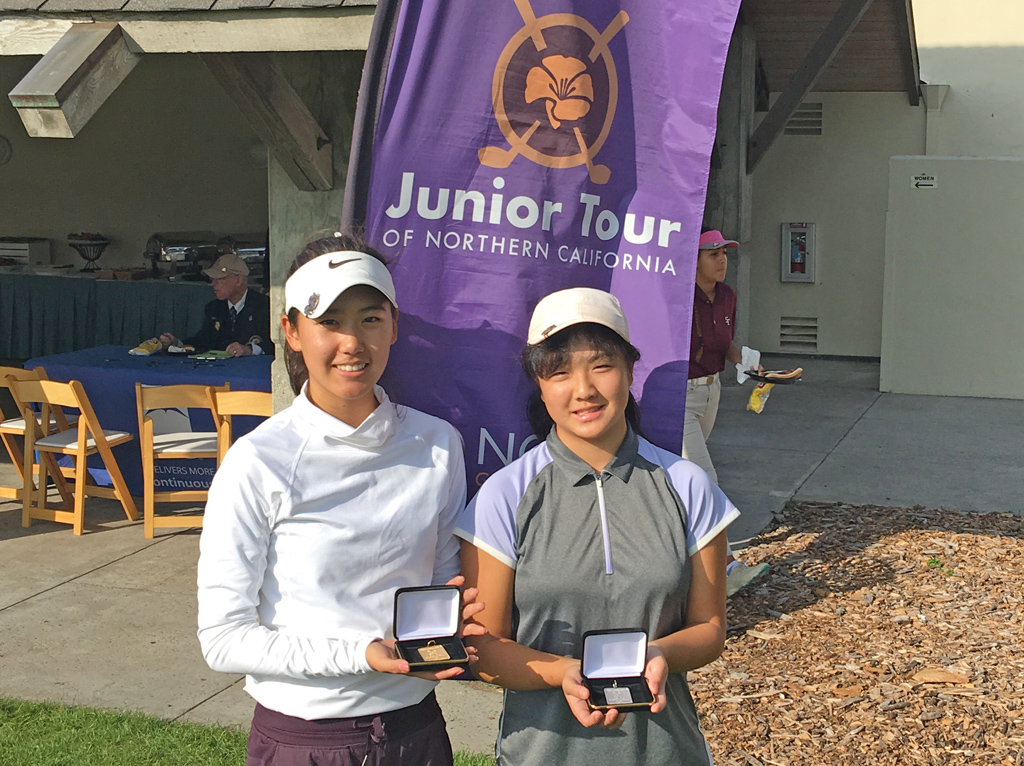 Holiday Series I – Del Monte GC
Access NCGA GO for the hotel rates in the area!
Pairings | Alphabetical Pairings | Scoring
Player Information | Del Monte Yardages
JTNC Pace of Play Policy | Standard Local Rules

CIG-Sponsored Junior Golf Tour of Northern California Crowns Winners at Holiday Series I Championship at Del Monte Golf Course in Monterey
 PEBBLE BEACH, Calif. (November 21, 2018) – Sponsored by Capital Insurance Group, the 2018-2019 Junior Tour of Northern California (JTNC) crowned champions Tuesday at the Holiday Series I Championship at Del Monte Golf Course.
Fremont resident Nathan Wang shot 1-over 145 and defeated Sam Sommerhauser of Rocklin in a playoff and San Jose resident Irene Jun shot 14-over 158 to win their respective divisions at the Holiday Series I Championship held Monday and Tuesday at par-72 Del Monte GC in Monterey.
Wang captured his first win of the season with a solid second round 70. He'd defeat Sommerhauser on the second hole of a sudden-death playoff with a par.
A day after opening with a 75, Wang went 4-under with four birdies through his first 11 holes. He'd fall back into a tie with Sommerhauser after he bogeyed the 17th and 18th.
Sommerhauser got into the playoff by playing the back-nine at 1-under thanks to two birdies. He'd card a final round 74.
Three players—Griffin Long of Davis, Ben Soicher of Mill Valley and Alexander Barclay of Pleasanton—finished T-3 at 146. Long earned third place following a card-off.
In the Girls' Championship, Jun notched her first win of the 2018-2019 season thanks to a second round 77 that feature two birdies and a back-nine 2-over 38.
Overall, Jun would post four birdies. Runner-up Claire Chen of Fremont came in at 160 after a final round 82.
Three players—Ashley Pan of Moraga, Hannah Harrison of Granite Bay and Kaylen Tu of Orinda—finished T-3 at 162. Pan was awarded third place following a card-off (low back-nine score).
In the Boys' First Flight Championship, Jaden Dumdumaya of Fairfield shot a final round 74 to come in at 152 and defeat runner-up Chris Bettencourt of Clovis by five shots.
Reese Sato of Folsom was third at 158, while Matthew Almajano of Fremont was fourth at 159. Luke Montoya of Arroyo Grande placed fifth at 160.
In the Girls' First Flight Championship, Varsha Ramachandran of Fremont shot a final round 76 to come in at 154, defeating runner-up Ellen Jun of San Jose by seven shots. Jun shot a final round 81.
Camille Thai of Los Altos was third at 163, while Orinda's Kaydee Tu was fourth at 165. Jordan Chan of Los Altos and Michelle Ho of San Ramon were T-5 at 168.
Next up on the JTNC calendar is the Holiday Series II Championship, to be held Dec. 1-2 at Morro Bay Golf Course in Morro Bay.