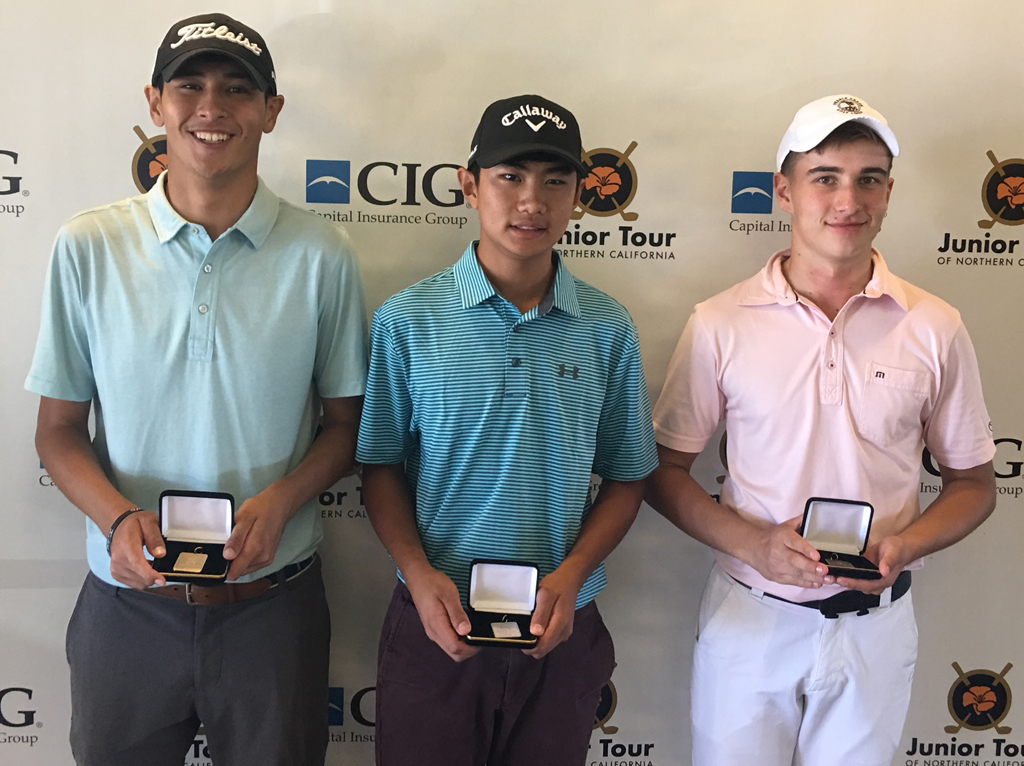 Fall Series VIII – Pajaro Valley GC
Access NCGA GO for the hotel rates in the area!
Pairings | Alphabetical Pairings | Scoring
Player Information | Pajaro Yardages
JTNC Pace of Play Policy | Standard Local Rules

CIG-Sponsored Junior Golf Tour of Northern California Crowns Winners at Fall Series VIII Championship at Pajaro Valley Golf Club in Watsonville
 PEBBLE BEACH, Calif. (October 15, 2018) – Sponsored by Capital Insurance Group, the 2018-2019 Junior Tour of Northern California (JTNC) crowned champions Sunday at the Fall Series VIII Championship at Pajaro Valley Golf Club.
Saratoga resident Caleb Shetler shot 6-under 138 and Fremont resident Claire Chen shot 5-over 149 to win their respective divisions at the Fall Series VIII Championship held Saturday and Sunday at par-72 Pajaro Valley Golf Club in Watsonville.
Shetler got his first win of the 2018-2019 season thanks to great play both days and a clutch birdie.
On Sunday, Shetler closed with a birdie on the par-4 18th to come in with a 70, holding off runner-up Nathan Wang of Fremont by a stroke. Shetler, who opened with a stellar 4-under 68, had an eagle and five birdies over his 36 holes.
Wang, who finished with a 72, tied Shetler when he made a birdie on the 17th. But he'd have to settle for a par on the 18th.
Third place went to Alexander Iniakov of Prunedale at 142 after a 73.
Krishan Patel of San Jose was fourth at 144, and Kyle Kuest of Fresno was fifth at 145.
In the Girls' Championship, Chen also got her first win of the season by closing with a clutch birdie on the 18th. Chen would fire a second round 70 featuring six birdies to hold off runner-up Mika Jin of Fremont by a shot.
Jin who won the Fall Series VI title, shot a second 76 to come in at 150. Third place went to Emily Luo of Danville at 151.
Finishing in a tie for fourth at 152 were Emily Hou of San Ramon and Kiara Romero of San Jose.
In the Boys' First Flight Championship, Alexander Suen of Dublin had a final round 76 to come in at 152, defeating runner-up Jamison Tan of Los Altos by two shots. Tan had a final round 77.
Howard Shu of Saratoga and Aptos' Nicolas Gavasse were T-3 at 155. Shu won the card-off. Matthew Almajano of Fremont and Christian Shackleford of Camarillo were T-5 at 157.
In the Girls' First Flight Championship, Celine Ho of San Jose had a final round 75 to come in at 156, defeating co-runners-up Ellen Jun of San Jose and Varsha Ramachandran of Fremont by eight shots. Ramachandran would earn second place following a card-off.
Fourth place went to Erika Gosti of Fremont at 166, while Audrey Wang of Fremont was fifth at 171.
Next up on the JTNC calendar is the Fall Series IX Championship, to be held Oct. 20-21 at Poppy Ridge Golf Course in Livermore.