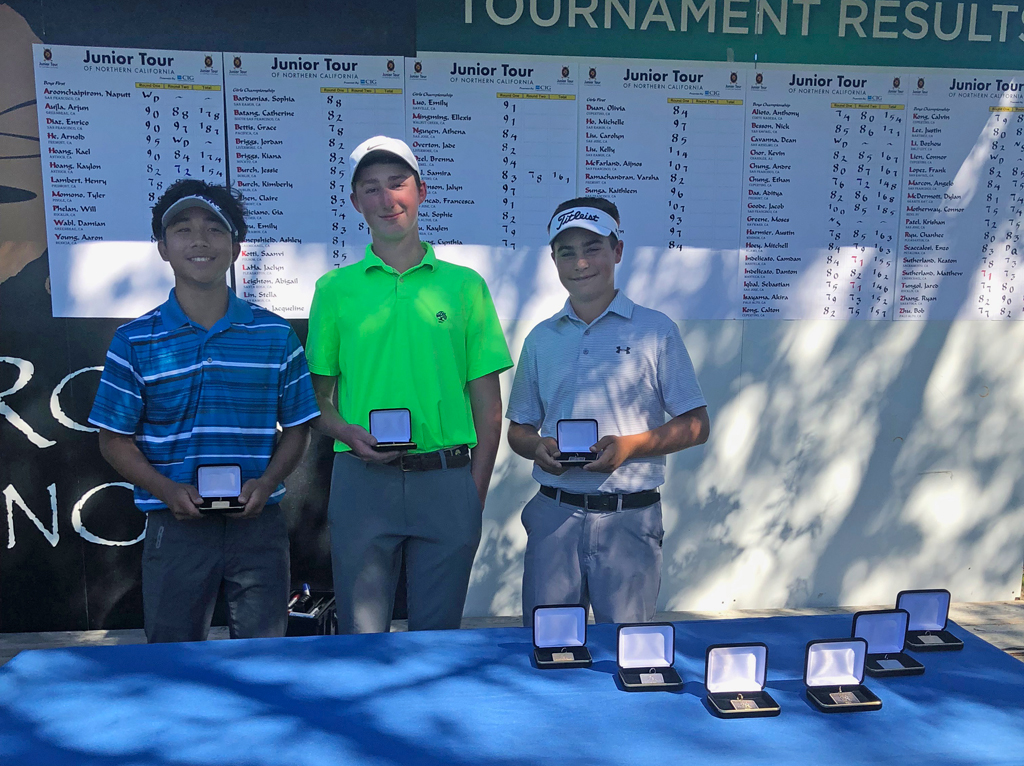 Fall Series VII – Windsor GC
Pairings | Alphabetical Pairings | Scoring
Player Information Sheet| Windsor Yardages
JTNC Pace of Play Policy | Standard Local Rules
Access NCGA GO for the hotel rates in the area!

CIG-Sponsored Junior Golf Tour of Northern California Crowns Winners at Fall Series VII Championship at Windsor Golf Club in Windsor
PEBBLE BEACH, Calif. (October 8, 2018) – Sponsored by Capital Insurance Group, the 2018-2019 Junior Tour of Northern California (JTNC) crowned champions Sunday at the Fall Series VII Championship at Windsor Golf Club.
Carmichael resident Matthew Sutherland shot even-par 144 and Chico resident Jacqueline Lucena shot 3-over 147 to win their respective divisions at the Fall Series VII Championship held Saturday and Sunday at par-72 Windsor Golf Club in Windsor.
Sutherland notched his first win of the 2018-2019 season thanks to solid play both rounds. Just a week prior, Sutherland won the Pro-Junior at the annual PGA Tour Champions PURE Insurance Championship Impacting The First Tee.
In Saturday's opener, he'd post four birdies on his way to a 71. A day later, he'd card three more birdies, including a crucial one on the 17th, for a 73 to hold off runner-up Sebastian Iqbal of San Jose by two shots.
Iqbal made a charge with a second round 71 that featured four birdies and just one bogey.
Third place went to Krishan Patel of San Jose at 147, while Ethan Chung of Cupertino was fourth at 148. Connor Motherway of Reno was fifth at 149.
In the Girls' Championship, Lucena also captured her first title of the season thanks to solid play both days.
On Saturday, Lucena carded two birdies en route to a 74. A day later, she'd go a stroke lower, posting a 73 thanks to a three-birdie, front-nine 33 to defeat runner-up Gia Feliciano of Concord by five shots.
Feliciano had a second round 78 to come in at 152, while Kiana Briggs of Novato was third at 154.
Jaclyn LaHa of Pleasanton was fourth at 155, with Milpitas' Cynthia Zhang taking fifth at 156.
In the Boys' First Flight Championship, Kaylon Hoang of Antioch shot a final round 72 to come in at 154, defeating co-runner-ups Henry Lambert of Piedmont and Will Phelan of Rocklin by five shots. Lambert earned second place after a card-off (coin flip).
Tyler Momano of Pinole was fourth at 166. Kael Hoang of Antioch and Aaron Young of Benicia were T-5 at 174.
In the Girls' First Flight Championship, Varsha Ramachandran of Fremont and Carolyn Liu of San Jose finished tied at 166. Ramachandran would win on the second hole of a playoff.
Olivia Duan of Cupertino was third at 169. Joyce Zhang of Milpitas was fourth at 178, with Kaydee Tu of Orinda fifth at 179.
Next up on the JTNC calendar is the Fall Series VIII Championship, to be held Oct. 20-21 at Pajaro Valley Golf Club in Watsonville.