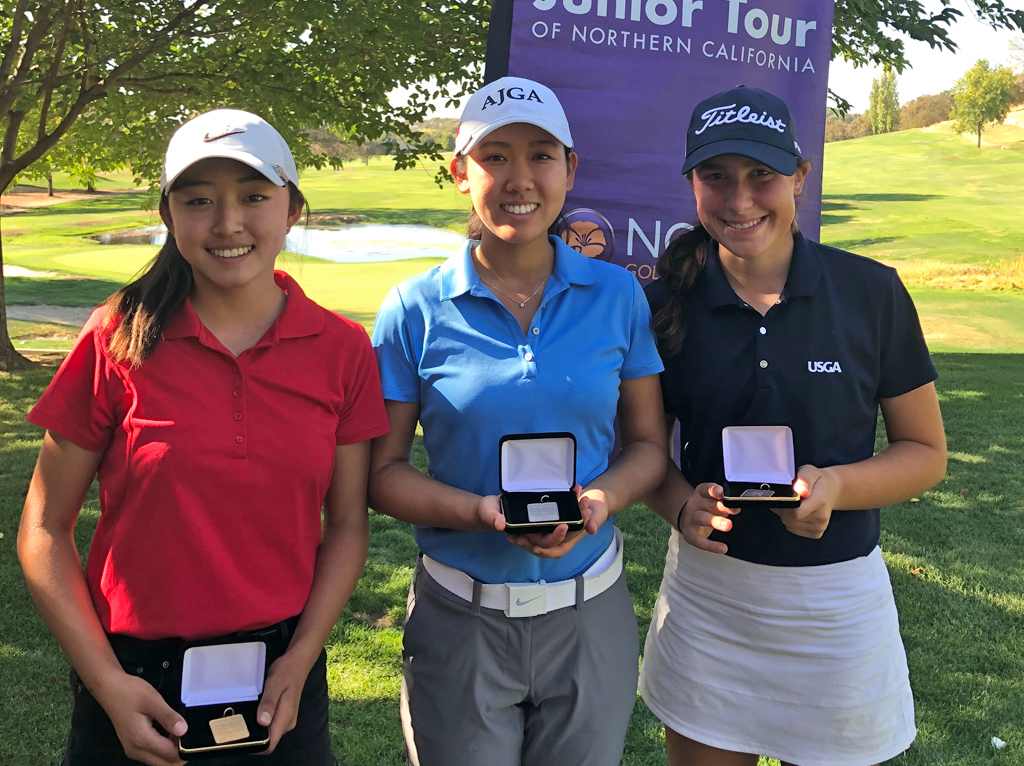 Fall Series VI – Greenhorn Creek Resort
Pairings | Alphabetical Pairings | Scoring
Player Information Sheet | Greenhorn yardages
Approximate Second Round Times
JTNC Pace of Play Policy | Standard Local Rules
Access NCGA GO for the hotel rates in the area!

CIG-Sponsored Junior Golf Tour of Northern California Crowns Winners at Fall Series VI Championship at Greenhorn Creek Resort in Angels Camp
 PEBBLE BEACH, Calif. (October 2, 2018) – Sponsored by Capital Insurance Group, the 2018-2019 Junior Tour of Northern California (JTNC) crowned champions Sunday at the Fall Series VI Championship at Greenhorn Creek Resort.
San Jose resident Lucas Carper shot 4-under 140 and Fremont resident Mika Jin shot even-par 144 to win their respective divisions at the Fall Series VI Championship held Saturday and Sunday at par-72 Greenhorn Creek Resort in Angels Camp.
Carper notched his first win of the 2018-2019 season thanks to great play both rounds.
He'd card back-to-back rounds of 70 to defeat co-runners-up Jacob Westberg of Sacramento and Jackson Koivun of San Jose by four shots. Carper overall posted an eagle and nine birdies to go against seven bogeys.
Westberg and Koivun had final rounds of 72 and 73, respectively, to finish tied at 144. Westberg earned second place in a card-off.
Dylan McDermott of Granite Bay was fourth at 145, while Sam Sommerhauser of Rocklin was fifth at 146.
In the Girls' Championship, Jin ran away with an eight-shot victory thanks to a sensational first round 69. She'd post six birdies to go against just three bogeys, running off three straight birdies from holes No.7 through No.9.
Melinda Yuan of San Ramon was second at 152, with Madelyn Gamble of Pleasant Hill taking third at 153.
Finishing in fourth was Pleasanton's Jaclyn LaHa at 154. Hannah Harrison of Granite Bay and Andrea Gomez of Santa Clara tied for fifth at 155.
In the Boys' First Flight Championship, Leland Tsai of Castro Valley shot a final round 80 to finish at 160, defeating runner-up Alexander Suen of Dublin by four shots.
Aaron Young of Benicia and Ishdeep Sodhi of Folsom were T-3 at 166 (Young took third in a card-off), while Kaylon Hoang of Antioch was fifth at 169.
In the Girls' First Flight Championship, Ellen Jun shot a final round 83 to finish at 164, defeating runner-up Belinda Sutikto of Fremont by six shots.
Michelle Ho of San Ramon was third at 172, while Natalie Park of Dublin was fourth at 208. Kelly Liu of San Ramon took fifth at 233.
Next up on the JTNC calendar is the Fall Series VII Championship, to be held Oct. 6-7 at Windsor Golf Club in Windsor.