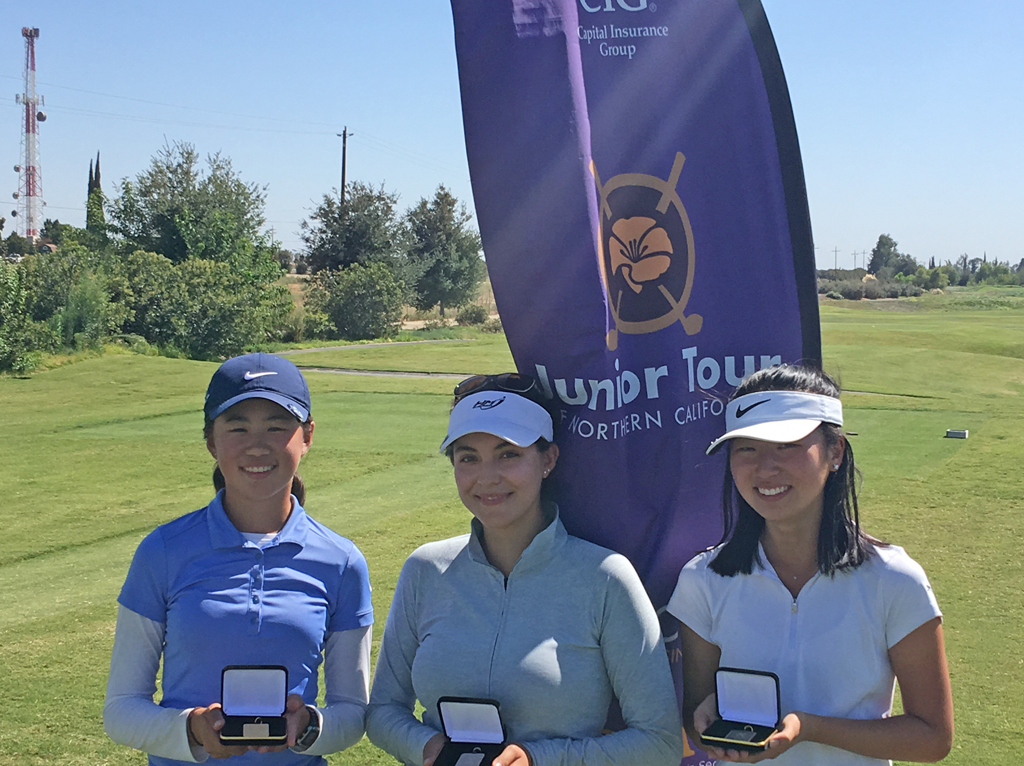 Fall Series V – Ridge Creek GC
Access NCGA GO for the hotel rates in the area!
Pairings | Alphabetical Pairings | Scoring
Player Information | Ridge Creek Yardages
JTNC Pace of Play Policy | Standard Local Rules

CIG-Sponsored Junior Golf Tour of Northern California Crowns Winners at Fall Series V Championship at Ridge Creek Golf Course in Dinuba
 PEBBLE BEACH, Calif. (September 17, 2018) – Sponsored by Capital Insurance Group, the 2017-2018 Junior Tour of Northern California (JTNC) crowned champions Sunday at the Fall Series V Championship at Ridge Creek Golf Course.
Bakersfield resident Dakota Ochoa shot 2-under 142 and defeated Caleb Shetler in a playoff and San Ramon resident Emily Hou shot 3-over 147 to win their respective divisions at the Fall Series V Championship held Saturday and Sunday at par-72 Ridge Creek Golf Course.
Ochoa notched his first win of the 2018-2019 season thanks to great play both days. He'd card rounds of 70-72.
In Saturday's opener, Ochoa posted five birdies to go against three bogeys. A day later, he'd card two birdies and two bogeys.
Shetler, of Saratoga, also was steady, posting back-to-back rounds of 71. Needing to make a move, he'd card a Sunday back-nine 35 despite a double-bogey.
Jared Tungol of Rocklin and Maverick Pavletich of Bakersfield finished T-3 at 144 after rounds of 70 and 71, respectively. Tungol took third in a card-off.
David Llewellyn of Fresno was fifth at 145.
In the Girls' Championship, Hou took the title thanks to great play on Sunday. She'd post a 1-under featuring three birdies and just two bogeys to defeat runner-up Andrea Gomez of Santa Clara by three strokes.
Hou, who also got her first win, had six birdies overall through her 36 holes. Gomez had rounds of 77-73.
Ashley Pan of Moraga took third at 151 after a final round 76.
Claire Wright of Chowchilla was fourth at 152 and Borina Sutikto was fifth at 153.
In the Boys' First Flight Championship, Chris Bettencourt of Clovis had a first round 72 en route to a total of 153, defeating runner-up William Musson of Fresno by four shots.
Benjamin Mouser of Fresno was third at 163, while Nicholas Mouser was fourth at 164. Fremont's Arnold He was fifth at 178.
In the Girls' First Flight Championship, Jessie Burch of Dublin had a final round 75 to come in at 151, defeating runner-up Kaydee Tu of Orinda by three strokes.
Camille Thai of Los Altos was third at 160.
Next up on the JTNC calendar is the Fall Series VI Championship, to be held Sept. 29-30 at Greenhorn Creek Resort in Angels Camp.