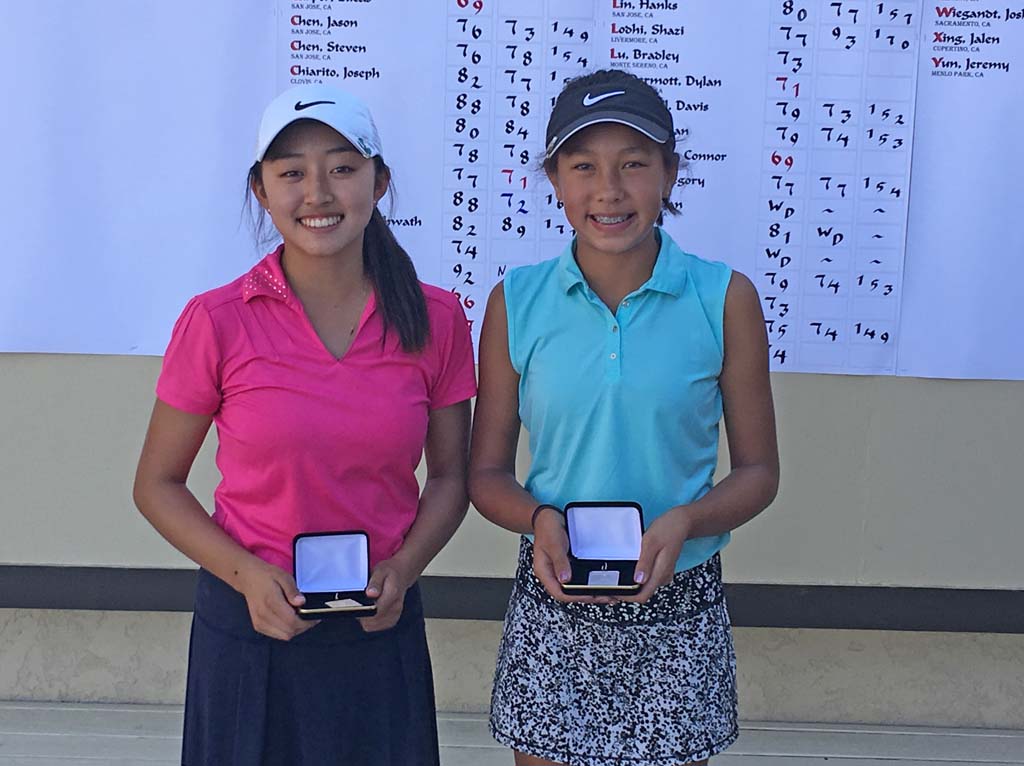 Fall Series IX – Poppy Ridge GC
*Special Announcement*  On Saturday October 20th, day one of the tournament, we will have a guest speaker, Brendan Ryan, following play.  He is an expert in the "college golf process" and is joining us to not only gather information for some of his current research, but to talk with players and parents about what's involved in taking the next step into college golf.  He is planning on speaking a couple of different times as players are finishing and he will be available to answer questions and talk throughout the afternoon.
Brendan's background includes playing college golf, as well as a 7 year coaching career. He also holds several higher degrees and is the author of several books, academic articles and popular articles.  Including one that can be found on the JTNC blog.   Brendan Ryan is the owner of Golf Placement Services which helps students identify and connect with schools which meet their academic, athletic, social and financial needs.
Pairings | Alphabetical Pairings | Scoring
Player Information Sheet | Poppy Ridge Yardages
JTNC Pace of Play Policy | Standard Local Rules
Access NCGA GO for the hotel rates in the area!

CIG-Sponsored Junior Golf Tour of Northern California Crowns Winners at Fall Series IX Championship at Poppy Ridge Golf Course in Livermore
 PEBBLE BEACH, Calif. (October 22, 2018) – Sponsored by Capital Insurance Group, the 2018-2019 Junior Tour of Northern California (JTNC) crowned champions Sunday at the Fall Series IX Championship at Poppy Ridge Golf Course.
San Jose resident Sebastian Iqbal shot 8-under 136 and Fremont resident Mika Jin shot even-par 144 to win their respective divisions at the Fall Series IX Championship held Saturday and Sunday at par-72 Poppy Ridge GC in Livermore.
Iqbal grabbed his first win of the 2018-2019 season thanks to stellar play both days.
In Saturday's opener, Iqbal posted a solid, bogey-free 67 with five birdies. A day later, he'd card five more birdies to go against two bogeys to hold off co-runners-up Connor Motherway of Reno and Lucas Carper of San Jose by six shots.
Motherway and Carper each shot identical rounds of 69-73. Motherway was awarded second place following a card-off.
Five players—Nickolai Friedman of Corte Madera, Darren Pang of San Jose, Nathan Wang of Fremont, Gregory Lee of San Jose and Danville's Justin Hopkins—all finished T-4 at 144.
In the Girls' Championship, Jin secured her second win of the season by closing with three straight pars on the 16th through 18th holes on Sunday. Jin, who earlier won the Fall Series VI Championship, posted seven birdies overall to offset seven bogeys.
Pleasanton resident Jaclyn LaHa was second at 145 following a final round 71. She's make a huge late charge with three straight birdies on holes 16-18 but it wasn't enough to catch Jin.
Jasmine Chen of Pleasanton and Stockton's Anitra Khoth finished T-3 at 149 after final rounds of 68 and 71, respectively. Chen would be awarded third place in a card-off.
Sloane Bayer of Fresno was fifth at 150.
In the Boys' First Flight Championship, Andre Chung of San Francisco shot a final round 71 to come in at 148, defeating runner-up Kael Hoang of Antioch by two. Hoang had back-to-back rounds of 75.
Kibum Kim of Pleasanton was third at 152. Leland Tsai of Castro Valley was fourth at 153 and Christopher Pantaleon of San Jose was fifth at 154.
In the Girls' First Flight Championship, Joyce Zhang of Milpitas shot a final round 79 to finish at 155, defeating runner-up Harper Clementz of San Francisco by a shot. Clementz had a final round 76.
Varsha Ramachandran of Fremont was third at 157. Olivia Duan of Cupertino took fourth at 158 and Celine Ho of San Jose and Jordan Chan of Los Gatos were T-5 at 164.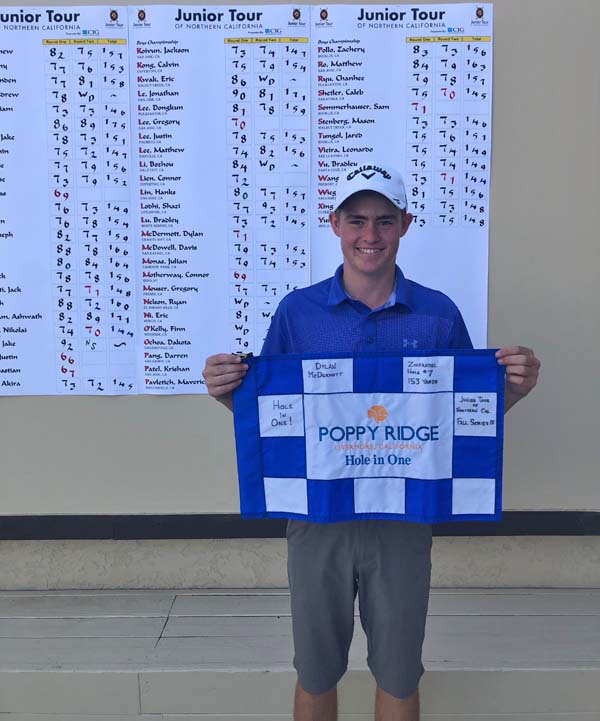 Dylan McDermott of Granite Bay had the shot of the tournament, acing the par-3 7th in Saturday's first round.
Next up on the JTNC calendar is the Holiday Series I Championship, to be held Oct. 19-20 at Del Monte Golf Course in Monterey.