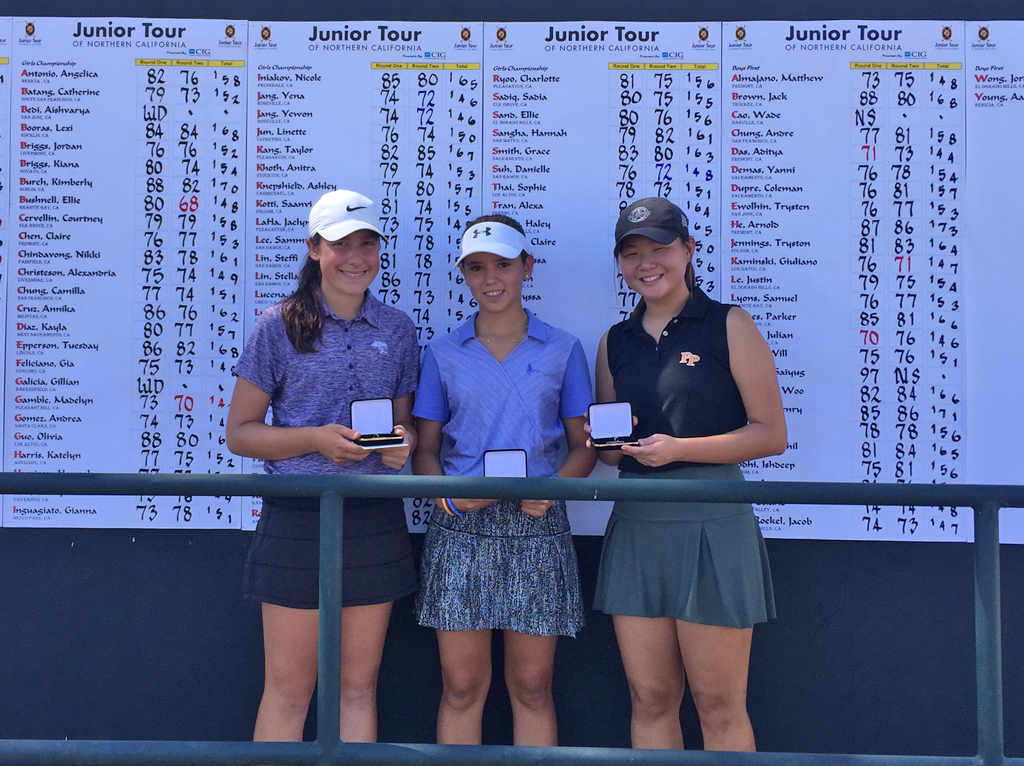 Fall Series IV – Haggin Oaks GC
Pairings | Alphabetical Pairings| Results
Player Information Sheet | Approximate 2nd Round Times
Pace of Play Policy | Standard Local Rules
Access NCGA GO for the hotel rates in the area!

CIG-Sponsored Junior Golf Tour of Northern California Crowns Winners at Fall Series IV Championship at Haggin Oaks Golf Complex in Sacramento
 PEBBLE BEACH, Calif. (September 10, 2018) – Sponsored by Capital Insurance Group, the 2017-2018 Junior Tour of Northern California (JTNC) crowned champions Sunday at the Fall Series IV Championship at Haggin Oaks Golf Club.
Granite Bay resident Dylan McDermott shot 8-under 136 and Pleasant Hill resident Madelyn Gamble shot 1-under 143 to win their respective divisions at the Fall Series IV Championship held Saturday and Sunday at par-72 Haggin Oaks Golf Complex.
McDermott got his second win of the 2018-2019 season thanks to great play both days. He'd card back-to-back rounds of 4-under 68.
In Saturday's opener, McDermott posted four birdies with zero bogeys. A day later, he'd again go bogey-free with four birdies to defeat a group of players by three shots.
Four players—Lucas Carper of San Jose, Baron Szeto of Moraga, Rocklin's Sam Sommerhauser and Carmel's George McNeely—all came in at 139.
Carper and Szeto had the best rounds on Sunday of the four, posting rounds of 69 and 70, respectively. Carper earned second place in a card-off.
In the Girls' Championship, Gamble shot a Sunday 2-under 70 to edge runner-up Marina Mata of Palo Alto by two shots.
Gamble, who also won her first event of the new season, opened with a 73 that featured a birdie and two bogeys. A day later, she'd post three birdies with just one bogey.
Mata, who had rounds of 72-73, had a chance to catch Gamble but bogeyed both the 15th and 18th on Sunday.
Four players—Melinda Yuan of San Ramon, Yena and Yevon jang of Roseville and Jacqueline Lucena of Chico—all finished T-3 at 146. Yena Jang earned third place in a card-off.
In the Boys' First Flight Championship,  Aditya Das of Fremont had a second round 73 to come in at 144, defeating runner-up Julian Monas of Cameron Park by two shots.
Giuliano Kaminski of Los Gatos and Jacob Van Roekel of El Dorado Hills were T-3 at 147, while Leland Tsai of Castro Valley and Matthew Almajano of Fremont were T-5 at 158.
In the Girls' First Flight Championship, Sophia Bardunias of San Ramon shot a second round 75 to come in at 149, defeating runner-up Malia Loo of Millbrae by a shot.
Third place went to Camille Thai of Los Altos at 151. Ryan Flynn of Truckee was fourth at 155, with Alaythia Hinds fifth at 156.
Next up on the JTNC calendar is the Fall Series V Championship, to be held Sept. 8-9 at Ridge Creek GC in Dinuba.