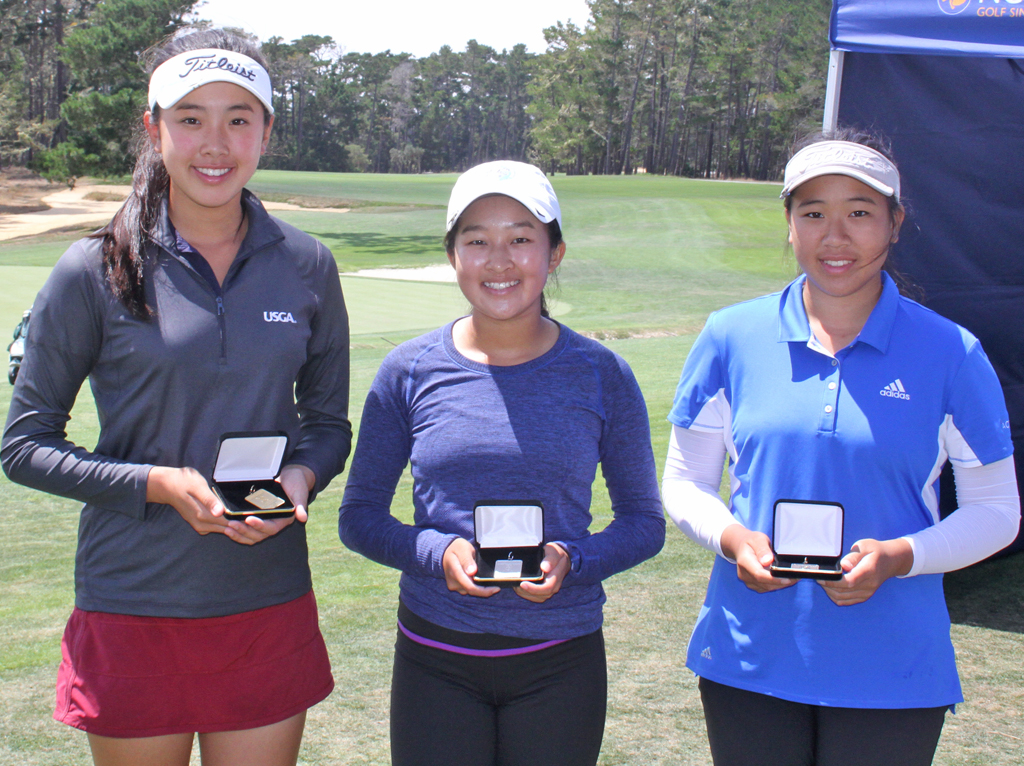 Tour Championship: Poppy Hills G.C.
Pebble Beach, CA
July 31-August 1, 2017
Pairings | Alphabetical Pairings | Results
Yardages | Approximate Final Round Times
Standard Local Rules | Pace of Play Policy
August 1, 2017

Boys' Championship Flight

San Jose resident Jason Chen got his first win of the 2016-2017 season, and may have served notice heading into the 2017-2018 season.
Chen, a 16-year-old junior at Cupertino High, eagled the par-5 18th at Poppy Hills Golf Course to shoot his second straight 2-under 69, giving him a two-day total of 138 and a one-stroke win over runner-up Ryan Burnett. Needing to fend off Burnett's charge, Chen responded by knocking a hybrid from 250 yards out to within 6 feet of the flagstick. He'd then cooly drain the putt.
"It feels really good. I just hit my irons really good," Chen said afterwards.
Burnett, the event's defending champion, had a 68 to finish at 139. A birdie on the 17th had given him a one-shot lead over Chen. Then Chen's eagle on the 18th happened.
"I gave it my all. And he eagled 18 to win it," Burnett said.
Ryan Grauman of Alamo and Ashkaan Hakim of San Ramon finished T-3 at 144 after rounds of 70 and 71, respectively.
With his finish, Hakim wrapped up 2016-2017 Boys' Player of the Year honors.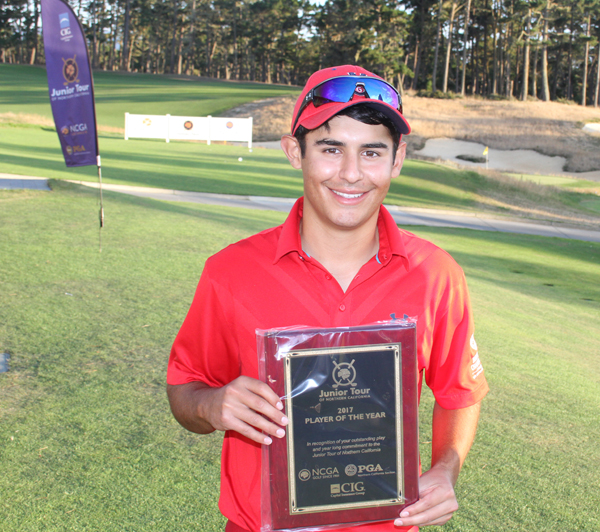 Girls' Championship Flight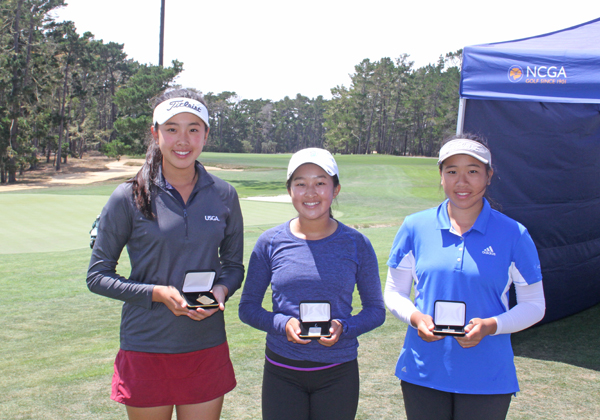 Concord resident Yealimi Noh made it a wire-to-wire win, shooting a final round 1-under 70 to win the title by six shots over runner-up Jacqueline Ha of San Ramon.
For Noh, the only player to break par, it marked her fifth win of the 2016-2017 season, the third best win total for a season all-time. It also was the Carondelet High junior's 16th career Northern California junior 'major' title, leaving her just two behind Casie Cathrea for second place.
"I just really love the course," said Noh of Poppy Hills. "I hit a lot of greens in regulation. It was fun."
Ha had a final round 73 to come in at 148. Megan Yang of San Jose was third at 151 following a 75. Antonia Malate of Seaside was fourth at 152 after a 72.
While she would slip to a tie for seventh, San Jose resident Sabrina Iqbal won a record fourth straight JTNC Girls' Player of the Year title. Iqbal is also the first female in JTNC history to win Player of the Year honors four times.
Boys First Flight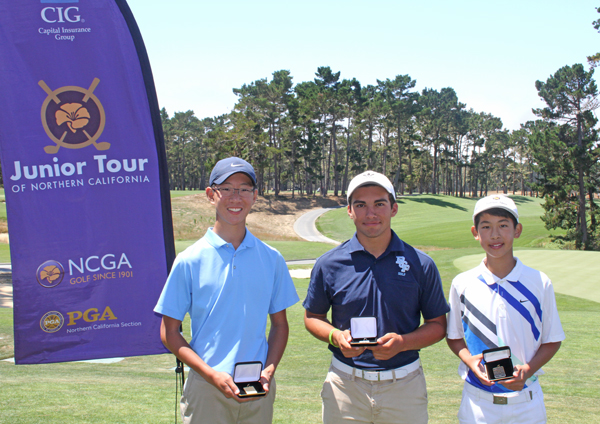 Matthew Lee of Danville shot a final round 75 to come in at 149 and defeat runner-up Nico Maes of San Jose by a stroke. Lee would be helped by three crucial birdies in the final round.
Maes, who shot a final round 79, had a chance to catch Lee but finished with bogeys on both No.17 and No.18. Steven Chen of San Jose was third at 152.
Girls First Flight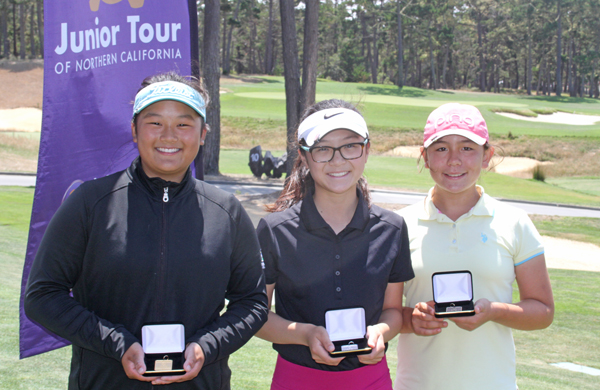 Sydney Sung of Palo Alto shot a final round 77 and defeated Tiffany Kwok of Pleasanton in extra holes to claim the title.
Both Sung and Kwok, who had a final round 78, finished at 20-over 162. Sophia Bardunias of San Ramon and Aliyah Madriaga of San Jose finished T-3 at 165 following final rounds of 86 and 84, respectively. Bardunias would be awarded third place after a card-off.
Photo Gallery
July 31, 2017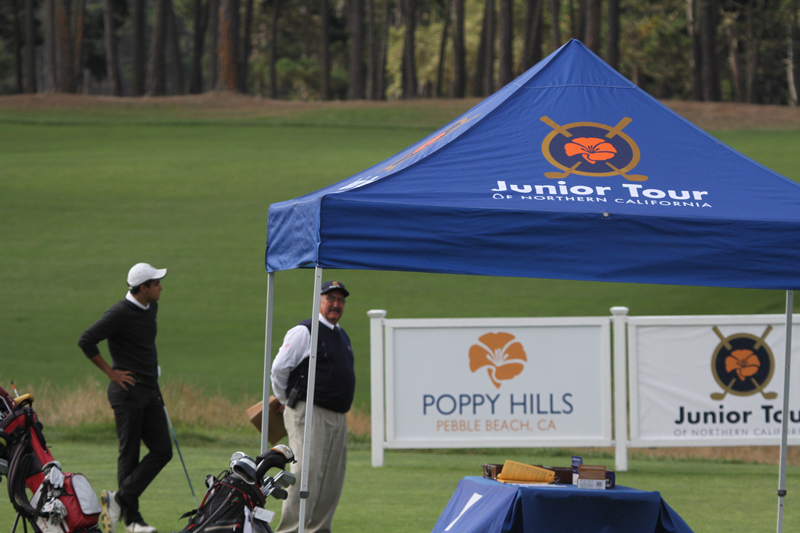 San Jose's Jason Chen and Concord's Yealimi Noh are the players to chase after Monday's opening round of the 2017 Capital Insurance Group-sponsored Junior Tour of Northern California Tour Championship.
Playing at par-71 Poppy Hills Golf Course, Chen grabbed a two-shot lead in the Boys' Championship with a solid 2-under 69 that included four birdies and two bogeys.
In at 71 and tied for second are Lafayette's Ryan Burnett and Jaimin Bhagat of Los Altos. Alone in fourth place at 72 is Walnut Creek's Max Holm.
While players are trying to win the Tour Championship title, there is also the issue of who will be crowned the 2016-2017 JTNC Boys' Player of the Year. Coming into the championship (a 500 point event), leading in the standings was San Ramon's Ashkaan Hakim at 1,809 points. Five players in the championship field, including defending Boys' Player of the Year Thomas Hutchison of San Jose, have a chance to catch Hakim depending on how things finish in Tuesday's final round.
Hakim was in no danger of collapsing. He finished opening day in a tie for fifth with five others at 73.
While Noh has no shot of catching three-time defending Girls' Player of the Year Sabrina Iqbal in the Girls' standings, a victory would be her fifth of the 2015-2016 season and 16th NorCal "major".
Still a junior in high school, Noh posted a 72 to take a one-shot lead over Selena Tang of Fremont.
Iqbal, along with Jacqueline Ha of San Ramon is tied for third at 75, just three behind the leader.
In the Boys' First Flight Championship, Nico Maes of San Jose took the lead with a first round 71, Matthew Lee of Danville is in second at 74.
Over in the Girls' First Flight Championship, Sophia Bardunias of San Ramon grabbed a two-shot lead after an opening 79.
Carissa Wu of Dublin had the shot of the day, acing the par-3 6th hole.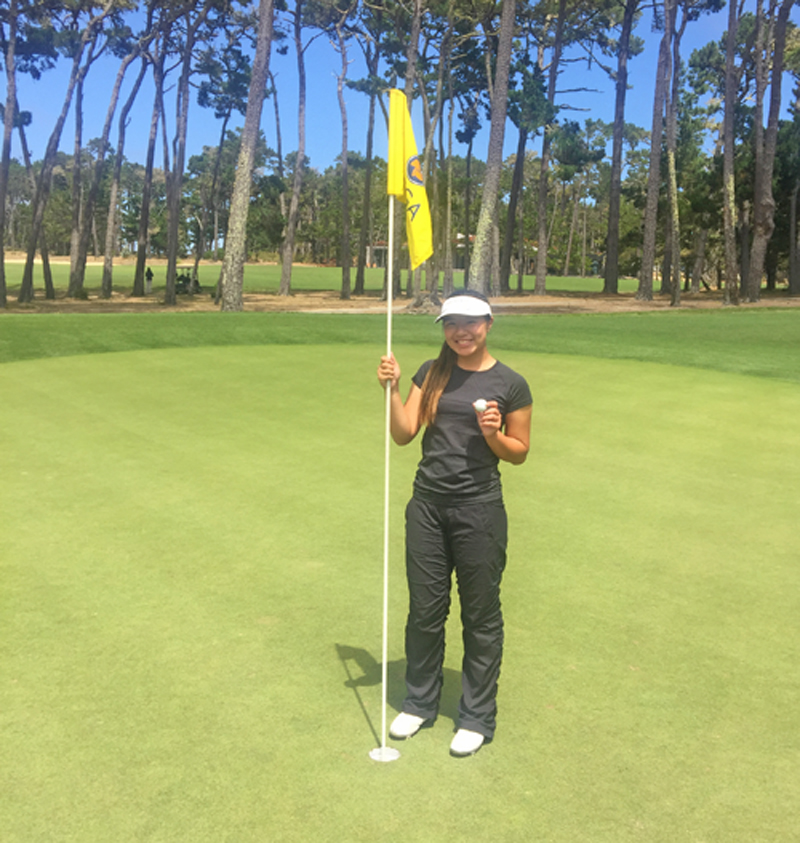 Photo Gallery