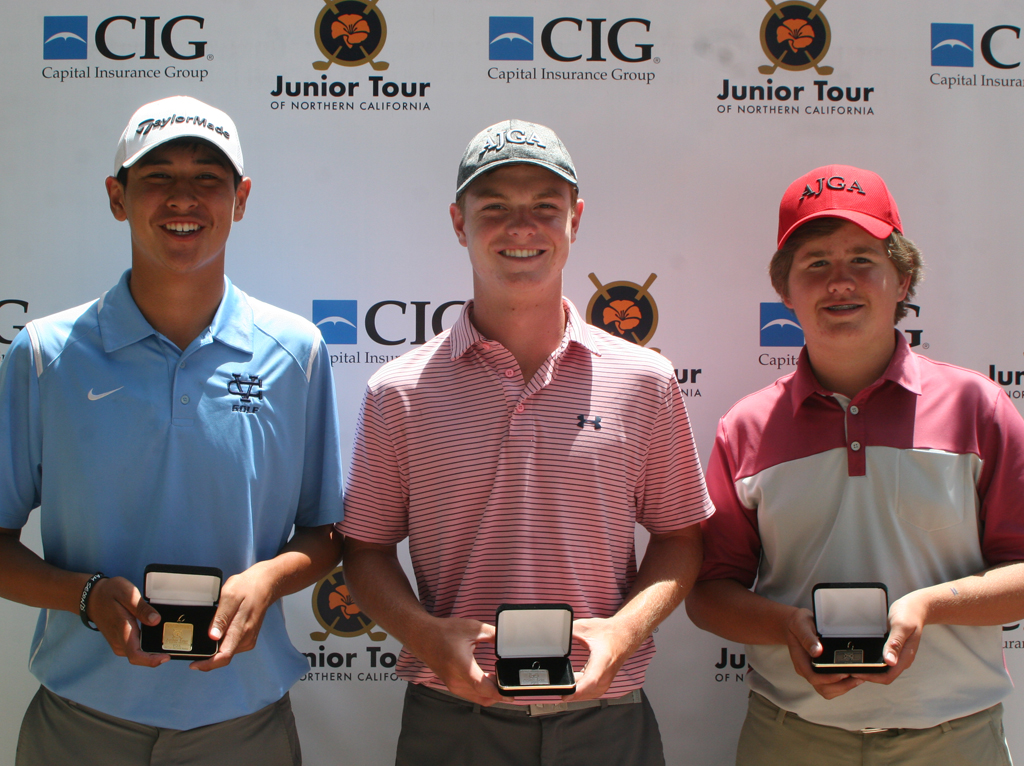 Summer Series V: Tahoe Donner G.C.
Truckee, CA
July 25-26, 2017
Pairings | Alphabetical Pairings | Results
Yardages | Approximate Final Round Times
Standard Local Rules | Pace of Play Policy

CIG-Sponsored Junior Golf Tour of Northern California Crowns Winners at Summer Series V Championship at Tahoe Donner Golf Course in Truckee
PEBBLE BEACH, Calif. (July 27, 2017) – Sponsored by Capital Insurance Group, the 2016-2017 Junior Tour of Northern California (JTNC) crowned champions Wednesday at the Summer Series V Championship at Tahoe Donner Golf Course in Truckee.
Saratoga resident Caleb Shetler shot even-par 144 and Palo Alto resident Niav Layton shot 15-over 159 to win their respective divisions at the Summer Series V Championship held Tuesday and Wednesday at par-72 Tahoe Donner GC.
Shetler captured his first win of the 2016-2017 season thanks to a second round surge that led to a 2-under 70. Coming off an opening round 74, Shetler, who a week earlier was runner-up at the Summer Series IV Championship, came out hot, carding a front-nine 32 with four birdies.
On the back-nine, he'd open with a double-bogey but came back with two more birdies to defeat runner-up Riley Bell of Yuba City by three shots.
Carmichael's Matthew Sutherland was the guy to chase after a first round 69, but he'd slip to third place at 148 following a final round 79.
Ryan Grauman of Alamo was fourth at 149 following a 71. Wallace Lin of Los Gatos and Justin Polk of San Jose tied for fifth at 152 after final rounds of 75 and 78, respectively.
In the Girls' Championship, Layton posted a final round 77 to defeat co-runners-up Maddie Jun of Mountain View and Kayla Diaz of West Sacramento by seven shots.
Layton posted a pair of birdies over her 36 holes. Diaz, who earned second place following a card-off, finished with an 85 to come in at 166.
Jun posted a final round 79. Fourth place went to Carmel's Lauren Hickam at 167 after an 86. Clare Brady of Campbell was fifth at 174 after an 85.
In the Boys' First Flight Championship, Dilan Krishnamurthy of San Jose posted a final round 79 and defeated Camden Daly of San Leandro and Ammon Collins of Sunnyvale in a playoff to win the title. All three players had finished at 160. Collins won second place by making a par on the final playoff hole to defeat Daly.
Fourth place went to Jake Gutierrez at 164, while fifth place went to Mountain View's Luke Jun at 166.
In the Girls' First Flight Championship, Lauren Sung of Palo Alto came in at 157 after a final round 78 to defeat runner-up Sydney Sung of Palo Alto by eight shots.
Third place went to Jade Overton of Livermore (171), fourth place went to Alice Lin of Los Gatos (178) and fifth place went to Mika Paligo of Sacramento (193).
Next up on the JTNC calendar is the 2016-2017 season ending Tour Championship, slated for July 31-Aug.1 at Poppy Hills Golf Course in Pebble Beach.