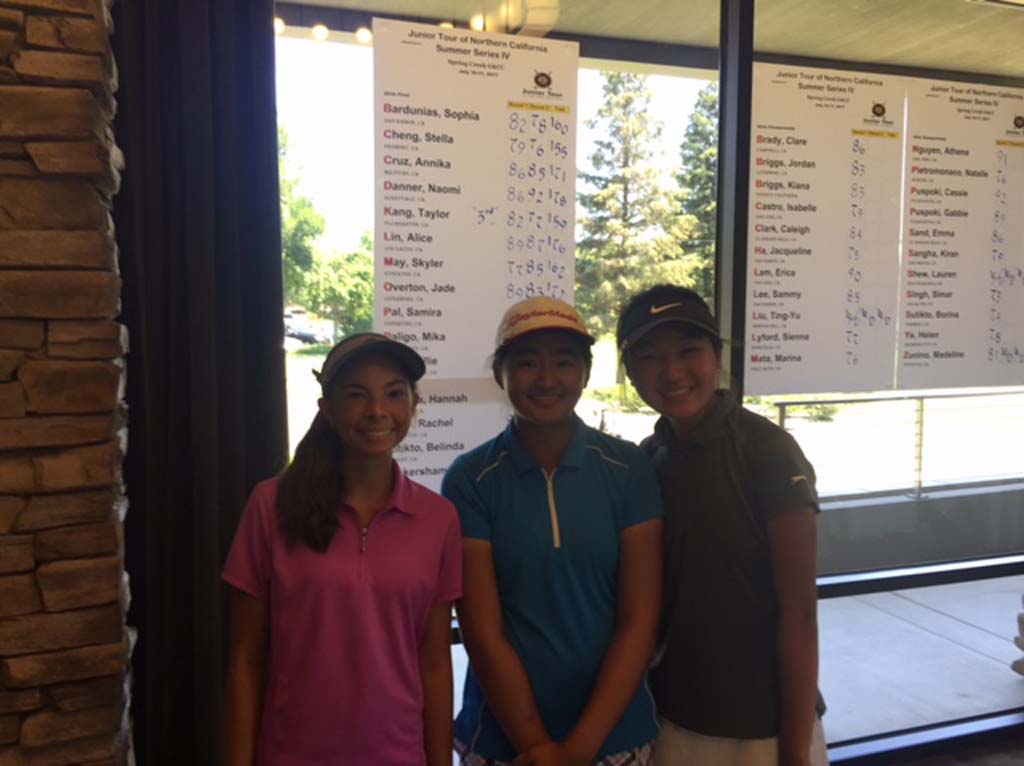 Summer Series IV: Spring Creek G.C.
Ripon, CA
July 16-17, 2017
Pairings | Alphabetical Pairings | Results
Yardages | Approximate Final Round Times
Standard Local Rules | JTNC Pace of Play Policy

CIG-Sponsored Junior Golf Tour of Northern California Crowns Winners at Summer Series IV Championship at Spring Creek Golf and Country Club in Ripon
 PEBBLE BEACH, Calif. (July 18, 2017) – Sponsored by Capital Insurance Group, the 2016-2017 Junior Tour of Northern California (JTNC) crowned champions Sunday at the Summer Series IV Championship at Spring Creek Golf and Country Club in Ripon.
Lodi resident George McNeely shot 1-under 141 and Los Altos resident Simar Singh shot 2-under 144 to win their respective divisions at the Summer Series IV Championship held Saturday and Sunday at par-71 (Girls' par-72) Spring Creek G&CC.
Gums notched his second win of the 2016-2017 season thanks to a second round charge that led to a 67. Coming off a shaky 74, Gums, who also won the Fall Series VII Championship, stumbled early with a double-bogey but the caught fire. He'd play his last 14 holes at 7-under thanks to an eagle on No.6.
Runner-up Caleb Shetler of Saratoga, who also opened with a 74, tried to make a move as well, carding a 69 to come in at 143. He'd birdie holes No.15-No.17 in succession but parred the 18th.
Ryan Grauman of Alamo and Jonathan Dicks of Menlo Park finished tied for third at 146 after rounds of 72 and 81, respectively. Grauman was awarded third place in a card-off. Dicks was on fire on Saturday, posting a 65 with eight birdies.
San Ramon's Ashkaan Hakim and Riley Bell of Yuba City finished T-5 at 147 following rounds of 71 and 76, respectively.
In the Girls' Championship, Singh also made a Sunday run, posting a final round 71 to win by four over runner-up Borina Sutikto of Fremont. For Singh, it was also her second win of the season.
The former California Junior Girls' State champion also won the Holiday Series I Championship.
Sutikto had back-to-back rounds of 74 to finish at 2-over 148. Jacqueline Ha of San Ramon took third at 149 following a 74.
Roseville's Sienna Lyford was fourth at 151, with Natalie Pietromonaco of Auburn placing fifth at 152.
In the Boys' First Flight Championship, Atwater resident Justin Pasley took the title by two strokes, shooting a final round 70 to come in at 149. Ryan Stewart of Castro Valley was second at 162 after a 79.
Jp Guimaraes of San Ramon was third at 153, while three players—Carson Kalbfleisch of Geyserville, Ammon Collins of Sunnyvale and Advaith Pathi of San Jose—all were T-4 at 157.
In the Girls' First Flight Championship, Fremont's Stella Cheng shot a final round 76 and defeated Ellie Sand of El Dorado Hills in a playoff to win the title.
Taylor Kang of Pleasanton was third at 159, while Sophia Bardurias of San Ramon was fourth at 160. Rachel Shaw of Pleasanton was fifth at 161.
Next up on the JTNC calendar is the Summer Series V Championship, slated for July 25-26 at Tahoe Donner Golf Club in Truckee.