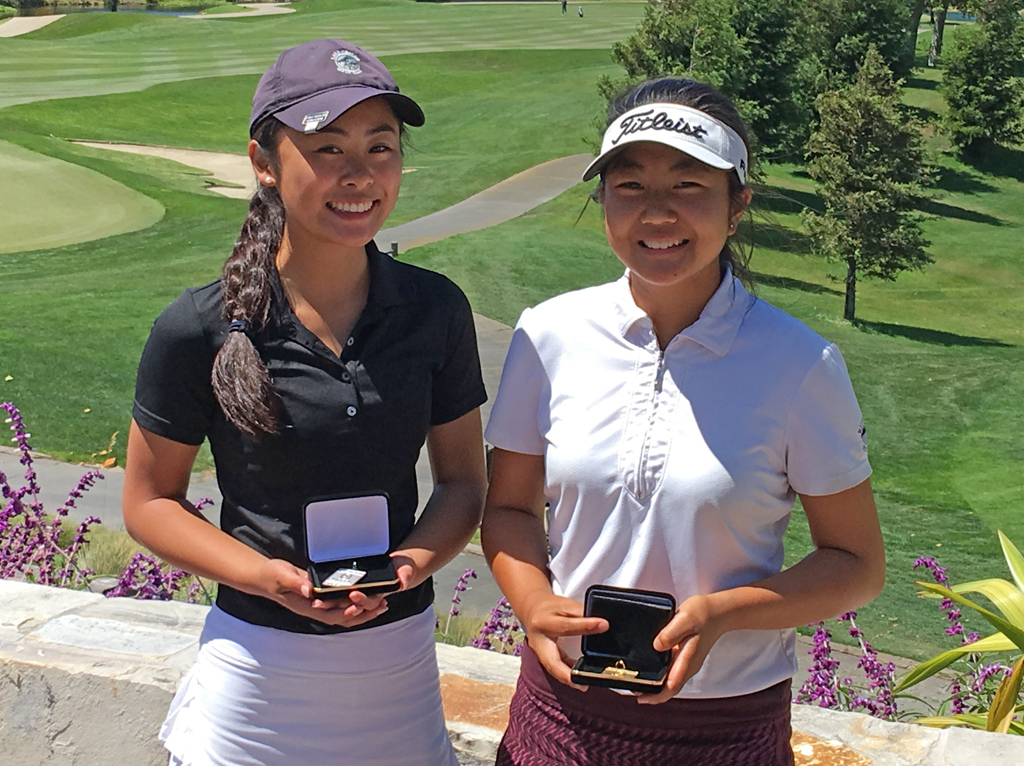 Summer Series III: Carmel Valley Ranch G.C.
Pairings | Alphabetical Pairings | Results
Approximate Yardages | Player Information Sheet
Standard Local Rules | JTNC Pace of Play Policy

CIG-Sponsored Junior Golf Tour of Northern California Crowns Winners at Summer Series III Championship at Carmel Valley Ranch in Carmel Valley
 PEBBLE BEACH, Calif. (June 21, 2017) – Sponsored by Capital Insurance Group, the 2016-2017 Junior Tour of Northern California (JTNC) crowned champions Tuesday at the Summer Series III Championship at Carmel Valley Ranch in Carmel Valley.
Carmel resident George McNeely shot 6-over 146 and defeated Casey Leebrick in a sudden-death playoff and Pleasanton resident Charlotte Ryoo shot 18-over 158 to win their respective divisions at the Summer Series II Championship held Monday and Tuesday at par-70 Carmel Valley Ranch.
McNeely notched his first win of the 2016-2017 season thanks to a brilliant first round. He'd open with a sizzling bogey-free 66 that featured an eagle on the par-4 2nd and two birdies.
A day later, McNeely shot an 80 that allowed Leebrick, who hails from San Francisco, to get back in it. In the playoff, McNeely won with a birdie on the first hole.
Leebrick had been steady each day, posting rounds of 74-72.  He'd catch McNeely thanks in part to three birdies in the final round.
Salinas' AJ Fitzgerald finished in third place, four strokes back, at 150 following a final round 76.
Fourth place went to Owen Avrit of Arroyo Grande at 151 after a 77, while Fremont's Ethan Chen was fifth at 153 following a 73.
In the Girls' Championship, Ryoo also got her first win of the season. She'd be powered by a birdie and 21 pars over her two rounds, defeating runner-up Lauren Shew of San Francisco by four shots.
Shew, who trailed Ryoo by five after the first round, tried to close the gap with a 77 but was unable to catch Ryoo, finishing at 162.
San Luis Obispo's Isabel Carpenter placed third at 181 following an 84.
Pleasanton resident Kate Lim was fourth at 182 after a 93, while Carmel's Lauren Hickam was fifth at 183 after a 94.
In the Boys' First Flight Championship, Prunedale resident Alexander Iniakov took the title by nine strokes, shooting a final round 74 to come in at 153. Leonardo Veira of Castro Valley was second at 162 after a 79.
Both Advaith Pathi of San Jose and San Francisco's Gavin McDonell shared third place at 163. McDonell was awarded third place following a card-off. Fifth place went to Jake Gutierrez of Hillsborough at 164.
In the Girls' First Flight Championship, Bridget O'Keefe of Palo Alto shot a final round 80 to come in at 172 and defeat runner-up Gabbie Puspoki of Pleasanton by a stroke. Puspoki shot a final round 90.
Third place went to Sophia Bardurias of San Ramon at 174, while Atherton's Nathalie Benrey was fourth at 179. Danville's Emily Luo was fifth at 180.
Next up on the JTNC calendar is the Summer Series IV Championship, slated for July 16-17 at Spring Creek Golf and Country Club in Ripon.