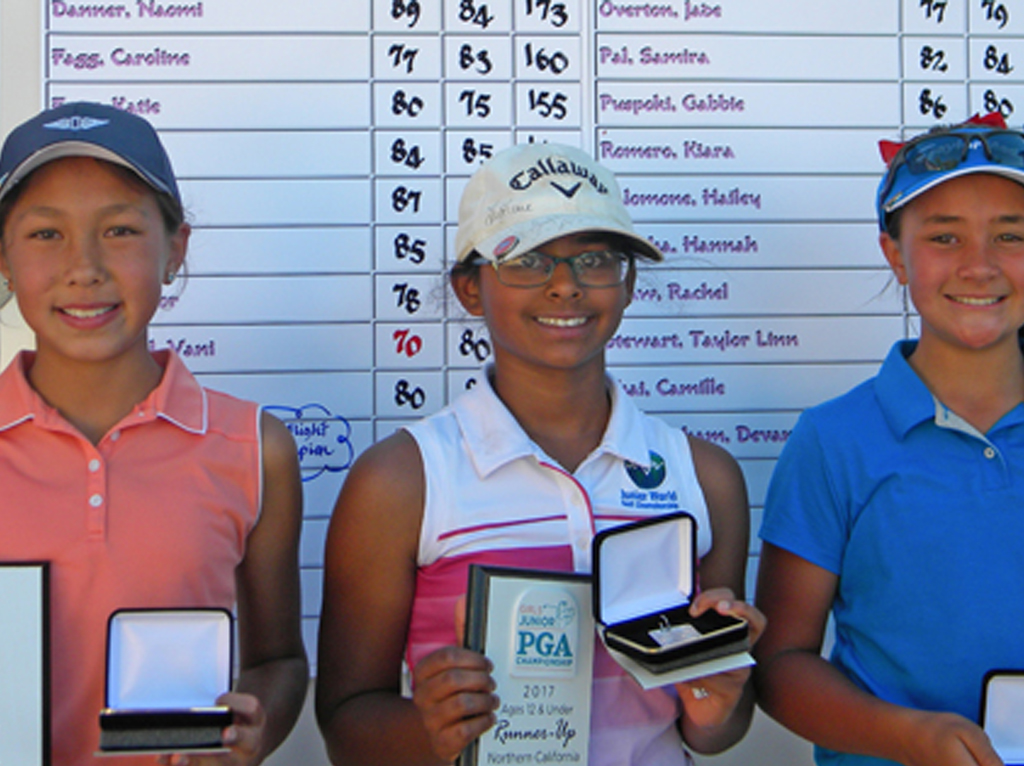 Summer Series II: Poppy Ridge G.C.
Livermore, CA
June 14-15, 2017
Pairings | Alphabetical Pairings | Results
Poppy Ridge Yardages | Player Information Sheet
Pace of Play Policy| Standard Local Rules
*Note*- Summer Series II at Poppy Ridge will also be a Northern California qualifying site for the PGA Junior Championship.

CIG-Sponsored Junior Golf Tour of Northern California Crowns Winners at Summer Series II Championship at Poppy Ridge Golf Course in Livermore
PEBBLE BEACH, Calif. (June 16, 2017) – Sponsored by Capital Insurance Group, the 2016-2017 Junior Tour of Northern California (JTNC) crowned champions Thursday at the Summer Series II Championship at Poppy Ridge Golf Course in Livermore.
San Jose resident Lucas Carper shot 7-under 137 and San Ramon resident Belinda Hu shot 3-under 141 to win their respective divisions at the Summer Series II Championship held Wednesday and Thursday at par-72 Poppy Ridge Golf Course.
Carper picked up his record-tying third win of the 2016-2017 season thanks to solid play each day.
Also the winner of the Holiday Series III and Spring Series V Championships, Carper opened with a bogey-free 67 that featured five birdies, including four on the front-nine. On Thursday, he'd post a 70 with a crucial birdie on the 18th to hold off runner-up Sergi Mata of Palo Alto by a stroke.
Both Carper and Mata earned automatic spots into this year's Junior PGA Championship via their finishes.
Mata had a brilliant second round 65 with seven birdies and zero bogeys to make a charge.
Brian Ma of Milpitas and and Trey Davis of Oliverhurst finished T-3 at 141 after final rounds of 68 and 71, respectively.
San Ramon's Ashkaan Hakim and Andrew Chem of Pleasanton finished T-5 at 143 following rounds of 67 and 73, respectively.
In the Girls' Championship, Hu got her second win of the season with great play both rounds in what was her final JTNC event.
On Wednesday, Hu had a 69 with four birdies and a bogey. A day later, she'd post a 72 that included an eagle on the par-5 5th to come in at 141, defeating three players by two shots.
Sabrina Iqbal of San Jose, Simar Singh of Los Altos and San Ramon's Danielle Suh all finished at 143. Iqbal, the reigning three-time Girls' Player of the Year, would claim second place following a playoff.
Both Hu and Iqbal also earned automatic spots into this year's Girls' Junior PGA Championship.
Fifth place went to San Mateo's Kiran Sangha at 145.
In the Boys' First Flight Championship, Anton Ouyang of San Jose shot a final round 75 to come in at 146 and defeat co-runners-up Curtis Dasilva of Marina and Calton Kong of Cupertino by three.
Dasilva had a final round 73, while Kong shot 77. Steven Chen of San Jose was fourth at 151.
In the Girls' First Flight Championship, Pleasanton's Jaclyn LaHa shot a final round 72 to come in at 145 and defeat runner-up Vani Karimanal by five. Karimanal shot a final round 80.
Kiara Romero of San Jose was third at 151, while Pleasanton's Kristen Lee was fourth at 152. Fifth place went to Dublin's Katie Fong at 155.
Next up on the JTNC calendar is the Summer Series III Championship, slated for June 19-20 at Carmel Valley Ranch in Carmel Valley.