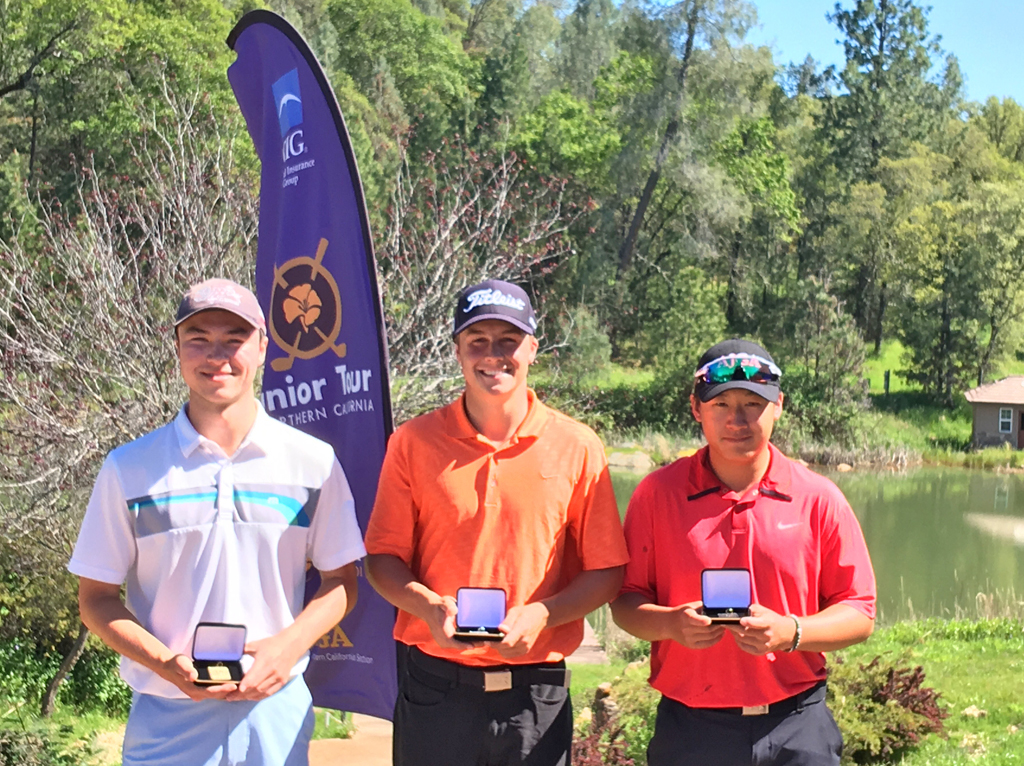 Spring Series V: Darkhorse G.C.
Pairings | Alphabetical Pairings | Scoring
Player Information Sheet | Approximate Yardages
2017 Hard Card Please Read | Pace of Play Policy

CIG-Sponsored Junior Golf Tour of Northern California Crowns Winners at Spring Series V Championship at Darkhorse Golf Club in Auburn
 PEBBLE BEACH, Calif. (May 1, 2017) – Sponsored by Capital Insurance Group, the 2016-2017 Junior Tour of Northern California (JTNC) crowned champions Sunday at the Spring Series V Championship at Darkhorse Golf Club in Auburn.
San Jose resident Lucas Carper shot 5-under 139 and San Ramon resident Danielle Suh shot 4-over 148 to win their respective divisions at the Spring Series V Championship held Saturday and Sunday at par-72 Darkhorse Golf Club.
Carper nabbed his second win of the season, shooting stellar rounds of 70 and 69 to defeat runner-up George McNeely of Carmel by eight shots.
Also the winner of the Holiday Series III Championship, Carper got going with six birdies to go against four bogeys in the first round. A day later, he'd add on five more birdies with just two bogeys. Carper would be the only player to finish at under-par for the weekend.
McNeely, who was in the running after a solid opening round of 72, fell back to a 75 for a total of 147. Through his two rounds, he'd post five birdies.
Danville's Wanxi Sun had a final round 73 to finish in third place at 148. Saransh Saxena of Dublin was fourth at 149 following a 75, while Concord's Jack Feliciano was fifth at 152 after a 73.
In the Girls' Championship, Suh broke through for her first win of the season thanks to back-to-back solid rounds. On Saturday, Suh had a 73 that featured five birdies and six bogeys. A day later, she'd post a 75 with two birdies to defeat runner-up Maya Pugatch of San Jose by six shots.
Pugatch, the winner at the Spring Series IV Championship, had rounds of 78-76 to finish at 154.
Both Belinda Hu of San Ramon and Angela Liu of San Jose finished tied for third at 155 after final rounds of 77 and 75, respectively. Liu would be awarded third place following a card-off (lower score on the back-nine).
Megan Yang of San Jose came in fifth at 156 following a 76.
In the Boys' First Flight Championship, Gregory Lee of San Jose notched his second straight win, posting rounds of 79-70 for a score of 149 and a three shot victory over runner-up Jared Yee of Fremont. Yee, who opened with a 72, fell back to an 80.
John Tobias Walsh of Yerington was third at 158 after a 79, while Harrison Sunde of Redding was fourth at 161. San Jose's Jonathan Le placed fifth at 163.
In the Girls' First Flight Championship, Brooke Yi of Pleasanton had a final round 73 to finish at 159, defeating co-runner-ups Meghan Paracuelles and Emily Hou by a stroke. Helping Yi along was a hole-out for eagle on the par-4 14th hole.
Paracuelles, of Folsom, and Hou, of San Ramon, went to a card-off to determine second place. Hou won the card-off.
Fourth place went to Kathryn Robinson of American Canyon at 164. Pleasanton's Jasmin Krishna finished fifth at 165.
Next up on the JTNC calendar is the Spring Series VI Championship, slated for May 13-14 at Monarch Bay Golf Club in San Leandro.