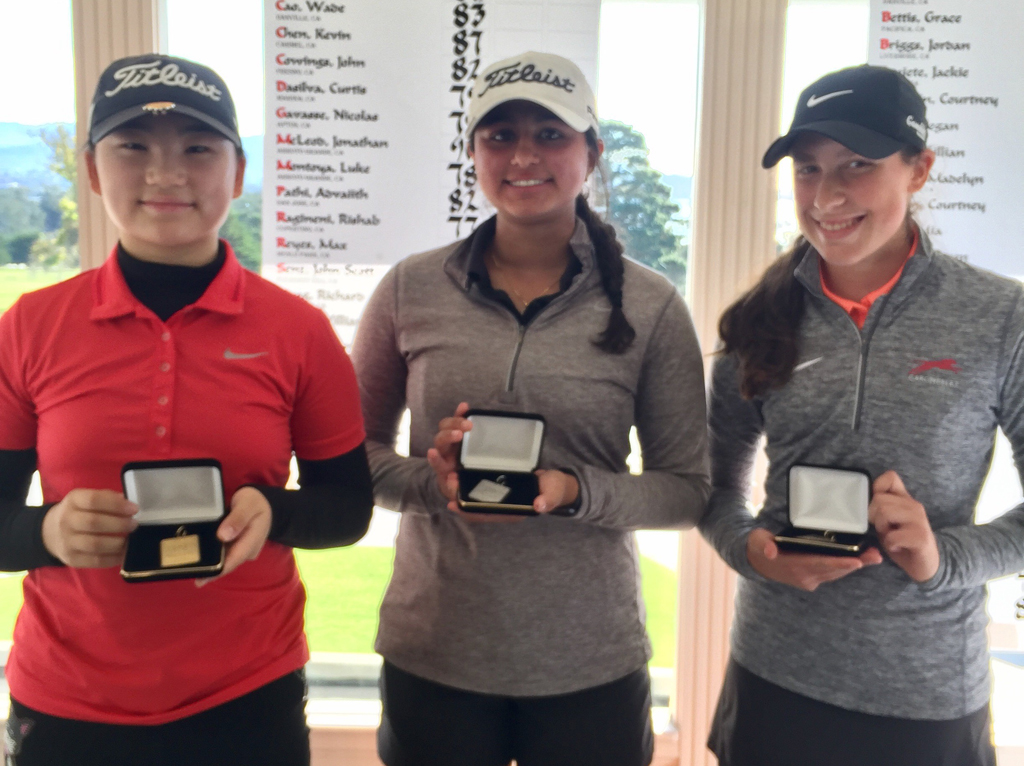 Holiday Series II: Morro Bay G.C.
Pairings | Alphabetical Pairings | Results
Player Information Sheet| Approximate Yardages
JTNC Pace of Play Policy | Standard Local Rules

CIG-Sponsored Junior Golf Tour of Northern California Crowns Winners at Holiday Series II Championship at Morro Bay Golf Course in Morro Bay
PEBBLE BEACH, Calif. (December 4, 2017) – Sponsored by Capital Insurance Group, the 2017-2018 Junior Tour of Northern California (JTNC) crowned champions Sunday at the Holiday Series II Championship at Morro Bay Golf Course in Morro Bay.
Alamo resident Ryan Grauman shot 2-under 140 and San Mateo resident Ashely Shim shot 5-over 147 to win their respective divisions at the Holiday Series II Championship held Saturday and Sunday at par-71 Morro Bay GC.
Grauman nabbed his second straight win, courtesy of solid play both days. In the first round, Grauman, who was coming off a record-tying performance at the Holiday Series I Championship, shot 69 with five birdies, all coming on the back-nine. In his opening nine, Grauman was the epitome of steady, posting nine pars.
On Sunday, Grauman carded four birdies and an eagle (par-5 16th) to offset a double-bogey and four bogeys.
Iqbal, who had opened with a 70, was right there with Grauman until a late string that saw him go 6-over through his last five holes en route to a 79. It marked the third runner-up finish for Iqbal.
Kyle Kuest of Fresno was third at 150 following a 73. Akira Isayama of Palo Alto was fourth at 152, with Gregory Lee of San Jose placing fifth at 153.
In the Girls Championship, Shim notched her first win of the season thanks to a solid first round 70 that featured three birdies. On Sunday, Shim slipped back to a 77, but a late birdie on the 16th helped her hold off co-runners-up Simar Singh of Los Altos and Madelyn Gamble of Pleasant Hill by two shots.
Singh and Gamble both came in at 149 after final rounds of 74 and 73, respectively. Singh would earn second place following a card-off.
Fourth place went to four-time defending Girls' Player of the Year Sabrina Iqbal of San Jose at 150. Fifth place went to Faith Low of Foster City at 153.
In the Boys' First Flight Championship, Curtis Dasilva of Marina shot a final round 81 and defeated runner-up Advaith Pathi of San Jose on the first hole of a sudden-death playoff. Pathi had a final round 78.
Third place went Nicolas Gavasse of Aptos at 161, while Sunnyvale's William Yang placed fourth at 162.
In the Girls' First Flight Championship, Katie Burson of Atascadero shot a final round 78 to come in at 160, defeating runner-up Bridget O'Keefe  by 11 shots.
Nathalie Benrey of Atherton was third at 174, with Carolyn Liu of San Jose placing fourth at 179.
Next up on the JTNC calendar is the 2017-2018 Holiday Series III at Del Monte GC in Monterey and Poppy Hills GC in Pebble Beach on Dec. 27-28.