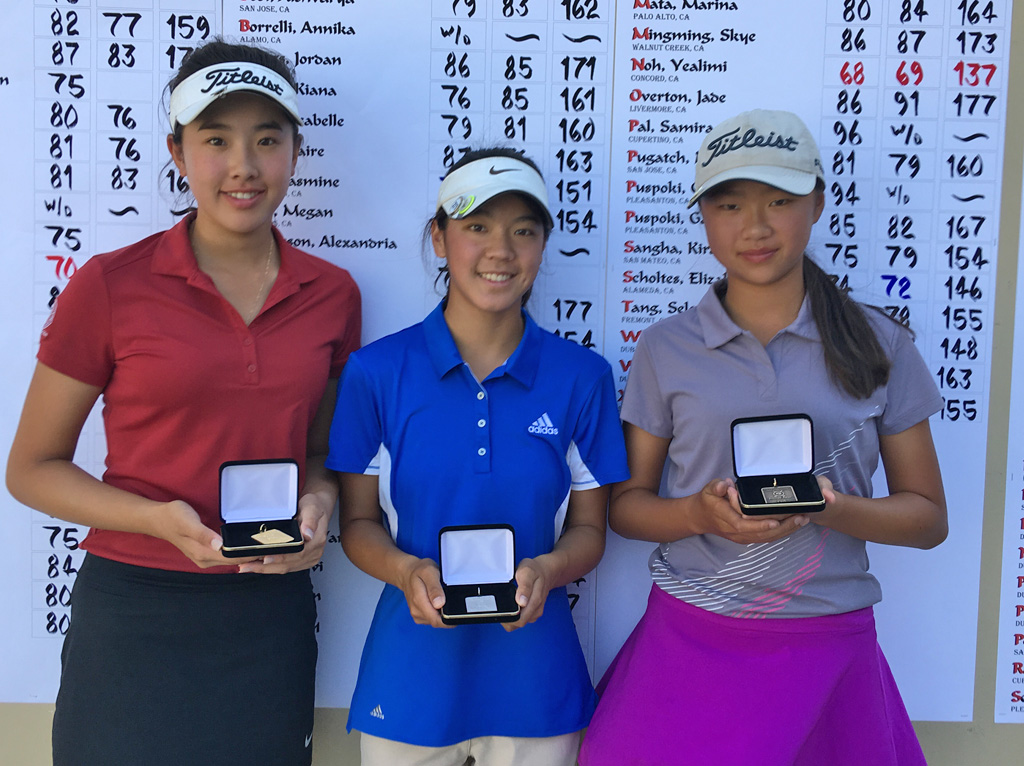 Fall Series VIII: Poppy Ridge G.C.
Pairings | Alphabetical Pairings | Scoring
Approximate 2nd Round Times | Poppy Ridge Yardages
JTNC Pace of Play Policy | Standard Local Rules

CIG-Sponsored Junior Golf Tour of Northern California Crowns Winners at Fall Series VIII Championship at Poppy Ridge Golf Course in Livermore
 PEBBLE BEACH, Calif. (October 16, 2017) – Sponsored by Capital Insurance Group, the 2017-2018 Junior Tour of Northern California (JTNC) crowned champions Sunday at the Fall Series VIII Championship at Poppy Ridge Golf Course in Livermore.
Cupertino resident Sam Ethan Chung shot 3-under 141 and Concord resident Yealimi Noh shot 7-under 137 to win their respective divisions at the Fall Series VIII Championship held Saturday and Sunday at par-72 Poppy Ridge GC.
Chung earned his second win of the 2017-2018 season and grabbed the lead in the Player of the Year points standings thanks to a clutch birdie on the 18th hole. The birdie gave Chung a final round score of 71, enabling him to hold off runner-up Sebastian Iqbal of San Jose.
Overall, Chung had eight birdies to go against just five bogeys. Iqbal also birdied the 18th for a 71 but was previously stung by a bogey on the 17th. The stroke would give Iqbal a two-day total of 142.
Four other players—Drew Kim of Pleasanton, Gregory Lee of San Jose, Los Altos Hills' Tyson Dinsmore and Saratoga's Caleb Shetler—were also right in the thick of things, finishing T-3 at 143. Kim would earn third place in a card-off.
Kim, like Iqbal, also had a chance to catch Chung but slipped with a bogey on the 17th.
In the Girls Championship, things weren't so dramatic, as Noh raced to a nine-shot win thanks to two brilliant rounds. The Carondelet High junior, who now has two wins on the season, opened with a 68 that featured eight birdies and four bogeys.
A day later, Noh was still hot, posting six birdies to go against three bogeys.
Alameda's Elizabeth Scholtes and Foster City's Faith Low finished T-2 at 146 after rounds of 72 and 73, respectively. Scholtes earned second place in a card-off.
Fourth place went to Carissa Wu of Dublin at 148. Andrea Gomez of Santa Clara and Sabrina Iqbal of San Jose finished T-5 at 149.
In the Boys' First Flight Championship, San Ramon's Jacob Ponce had a final round 75 to come in at 149 and defeat runner-up Leonardo Veira of San Leandro by a stroke. Veira had a final round 71.
Jonathan Le of San Jose and Tylor Chou of Los Altos finished T-3 at 151. Le won third in a card-off. Matthew Lee of Danville was fifth at 152.
In the Girls' First Flight Championship, Tina Xu of Los Altos had a final round 78 to come in at 160 and defeat runner-up Hannah Sangha of San Mateo by one. Sangha had a final round 78.
Sophia Bardunias of San Ramon and Emily Luo of Danville finished T-3 at 166. Bardunias earned third in a card-off. Stella Lin of San Ramon was fifth at 167.
Ahmed Ali of Los Altos and Ethan Chen of Fremont both had the shots of the event, making hole in ones on the par-3 7th hole of the Zinfandel Course.
Next up on the JTNC calendar is the 2017-2018 Holiday Series I at Del Monte GC in Monterey on Nov. 20-21.