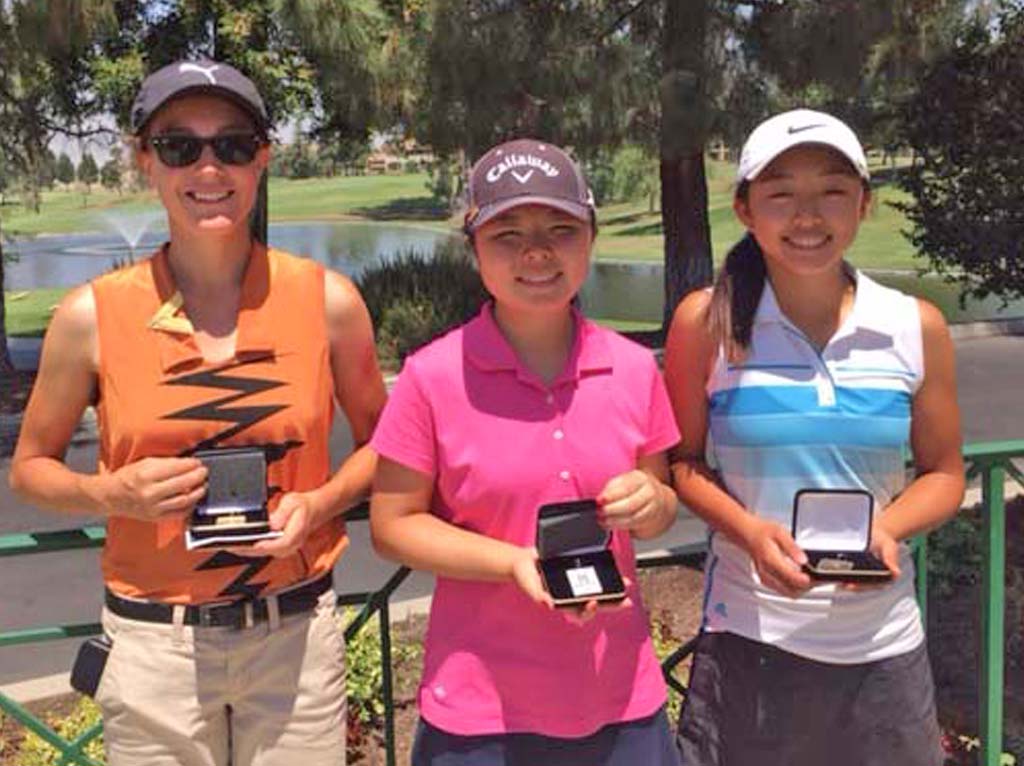 Summer Series V: Fort Washington C.C.
Fresno, CA
July 25-26, 2016

CIG-Sponsored Junior Golf Tour of Northern California Crowns Winners in Summer Series V Championship at Fort Washington Country Club in Fresno
PEBBLE BEACH, Calif. (July 26, 2016) – Sponsored by Capital Insurance Group, the 2015-2016 Junior Tour of Northern California (JTNC) crowned champions Tuesday at the Summer Series V Championship at Fort Washington Country Club in Fresno.
Fresno resident Tyler Gardner shot 9-under 135 and Auburn resident Natalie Pietromonaco shot 3-under 145 to win their respective divisions at the Summer Series V Championship held Monday and Tuesday at par-72 (par-74 for Girls) Fort Washington CC.
Gardner notched his first win of the season thanks to stellar play in both rounds. In Monday's first round, he'd take the lead with a sizzling 6-under 66 that included nine birdies and three bogeys—five of the birdies coming in succession from holes No.8 through No.12.
A day later, Gardner made the 66 hold up, shooting a 69 to hold off a hard-charging Austin Fox by a stroke. Fox, of Folsom, was four behind Gardner after a first round 70 but shot his own 66 to get within one. Fox also lit up the course, carding an eagle (he'd hole out on the par-4 10th) and seven birdies to go against three bogeys. He'd birdie holes No.16 –No.18 to close out his round, but was still unable to catch Gardner.
Ian Oehlschlaeger of Clovis and Ryan Grauman of Alamo finished tied for third at 142 after final rounds of 68 and 71, respectively. Oehlschlaeger was awarded third place in a card-off.
Bryce Loosigian of Fresno was fifth at 144 following a 76.
In the Girls' Championship, Pietromonaco also grabbed her first win of the season thanks to back-to-back solid rounds.
On Monday, Pietromonaco took the lead with a stellar 3-under 71 that featured an eagle on the par-5 6th and four birdies to go against just three bogeys. A day later, she'd post an even-par 74 to claim a six-shot win over runner-up Aya Enkoji.
Enkoji, of Fresno, came in at 151 after a final round 73 that included an eagle on No.6 and three birdies.
Third place went to Fremon't Mika Jin, who finished at 157 following a 76.
Fourth place went to Madison Nii of Fresno (78) at 163, with Melinda Yuan on San Ramon placing fifth at 166 following an 88.
In the Boys' First Flight Championship, Kyle Wall of Napa took first place with a two-day score of 166 after rounds of 84-82.
Second place went to San Leandro's Camden Daly at 167 following an 85. John Cowings of Fresno was third at 181 after a 94.
In the Girls' First Flight Championship, Mia Goudy of Clovis finished at 153 to claim a seven shot victory. Goudy had rounds of 77-76.
Runner-up was Caroline Swanson of Fresno, who came in at 160 after back-to-back rounds of 80.
Sloane Bayer of Fresno and Samira Pal of Cupertino shared third place at 166 after rounds of 80 and 87, respectively, with Bayer being awarded third place after a card-off. Mattie Millwee of Clovis was fifth at 181 after an 89.
The 2015-2016 JTNC season concludes with the JTNC Tour Championship, to be held Monday and Tuesday (Aug. 1-2) at Poppy Hills Golf Course in Pebble Beach.