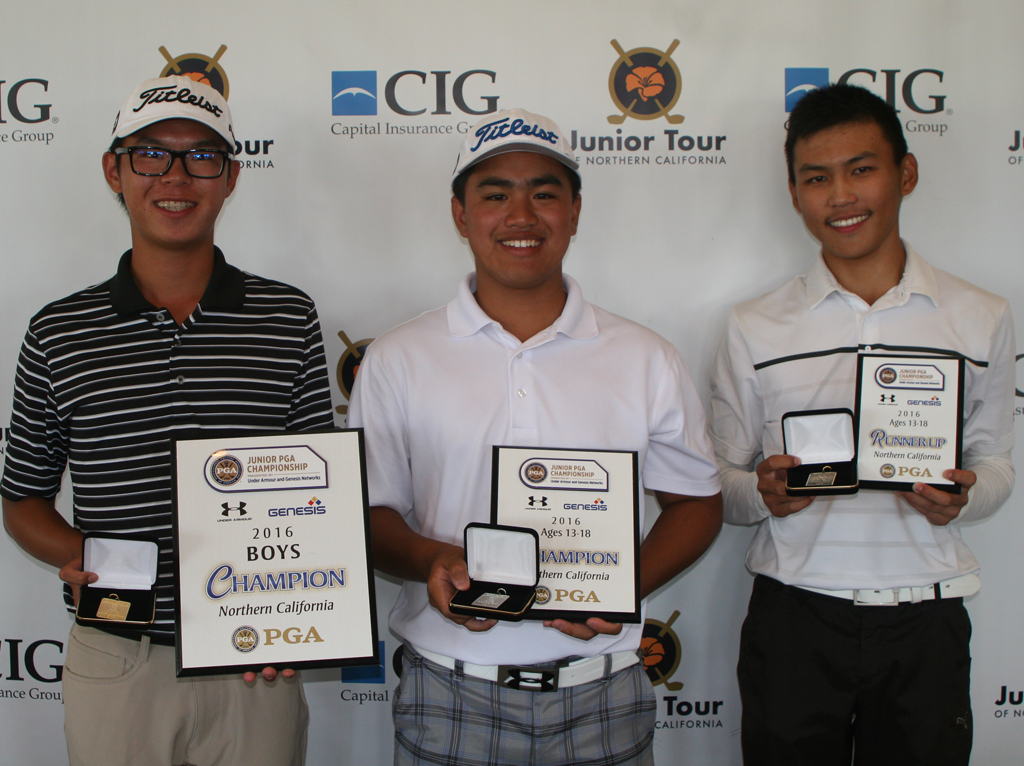 Summer Series II: Poppy Ridge
Livermore, CA
June 15-16, 2016
Contestant Information Sheet  |  Yardages

CIG-Sponsored Junior Golf Tour of Northern California Crowns Winners in Summer Series II Championship at Poppy Ridge Golf Course in Livermore
 PEBBLE BEACH, Calif. (June 17, 2016) – Sponsored by Capital Insurance Group, the 2015-2016 Junior Tour of Northern California (JTNC) crowned champions Thursday at the Summer Series II Championship at Poppy Ridge Golf Course in Livermore.
San Ramon resident Brendan Hy shot 3-over 147 and Concord resident Yealimi Noh shot 8-over 152 to win their respective divisions at the Summer Series II Championship held Saturday and Sunday at par-36 Poppy Ridge Golf Course. The duo both earned automatic spots into this year's PGA Junior Championship, slated for Aug. 9-12 at Wannamoisett Country Club in Rhode Island.
Hy picked up his first win of the 2015-2016 season in dramatic fashion, making birdie on the 18th in the final round for a round of even-par 72. Just a hole earlier on the 17th, he'd suffered a crucial bogey. The birdie on 18 gave him a one-shot victory over both Jeremy Villafuerte of Newark and San Ramon's Isaiah Choi.
Hy had been close to winning before. At both the Fall Series VI and Spring Series VII Championships, he placed second.
Villafuerte, who was coming off a 77 in Wednesday's wind-swept first round, carded a birdie on No.12 to get to a total of 4-over but could only manage pars on his final six holes.
Choi had a chance to catch Hy but stumbled with bogeys on the 16th and 17th holes for a second round 72. In a card-off, Villafuerte was awarded second place, with Choi placing third.
Three players—Aditya Kumar of Fremont, Avi Khemani of Los Altos Hills and Pleasanton's John Fracisco—tied for fourth at 149.
In the Girls' Championship, Noh was the epitome of steady, carding 12 straight pars in the final round for a 73 and one shot win over Danville's Ty Akabane and Brooke Riley of Manteca.
For Noh, the win was her ninth career JTNC title, moving her to third place on the Girls' all-time career win list. The victory was also Noh's third of the 2015-2016, tying her with Casie Cathrea for third place three) for most wins in a season.
Akabane, who captured the Spring Series VII Championship crown, had a chance to tie Noh but carded a bogey on the 15th for a 74 and two-day total of 153. Also coming in at 153 was Riley. Winner of the Summer Series I Championship, Riley had birdied the 14th to take the lead but later had a bogey on the 16th and a double-bogey on the 17th for a 76.
In a card-off, Akabane was awarded second place, with Riley placing third.
Belinda Hu and Yoonhee Kim of San Ramon both finished T-4 at 154 after final rounds of 73 and 76, respectively.
In the Boys' First Flight Championship, Tyson Rutledge of Clovis had rounds of 75-72 to finish at 147, claiming a three shot win over Alamo's Cameron Keith.
Rutledge was solid in the finale, carding an eagle and birdie to go against three bogeys.
Keith had rounds of 76-74. Nicholas Dolley of El Dorado Hills and Nathan Wang of Fremont both tied for third at 151 after final rounds of 72 and 74, respectively.
Allen Zhang and Krishan Patel of San Jose finished T-5 at 159 following final rounds of 76 and 79, respectively.
In the Girls' First Flight Championship, Palo Alto's Katherine Sung had a final round 74 to come in at 156 for a seven-shot win. Both Jasmine Chen of Pleasanton and Cynthia Zhang of Milpitas finished tied for second at 163 after final rounds of 77 and 78, respectively.
In a card-off, Zhang was awarded was second place with Chen placing third.
Madison Starke of Walnut Creek was fourth at 166, with Liam Sklar of Los Gatos taking fifth at 167.
Next up on the JTNC calendar is the Summer Series III Championship, slated for June 20-21 at Coyote Creek Golf Course in San Jose.