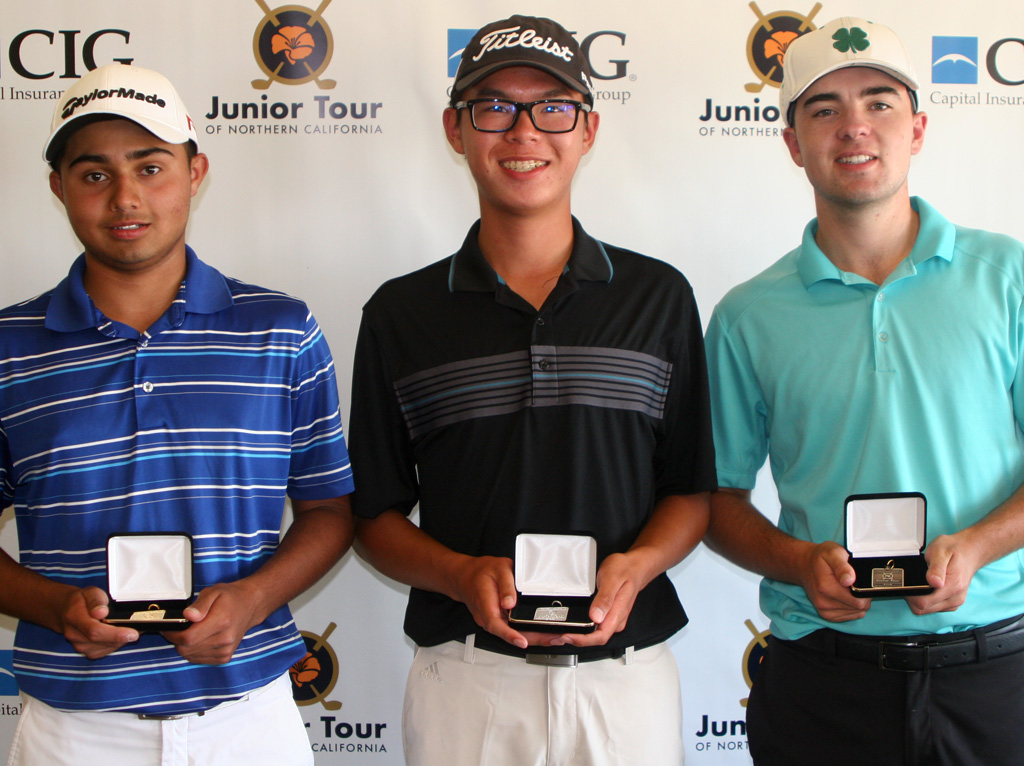 Spring Series VII: Deer Ridge & Shadow Lakes G.C.
Brentwood, CA
May 28-29, 2016
Yardages: Deer Ridge GC   |  Shadow Lakes GC

CIG-Sponsored Junior Golf Tour of Northern California Crowns Winners in Spring Series VII Championship at Shadow Lakes GC and Deer Ridge GC in Brentwood
 PEBBLE BEACH, Calif. (May 31, 2016) – Sponsored by Capital Insurance Group, the 2015-2016 Junior Tour of Northern California (JTNC) crowned champions Sunday at the Spring Series VII Championship at Shadow Lakes Golf Club and Deer Ridge Golf Club in Brentwood.
Fremont resident Vijay Srinivasan shot 7-under 135 and Danville resident Ty Akabane shot 6-under 136 to win their respective divisions at the Spring Series VII Championship held Saturday and Sunday at par-70 Shadow Lakes and par-71 Deer Ridge.
Srinivasan picked up his first win of the 2015-2016 season thanks to a steady first round 70 and a stellar final round 65.  The 65 was also the fourth lowest 18-hole score in JTNC history.
A day after carding a solid 70 featuring four birdies and three bogeys, Srinivasan caught fire. On Sunday at Deer Ridge, he'd post seven birdies with just one bogey to secure a two-shot win over runner-up Brendan Hy of San Ramon. On his front-nine, Srinivasan shot a 32.
Hy, who was coming off a first round 71, did his best to try and keep up. He'd post a second round 66 with six birdies to go against just one bogey.
Also shooting a Sunday 66 was San Carlos' Finigan Tilly, who moved into a tie for third with Wallace Lin of Los Gatos at 138. Lin had back-to-back rounds of 69.
Three players—Bryson Zorich of Rocklin, Hayden Hui of Dublin and San Ramon's Ashkaan Hakim—all finished T-5 at 139. Zorich also had a 65, while Hui had a 66 and Hakim shot 67. Zorich, who shot a front-nine 30, had an eagle and eight birdies but also suffered four bogeys.
In the Girls' Championship, it was Akabane who went low. Playing at Deer Ridge, Akabane had a second round 66 to come from behind and defeat runner-up Sabrina Iqbal of San Jose by three strokes.
Akabane also had a front-nine 30, thanks to an eagle on the par-5 9th and four birdies. Iqbal, the two-time defending JTNC Girls' Player of the Year, had opened with a leading 68 on Saturday. A day later, she'd slip back to a 71 that featured two birdies and two bogeys.
Finishing in a tie for third at 143 were Vallejo's Maria Davis and Samantha Gong of San Francisco following final rounds of 70 and 71, respectively. Davis was awarded third place in a card-off.
Fifth place went to Cupertino's Bibilani Liu at 146 after a 71.
In the Boys' First Flight Championship, Dean Cavanna of San Anselmo had rounds of 70-72 to come in at 142 and win by seven strokes.
Four players—Angelo Marcon of San Francisco (73), Aidan Tran of Fresno (74), Austin Tran of Fresno (76) and Baron Szeto of Moraga (72)—finished tied for second at 149.
Marcon was awarded second place following a card-off. Aidan Tran would be awarded third place in the card-off.
In the Girls' First Flight Championship, Jordan Briggs of Livermore had rounds of 77-75 to finish at 152 and edge runner-up Tiffany Kwok of Pleasanton by a stroke.
Kwok shot 75-78. Third place finisher Adora JiaYi Wen of San Jose finished at 154 following a 76. Charlotte Ryoo of Pleasanton and Varnika Achanta of San Jose finished T-4 at 156 after rounds of 80 and 81, respectively.
The event concluded the 2016 Spring Series. Next up on the JTNC calendar is the Summer Series I, slated for June 11-12 at Reserve at Spanos Park and Elkhorn GC in Stockton.