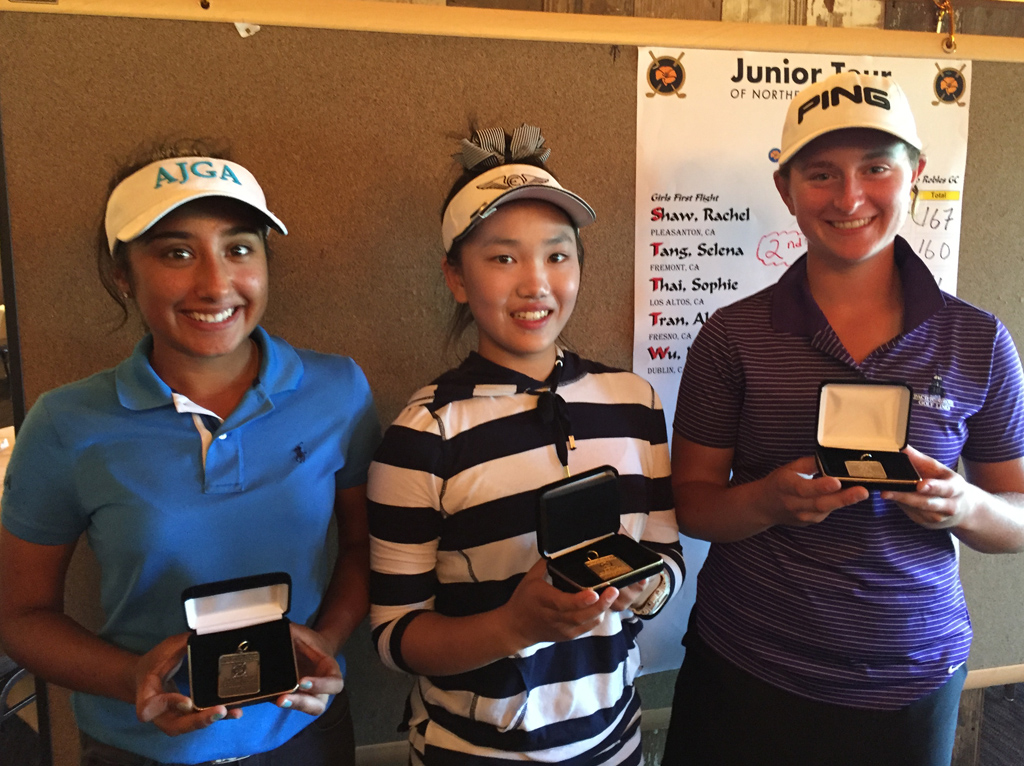 Spring Series VI: Paso Robles G.C.
Paso Robles, CA
May 14-15, 2016
Contestant Information Sheet  | Yardages

CIG-Sponsored Junior Golf Tour of Northern California Crowns Winners in Spring Series VI Championship at Paso Robles Golf Club
PEBBLE BEACH, Calif. (May 16, 2016) – Sponsored by Capital Insurance Group, the 2015-2016 Junior Tour of Northern California (JTNC) crowned champions Sunday at the Spring Series VI Championship at Paso Robles Golf Club in Paso Robles.
San Jose resident Thomas Hutchison shot 8-under 134 and Redwood Shores resident Lucy Li shot 1-under 141 to win their respective divisions at the Spring Series VI Championship held Saturday and Sunday at par-72 Paso Robles Golf Club.
Hutchison picked up his third win of the 2015-2016 season thanks to a steady first round 70 and a stellar final round 64. With the victory, Hutchison tied the JTNC Boys' record for most wins in a season. The 64 was also the third lowest 18-hole score in JTNC history.
A day after carding an up-and-down 70, Hutchison was flawless, posting seven birdies with zero bogeys to win by five strokes. He'd make his charge on the front-nine, where he shot a 30.
On Saturday, Hutchison also had seven birdies, but he'd also card four bogeys and a double-bogey.
Also going low in the second round was runner-up Ethan Chung of Cupertino. Chung followed up an opening 73 with a fantastic 66 that included an eagle on the par-4 11th, four birdies and just one bogey.
Finishing tied for third at 143 were three players—Bradley Vu of Santa Cruz (70), George McNeely of Carmel (70) and Brian Ma of Milpitas (72). In a testament to fortitude, Wanxi Sun carded a 75 on Sunday despite posting an 11 on the par-5 10th.
In the Girls' Championship, 2014 U.S. Women's Open darling Lucy Li made the best of a rare JTNC appearance.
Li, the only girl to break 70 in the first round, took the lead from the onset with a solid 69 that featured three birdies and a bogey. A day later she'd post a 72 with two bogeys and birdie to defeat runner-up Courtney Vogel of Pacific Grove by seven shots.
Vogel had back-to-back rounds of 74 to come in at 148. Finishing in a tie for third place at 151 were San Mateo's Amanjoty Sangha (76) and Jackie Caniete of Antioch (78).
Three players—Kiran Sangha of San Mateo (72), Jacqueline Ngo of Friant (76) and Sabrina Iqbal of San Jose (80)—all finished T-5 at 152.
In the Boys' First Flight Championship, Kevin Sze of Saratoga had a final round 72 to come in at 145 and eke out a one-shot win over runner-up Aidan Tran of Fresno. Sze clinched the win with a clutch birdie on the 18th.
Tran also had a final round 72. Placing third at 150 after a final round 75 was San Jose's Jackson Koivun. Baron Seeto of Moraga and Andrew Burdick of Arroyo Grande finished T-4 at 151 following final rounds of 75 and 80, respectively.
In the Girls' First Flight Championship, Kiana Briggs of Novato had a final round 78 to come in at 153 and defeat runner-up Selena Tang of Fremont by seven shots. Tang shot a final round 77.
Third place went to San Jose's Irene Jun at 161 after an 80. Charlotte Kyoo of Pleasanton was fourth at 164 after an 80 and Jaclyn LaHa of Pleasanton was fifth at 165 following an 82.
The 2016 Spring Series continues with the Spring Series VII Championship, to be held May 28-29 at Deer Ridge Golf Club and Shadow Lakes Golf Club in Brentwood.