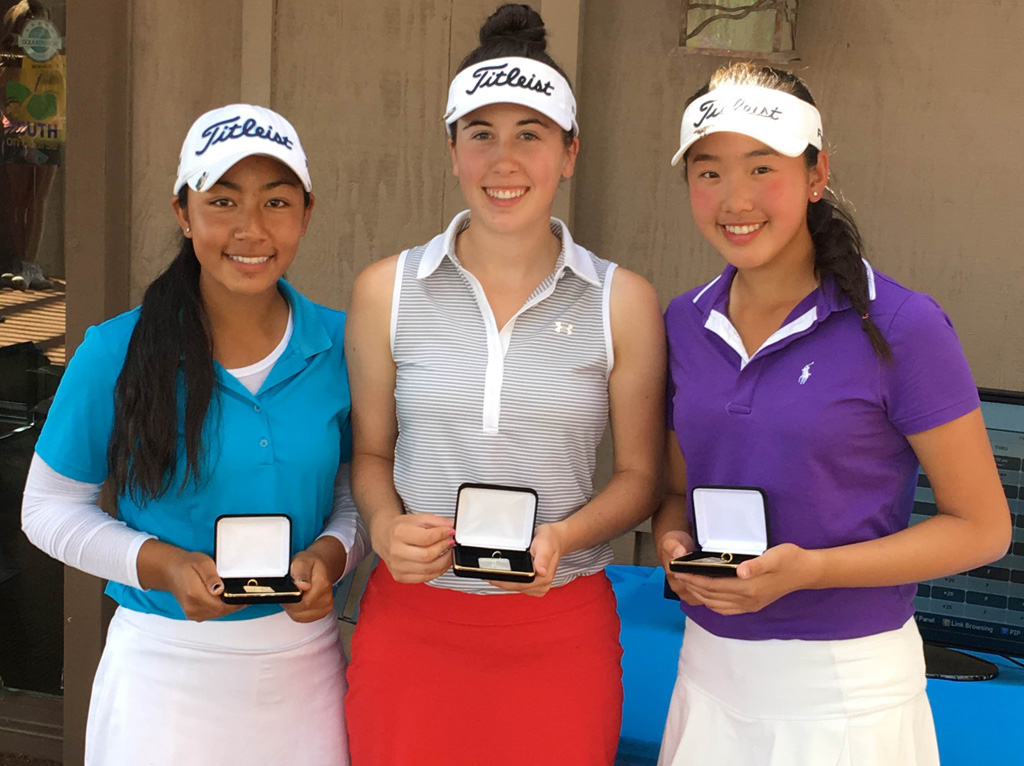 Spring Series V: Darkhorse G.C.
Auburn, CA
April30-May1, 2016
Contestant Information Sheet | Yardages
CIG-Sponsored Junior Golf Tour of Northern California Crowns Winners in Spring Series V Championship at Darkhorse Golf Club
PEBBLE BEACH, Calif. (May 2, 2016) – Sponsored by Capital Insurance Group, the 2015-2016 Junior Tour of Northern California (JTNC) crowned champions Sunday at the Spring Series V Championship at Darkhorse Golf Club in Auburn.
San Jose resident Thomas Hutchison shot 4-under 140 and San Jose resident Sabrina Iqbal shot 2-under 142 to win their respective divisions at the Spring Series V Championship held Saturday and Sunday at par-72 Darkhorse Golf Club.
Hutchison picked up his second win of the 2015-2016 season thanks to a solid first round 72 and a stellar final round 68.
In Sunday's finale, Hutchison posted six birdies to go against just two bogeys. He'd make his charge when it counted too, getting five of his birdies after making the turn for a back-nine 32.
On Saturday, Hutchison posted five birdies, but he'd also have three bogeys and a double-bogey.
Making a huge push towards the top was 2014 JTNC Player of the Year Joshua McCarthy. Coming off a first round 76, McCarthy was a birdie machine on Sunday.  The Danville resident had seven birdies and just one bogey for a 66 that moved him into second place alone at 142.
Finishing in a tie for third at 144 were Ryan Grauman of Alamo and Matt Heitel of Redwood City after final rounds of 71 and 72, respectively. Grauman was awarded third in a card-off. Brian Ma of Milpitas took fifth place at 146 after a final round 69.
In the Girls' Championship, Iqbal found herself back on the top of the standings. The two-time defending JTNC Girls' Player of the Year had back-to-back rounds of 71 to defeat runner-up Emilee Hoffman of Folsom by two shots.
The win was also Iqbal's second of the season, and her first since the Fall Series IX Championship last October. Iqbal, who had six birdies to go against two bogeys and a double-bogey over her 36 holes, won the San Francisco City Women's Championship in March.
Hoffman, who was playing in her final JTNC event, had a fate similar to McCarthy. A day after carding a 76, Hoffman put up a 68 to move into second place alone at 144. The 68 included six birdies and just one mistake—a double-bogey on the par-4 8th.
Third place went to Concord's Yealimi Noh at 147 following a final round 71. Emma Sand of El Dorado Hills was fourth at 155 after a 79, while San Ramon's Yoonhee Kim (79) was fifth at 156. Kim entered the event leading in the race for 2016 Girls' Player of the Year honors.
In the Boys' First Flight Championship, Dylan McDermott of Granite Bay and Matthew Amann of El Dorado finished regulation tied at the top at 155. McDermott would take the title with a birdie on the second of a sudden-death playoff.
Third place went to San Jose's Krishan Patel at 156, while Bailey Flickinger of San Miguel was fourth at 157. Carson Kalbfleisch of Geyserville was fifth at 161.
In the Girls' First Flight Championship, Folsom's Meghan Paracuelles took the title by a shot at 160 after shooting a final round 79.
Paracuelles, who was helped by three birdies on Sunday, held off Carmichael's Ashley Knepshield (77) and San Ramon's Steffi Lin (78) , who both came in at 161. Lin was awarded second place in a card-off.
Fourth place went to Caleigh Clark of El Dorado Hills at 167, with fifth place going to Fremont's Selena Tang (168).
The 2016 Spring Series continues with the Spring Series VI Championship, to be held May 14-15 at Paso Robles Golf Course in Paso Robles.