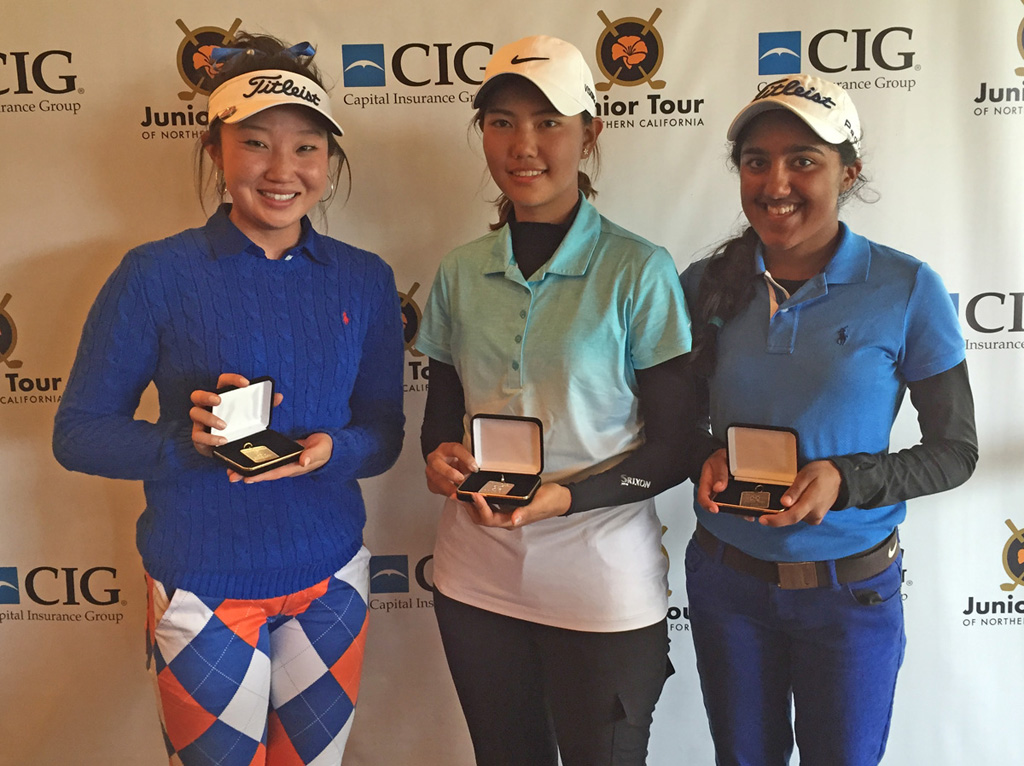 Spring Series IV: Adobe Creek G.C. & Rooster Run G.C.
Petaluma, CA
April 23-24, 2016
Contestant Information Sheet  |  Yardages: Adobe & Rooster Run

CIG-Sponsored Junior Golf Tour of Northern California Crowns Winners in Spring Series II Championship at Windsor Golf Club
PEBBLE BEACH, Calif. (April 25, 2016) – Sponsored by Capital Insurance Group, the 2015-2016 Junior Tour of Northern California (JTNC) crowned champions Sunday at the Spring Series IV Championship at Rooster Run Golf Club and Adobe Creek Golf Club in Petaluma.
Palo Alto resident Ahmed Ali shot 2-under 142 and San Ramon resident Yoonhee Kim shot 5-over 149 and defeated Pleasanton resident Xinying Wang in a playoff to win their respective divisions at the Spring Series IV Championship held Saturday and Sunday at par-72 Rooster Run GC and Adobe Creek GC.
Ali picked up his second win of the 2015-2016 season by being the only player to break par both rounds. In Saturday's first round, Ali took the lead after posting a 71 at Adobe Creek that featured four birdies and three birdies.
A day later, Ali was simply steady. He'd card two birdies and a bogey on his front-nine, closing his round with nine straight pars for a second straight 71. A member at the Olympic Club, Ali dedicated the win to his grandmother, who recently passed away.
Taking second place at 146 was Kyle Wilkinson of San Francisco after a second round 74.
Both San Ramon's Ashkaan Hakim and Trey Davis of Olivehurst finished T-3 at 148 after final rounds of 73 and 76, respectively. Brian Ma of Milpitas and John Heckel Jr. of San Jose placed T-5 at 150 following final rounds of 71 and 74, respectively.
In the Girls' Championship, Kim picked up her fifth win of the 2015-2016 season after defeating Wang on the first hole of a sudden-death playoff.
The two were knotted up all weekend long. On Saturday at Adobe Creek, Kim and Wang each posted opening scores of even-par 72. Kim had two birdies and two bogeys while Wang had three birdies and three bogeys.
On Sunday at Rooster Run, both carded 77. Kim had five bogeys, while Wang had a wild ride, posting three birdies to go against four bogeys and two double-bogeys. Hurting Wang the most was a crucial double-bogey on the par-4 17th.
San Mateo resident Kiran Sangha and Katherine Zhu of San Jose were also in the mix early after carding rounds of 74 and 73, respectively, in the first round. On Sunday, Sangha shot 76 while Zhu had 77, leaving the two tied for third at 150.
Belinda Hu of San Ramon finished fifth at 152 after a final round 75.
In the Boys' First Flight Championship, Evan Cuenco took the title after shooting the round of his life Saturday at Rooster Run. Cuenco, a 5-handicap index, opened with a 7-under 65 that included eight birdies and just one bogey. In Sunday's second round, Cuenco posted a 76 to come in at 3-under 141. He'd win the title by eight shots.
Second place went to Alexander Lin of Oakland at 149 following a final round 77. Kevin Sze of Saratoga was third at 154 after a 78 and Jackson Koivun of San Jose was fourth at 156 following a 78. Baron Szeto of Moraga took fifth at 157 after an 83.
The Girls' First Flight Championship also saw a runaway winner, as Priya Bakshi of Palo Alto cruised to a five stroke win after coming in at 148 (72-76). Baskhi also was able to get in some birdies, posting five in the opening round to go against five bogeys.
Second place went to Madison Beckett of Santa Rosa at 153. Three players—San Jose's Nicole Vivier, Jordan Briggs of Livermore and Kiara Romero of San Jose—finished T-3 at 154.
The 2016 Spring Series continues with the Spring Series V Championship, to be held at April 30-May 1 at Darkhorse Golf Club in Auburn.