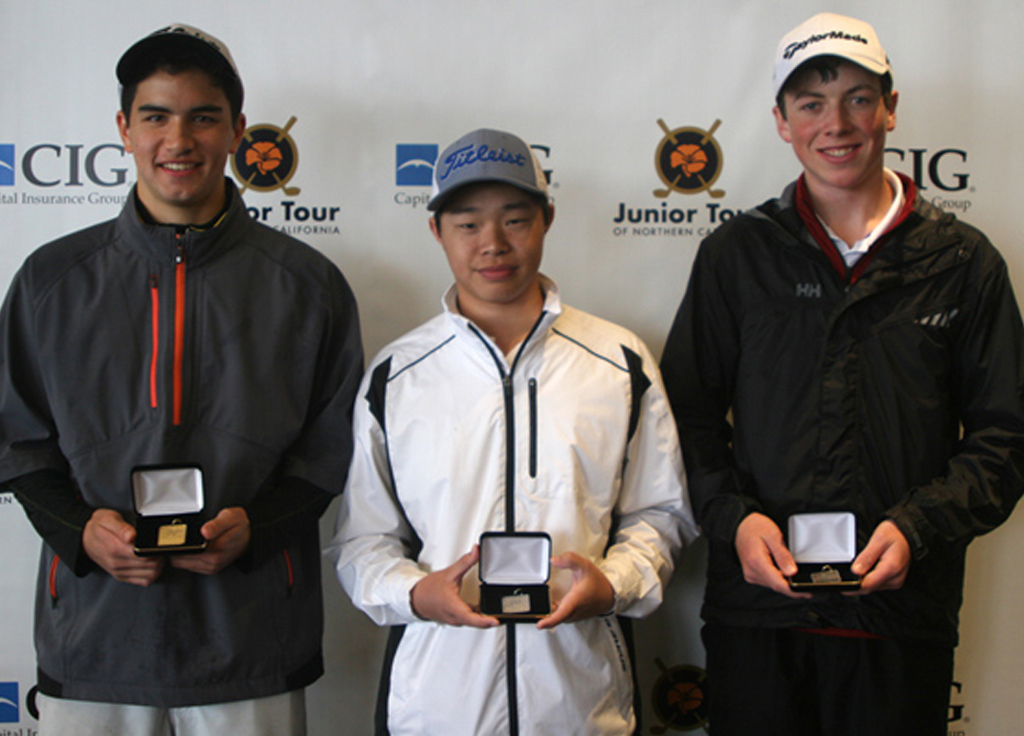 Spring Series I: Stockton G.C.C. & Reserve at Spanos Park
 Stockton, CA
March 12-13, 2016
Contestant Information Sheet  | Yardages: The Reserve at Spanos Park | Stockton GCC

CIG-Sponsored Junior Golf Tour of Northern California Crowns Winners in Spring Series I Championship at Stockton Golf and Country Club and The Reserve at Spanos Park
PEBBLE BEACH, Calif. (March 15, 2016) – Sponsored by Capital Insurance Group, the 2015-2016 Junior Tour of Northern California (JTNC) crowned champions Sunday at the Spring Series I Championship at Stockton Golf and Country Club and The Reserve at Spanos Park in Stockton.
San Jose resident Matt Lloyd shot 4-over 147 and Fresno resident Tammy Lim shot 5-over 76 to win their respective divisions at the Spring Series I Championship held Saturday and Sunday at par-71 Stockton G&CC and par-72 The Reserve at Spanos Park.
Lloyd's victory, his first of the season, was keyed by a 5-under 67 in the first round at The Reserve at Spanos Park. Starting on the 2nd hole, he'd open with a birdie and tack on two more birdies with a bogey for a front-nine 34.
After making the turn, Lloyd went 3-under thanks in part to back-to-back birdies on the 12th and 13th holes.
In Sunday's finale at Stockton G&CC, Lloyd and the rest of the field were hit by inclement weather. He'd shoot an 80, but held on to defeat runner-up Daniel Kim of San Jose by a stroke.
Kim, who opened with a 72 at The Reserve, followed that up with a 76 at Stockton G&CC. He'd have a chance to tie Lloyd and force a playoff but bogeyed the 18th.
Finishing in third place at 149 was Justin Gums of Lodi after rounds of 73-76. Noah Woolsey of Pleasanton placed fourth at 150 (75-75), with San Jose's Thomas Hutchison taking fifth at 151 (76-75).
The Girls' Championship was limited to 18 holes due to the bad weather.
Taking the title was Fresno's Tammy Lim, who carded a 5-over 76 in Saturday's first round at Stockton G&CC. Lim's round included a birdie, two bogeys and a pair of double-bogeys.
Second place went to Emilee Hoffman of Folsom, who had a 77 with four bogeys and a double-bogey.
Three players—Amanjoty Sangha of San Mateo, Bibilani Liu of Cupertino and Katherine Zhu of San Jose—finished T-3 after opening with matching rounds of 78.
The Boys' First Flight Championship title was captured by Evan Cuenco of Benicia, who put together rounds of 77-83 to come in at 160.
Cuenco defeated co-runner-ups Nathan Hutama of Fremont and William Kirkpatrick of Menlo Park by four shots. Hutama came in at 164 after rounds of 83-81 while Kirkpatrick shot 77-87. Ryan Garcia of Ceres was fourth at 165 (81-84) with Gregory Lee of San Jose placing fifth at 169 (84-85).
In the Girls' First Flight Championship, Adora JiaYi Wen of San Jose and Varnika Achanta of San jose each came in tied with scores of 83. Wen was declared the winner following a card-off.
Three players—Sacramento's Monique Peterson, Caleigh Clark of El Dorado Hills and Irene Jun of San Jose—finished T-3 after shooting 85.
The 2016 JTNC Spring Series will continue with the Spring Series II Championship, to be held March 19-20 at Windsor Golf Club in Windsor.