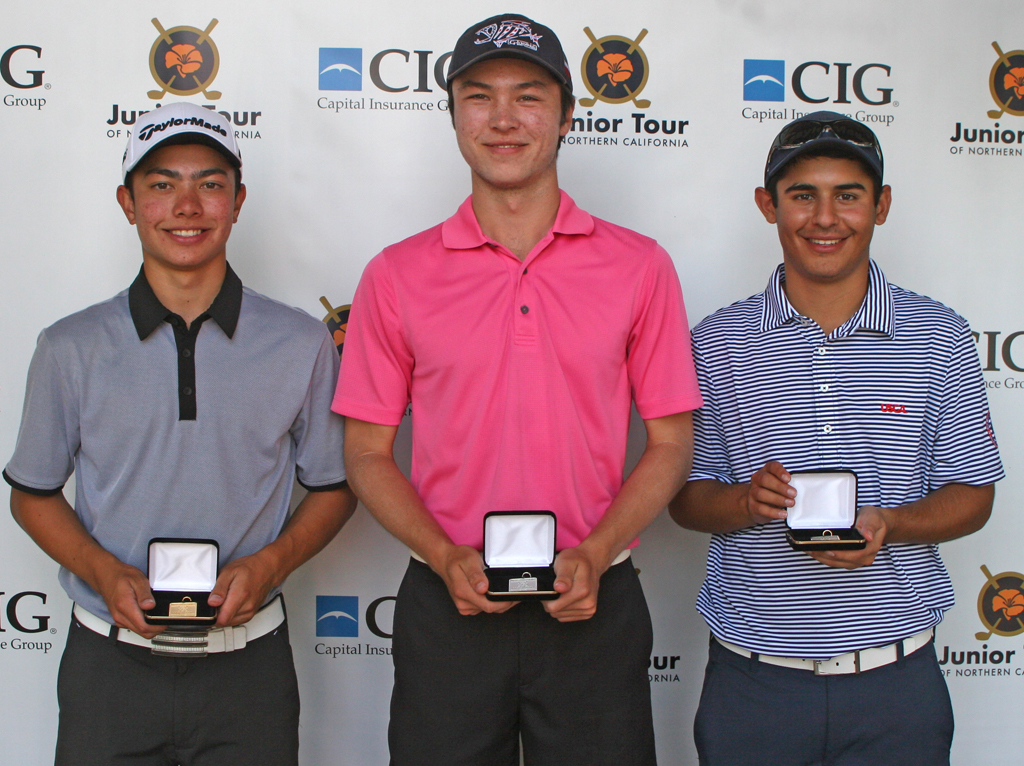 Fall Series II: San Juan Oaks G.C.
Hollister, CA
August 27-28, 2016
Contestant Information Sheet  |  Yardages    

CIG-Sponsored Junior Golf Tour of Northern California Crowns Winners at Fall Series II Championship at San Juan Oaks Golf Club
PEBBLE BEACH, Calif. (August 29, 2016) – Sponsored by Capital Insurance Group, the 2015-2016 Junior Tour of Northern California (JTNC) crowned champions Sunday at the Fall Series II Championship at San Juan Oaks Golf Club in Hollister.
San Jose resident Thomas Hutchison shot 7-under par 137 and San Jose resident Quynn Duong shot 5-over 139 to win their respective divisions at the Fall Series II Championship held Saturday and Sunday at par-72 San Juan Oaks GC.
Hutchison, the 2015-2016 JTNC Boys' Player of the Year, got his first win of the new 2016-2017 season thanks to solid play over both rounds.
In Saturday's opener, the Pioneer High senior had an eagle on the par-5 11th and four birdies to go against just two bogeys. A day later, the UC Davis commit added six more birdies to go against three bogeys to hold off runner-up Lucas Carper by two shots.
The win was Hutchison's third in 2016, tying the JTNC Boys' record for most wins in the same year.
Following a ho-hum opening 72, Carper, of San Jose, made a charge with a 67 that included six birdies and just one bogey. Also making a run was third place finisher Ashkaan Hakim of San Ramon. Hakim, who shot a first round 74, had a second round 67 featuring an eagle and four birdies.
Carmel's George McNeely was fourth at 142, while Joshua Quarles of Pacific Grove and Vijay Srinivasan shared fifth place at 143.
In the Girls' Championship, Duong got her first win of the 2016-2017 season, holding off runner-up Sabrina Iqbal.
Coming off a first round 76, Duong was solid, posting a 73 with three birdies and just two bogeys.
Iqbal, fresh off a win at the Fall Series I Championship and her record third straight Girls' Player of the Year crown, slipped to a 77 in Saturday's opener. She'd rebound with a second round 74, but still fell two shots shy of catching Duong.
Coming in tied for third at 153 were San Jose's Angela Liu and San Ramon's Jacqueline Ha after final rounds of 76 and 79, respectively. Liu would be awarded third place following a card-off.
Both Ty Akabane of Danville and Brooke Riley of Manteca finished T-5 at 154 after rounds of 74 and 77, respectively.
In the Boys' First Flight Championship Maximilian Ramirez of Watsonville and San Jose's Jackson Koivun came in tied after regulation at 9-over 153. After a four-hole sudden death playoff, Ramirez came away as the winner.
Steven Chen of San Jose was third at 156, while Nathan Wang of Fremont and Krishan Patel of San Jose finished T-4 at 157.
In the Girls' First Flight Championship, Steffi Lin of San Ramon took the title with a score of 154, defeating runner-up Cynthia Zhang of Milpitas by six shots.
Three players—Selena Tang of Fremont, Pleasanton's Kate Lim and Cupertino's Linette Jun—finished T-3 at 163.
Will Del Biaggio had the shot of the tournament, acing the par-3 6th hole on Sunday using a 5-iron.
Next up on the 2016-2017 season calendar is the Fall Series III Championship, slated for Sept. 3-4 at Rancho Canada Golf Club in Carmel Valley.