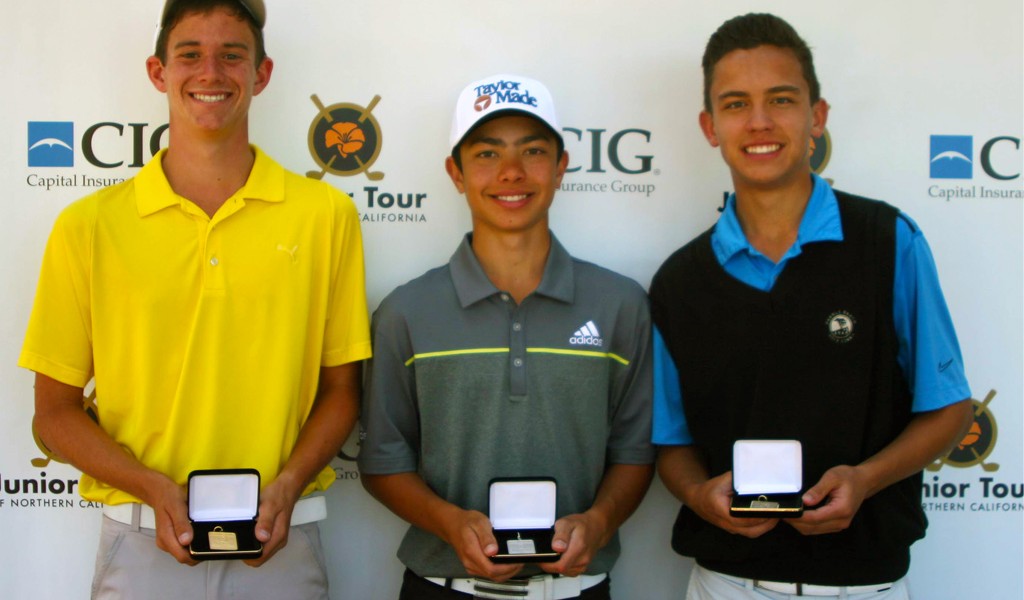 Auburn, CA
May 2-3, 2015
Contestant Information Sheet  |   Yardages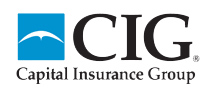 CIG-Sponsored Junior Golf Tour of Northern California Crowns Winners in Spring Series VI at Darkhorse Golf Club in Auburn
PEBBLE BEACH, Calif. (May 3, 2015) –Sponsored by Capital Insurance Group, the 2015 Junior Tour of Northern California (JTNC) crowned champions Sunday in the Spring Series VI Championship at Darkhorse Golf Club in Auburn.
Chico resident Noah Norton shot 1-over 145 and Folsom resident Emilee Hoffman shot 2-over 146 to win their respective divisions at the Spring Series VI Championship held Saturday and Sunday at par-72 Darkhorse GC.
Norton picked up his first win of the season by knocking off recent San Francisco City Championship runner-up Thomas Hutchison by a stroke.
In Saturday's first round, Norton opened play by bogeying his first hole, the par-4 17th. He'd recover nicely, however, carding pars on his next nine ensuing holes before bogeying the 8th. A birdie on the 10th and bogey on the 11th gave him a first round 2-over 74, leaving him a stroke behind leader Bryson Zorich of Rocklin and in a tie with Brendon Choe and Robert Briggs.
While Norton opened with a steady 74, Hutchison, who hails from San Jose, carded a wild first round 75 that featured five birdies, three bogeys, a double-bogey and a triple-bogey on his first hole, the par-5 18th.
A day later in Sunday's pivotal second round Norton shook off an early bogey on the 5th to grab the lead. Following back-to-back birdies on the 6th and 7th holes, Norton added another birdie on the par-5 11th to get to a total of even-par.
He'd bogey the ensuing 12th to drop back to 1-over, but played his final six holes at even-par for a 71 and the victory.
Hutchison, on the other hand, could just never get himself in a groove. He'd card two birdies on his front-nine but also two bogeys for a front-nine 36. On his back-nine, Hutchison opened with three birdies and a bogey within his first five holes to get to a total of 1-over, but he'd later bogey the 17th for a 71 and two-day total of 146.
Chandler Kallas of El Dorado Hills nearly pulled off the ultimate comeback. Kallas, who had opened with a disastrous 80, rebounded on Sunday with a tourney-low 68 that featured a hole-out eagle on the 12th and five birdies to go with three bogeys. His late heroics pushed him into third place alone at 148.
Grant Fairbairn of Orinda and Briggs, who's from Novato, finished tied for fourth 149 after final rounds of 72 and 75, respectively. Choe, who hails from Orinda, fell back into a tie for sixth with four other players, including Zorich, following a 76. Zorich also finished with a 76.
Like Norton, Hoffman also squeaked out a one stroke win in defeating runner-up Samantha Hutchison for the Girls' title.
In Saturday's opening round, Hoffman, who also picked up her first JTNC win of the season, opened with a sensational 3-under 69 that included a hole-out eagle on the 15th, six birdies (five within holes No.1 through No.7), three bogeys and a double-bogey.
The 69 gave Hoffman six shot lead over the field. On Sunday though, it was Hutchison's turn to go low.
A day after a shaky 78, Hutchison, who's headed to UC Davis in the fall, carded a stellar 69 that featured three birdies and a bogey. With a birdie on the 12th, she'd get to a total of 3-over par.
Hoffman, however, was never threatened. With a birdie of her own on the 8th hole on Sunday, Hoffman got to a total of 1-under. She'd card three bogeys on her back-nine, but Hutchison was unable to make up any more ground.
Hutchison wasn't the only one trying to catch Hoffman. So too was 2014 JTNC Girls' Player of the Year Sabrina Iqbal. The San Jose resident, who opened with a 75, tried to make a run at the lead but could only muster a second round 73 leaving her in third place with a total of 6-over 148.
Angela Liu of San Jose placed fourth in the Girls' Championship at 150 after a final round 74, while Concord resident Yealimi Noh took fifth at 151 following a 74. A win would've been Noh's fourth of the season.
The final standings were also tight in the Boys' First Flight Championship.
There, Jack Gardner of San Ramon shot a final round 73 to edge runner-up Brad Sparrer of Hollister by a stroke.
Gardner, who finished T-3 at the Spring Series V Championship, made his big move by carding four straight birdies from holes No.14 through No.17. While Gardner was on his birdie binge, Sparrer first lost the outright lead with a bogey on the 16th. Another bogey on the 18th would seal the victory for Gardner.
Alex Horn of Belmont took third in Boys' First Flight Championship at 154 following a 78, while Granite Bay's Dylan McDermott placed fourth at 155 after a 78.
In the Girls' First Flight Championship, Faith Low of Foster City also grabbed a one stroke win. A day after shooting a 76 for a three stroke lead over the field, Low fell back to an 80 but it was good enough to defeat co-runner-ups Alice Liu of Pleasanton and Madison Stephens of Redding.
Liu birdied the 16th but closed with two pars for a 77. Stephens, who took second in a card-off based on lower back-nine score, was stung by a final bogey on the 18th.
Lexi Tower of Chico finished fourth in the Girls' First Flight Championship at 169 following an 87.
The Spring Series continues with the Spring VII Championship, to be held May 16-17 at Dragonfly Golf Club in Madera.
# # #
 About Capital Insurance Group
Capital Insurance Group® (CIG) has enhanced its dominance as a leading insurer of Northern California golf courses into a successful philanthropic program centered on the sport of golf through its sponsorship of the NCPGA Junior Tour of Northern California, and the annual fund raising golf tournament, The Langley – A Tribute to Legends.
CIG is the leading regional property and casualty insurer serving the Western U.S. since 1898. CIG insures Personal Auto, Homeowners, Farmowners, Condo Owners, Vacation Property, Renters, Apartment Building Owners, and many kinds of Commercial and Agricultural Auto and Property. The more-than 115 year-old company is rated "A" (Excellent) by A.M. Best, the independent financial monitor of the insurance industry. CIG has been selected for the  Ward's 50 as one of the safest and most efficient property/casualty insurers in the U.S.  CIG manages personal, business, and agriculture risks underwritten by its affiliate companies: California Capital Insurance Company, Eagle West Insurance Company, Nevada Capital Insurance Company, and Monterey Insurance Company. Types of policies may vary from state to state. For more information, please visitwww.CIGinsurance.com
CIG DELIVERS MORE. Continuously. ™